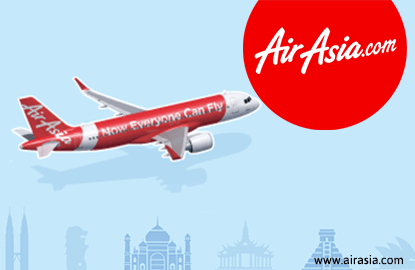 This article first appeared in The Edge Financial Daily, on April 5, 2016.
KUALA LUMPUR: AirAsia Bhd shares edged up to a nine-month high yesterday on news of a proposed RM1.01 billion injection by its two founders — Tan Sri Tony Fernandes and Datuk Kamarudin Meranun.
The stock rose 5.46% or 10 sen to close at the day's high of RM1.93, with 62.57 million shares changing hands, making it the second-most actively traded counter on Bursa Malaysia. Its market capitalisation stood at RM5.23 billion.
However, analysts tracking the stock said while the subscription price of RM1.84 is fair, the proposed share issue may not sit well with its minority shareholders as it would result in a 15.3% dilution in its earnings per share (EPS).
In a note to clients yesterday, CIMB Research said from a quantitative perspective, the higher share base will dilute EPS.
"Investors typically dislike dilution. Some investors may wonder why AirAsia needs to raise equity now when operating cashflows are strong as a result of low oil prices and the stable competitive environment," it said.
Last Friday, AirAsia announced a proposed placement of 559 million new shares to Fernandes and Kamarudin at RM1.84 apiece to potentially raise RM1.01 billion, which will increase its share base by 20% once completed by the third quarter of 2016.
The exercise is subject to shareholder approval.
Maybank Investment Bank Research (Maybank IB) opined that when founding shareholders inject new capital into a business, it is often when the business is in distress or debt financing is no longer attainable. However, it noted that in AirAsia's case, the low-cost carrier is far from distress and is instead on track to deliver strong earnings growth in 2016.
"While the capital injection will benefit the group, it is not critical as AirAsia had a manageable net gearing of 2.29 times as at the end of 2015.
"Furthermore, minority shareholders will lose out as their shareholdings will be diluted, and some might not be happy that they are not given the option to participate," said Maybank IB in a note yesterday.
MIDF Research stated that while the placement would cause an unwelcome dilution of 15.3% in EPS to existing shareholders, what they would actually be getting in return is a reduction in debt by RM342 million, which reduces financing costs by RM10.7 million.
"Higher equity and lower debt reduce net gearing from 2.29 times to 1.8 times, and another point to note is 65.5% of the proceeds are to fund the airline's expansion," said the research firm.
CIMB Research said investors should take note of the two qualitative aspects that standout in the proposal.
"Firstly, the founders are willing to put in additional cash at the existing undiscounted share price, which suggests that they believe AirAsia is worth much more.
"Secondly, they will raise their stake from 18.9% to 32.4%, meaning that they will have even greater commitment and incentive to 'make it work'," it added.
CIMB Research believes that investors will ultimately take their cue from the positive qualitative aspects of the placement exercise and so, near-term pressure on the share price should be eventually absorbed.
The issue price represents a 0.6% premium to the airline's closing price last Thursday of RM1.83 and a 31.4% premium to the 12-month volume-weighted average price of RM1.41 per share.
Post the proposed share issuance, Fernandes and Kamarudin will hold a 32.5% stake in AirAsia, just slightly under the 33% threshold to make a mandatory general offer to the airline's minority shareholders.