This article first appeared in The Edge Malaysia Weekly, on August 6, 2018 - August 12, 2018.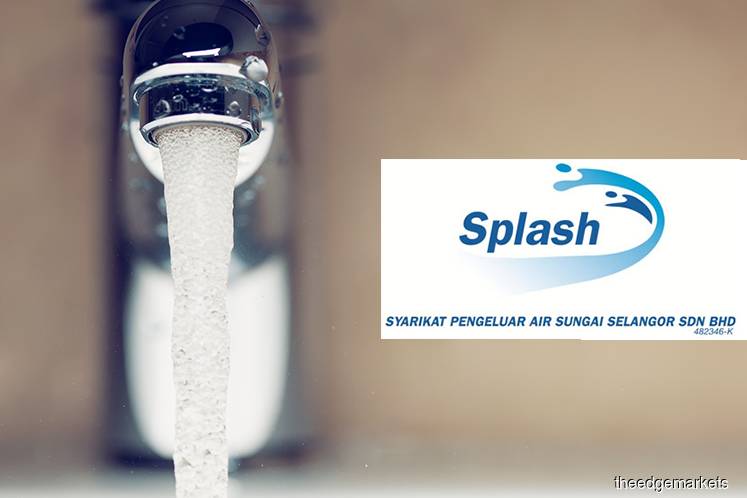 THE protracted negotiations on the restructuring of Selangor's water treatment and distribution industry are about to enter their last chapter.  A "willing buyer-willing seller" deal has finally been struck.
Last Friday, Pengurusan Air Selangor Sdn Bhd made an offer to buy out Syarikat Pengeluar Air Sungai Selangor Sdn Bhd (Splash) from Syarikat Pengeluar Air Selangor Holdings Bhd (Splash Holdings) for RM2.55 billion in cash.
The deal values Splash at a 28% discount to its net book value (NBV) of RM3.54 billion as at June 30, 2018. In previous negotiations, its shareholders, especially Gamuda Bhd, had asked for the concessionaire to be valued at one times book value.
Gamuda owns a 40% stake in Splash Holdings while Kumpulan Perangsang Selangor Bhd owns 30%. Sweet Water SPV Sdn Bhd, a private vehicle of businessman Tan Sri Wan Azmi Wan Hamzah, owns the remaining 30%.
Splash is the concession holder of Sungai Selangor Water Supply Scheme Phases 1 and 3, which controls about 45% of the treated water supply in Selangor, Kuala Lumpur and Putrajaya.
At the press conference to announce the state's offer last Friday, Selangor Menteri Besar Amirudin Shari said the deal requires Air Selangor to make an upfront payment of RM1.9 billion upon signing the definitive agreement.
The remaining RM650 million will be paid in instalments over nine years.
"This acquisition does not involve any financial allocation from the Selangor government and it (the payment) has been structured into a long-term payment. This will allow Air Selangor to operate at a reasonable cost while the water tariff will not burden the people," he said.
In an announcement to Bursa Malaysia, Gamuda says Splash Holdings has to revert to Air Selangor on acceptance of the offer on or before Aug 10.
After Splash Holdings accepts the offer from Air Selangor, the latter will be allowed to conduct due diligence on Splash within 14 days. Both parties will then enter into a sales and purchase agreement (SPA) no later than Sept 14.
The RM1.9 billion cash upfront will then be paid within 14 days of the fulfilment of all conditions precedent as prescribed under the SPA, the Gamuda announcement says. The first instalment will be made one year after the conclusion of the SPA.
According to Amirudin, the offer is fair and reasonable for the shareholders of Splash as it has been evaluated by independent valuers appointed by the federal and state governments.
The deal will also resolve the outstanding debt of RM4.7 billion owed by Syarikat Bekalan Air Selangor Sdn Bhd (Syabas) as at June 30, 2018. Syabas purchases treated water from Splash before distributing it to end users in Selangor, Kuala Lumpur and Putrajaya.
Gamuda has yet to reveal whether it will accept the offer as the deal will have to be deliberated by Splash Holdings shareholders.
While the Selangor government said the deal was made on a willing buyer-willing seller basis, it is hard to ascertain whether Gamuda's top management and its shareholders are happy with the price offered.
Gamuda's largest shareholder is the Employees Provident Fund, which held an 11.28% stake as at Oct 2, 2017. Lembaga Tabung Haji is the largest warrant holder with 32.94%.
The group's shares had been sold down by some institutional investors in the days leading to the announcement. Its share price has yet to recover to levels before the 14th general election on May 9.
As at July 31, EPF's shareholding in Gamuda had decreased to 10.3%, while Kumpulan Wang Persaraan (Diperbadankan) ceased to be a substantial shareholder of the group on the same date.
A valuation exercise conducted by RHB, commissioned by the state in 2015, valued Splash at RM2.8 billion to RM3.2 billion. Meanwhile, a valuation done by Deloitte in 2016, requested by the federal government, is said to have valued the concessionaire at RM3 billion.
With a 40% stake in Splash Holdings, Gamuda is expected to get RM1.02 billion in proceeds from the RM2.55 billion offer. That compares with its share of Splash's net book value (NBV), which comes up to RM1.42 billion. With a RM400 million shortfall against the NBV, will the construction giant, which is facing hiccups over public jobs that have come under review by the new government, accept the deal?
 
Save by subscribing to us for your print and/or digital copy.
P/S: The Edge is also available on Apple's AppStore and Androids' Google Play.