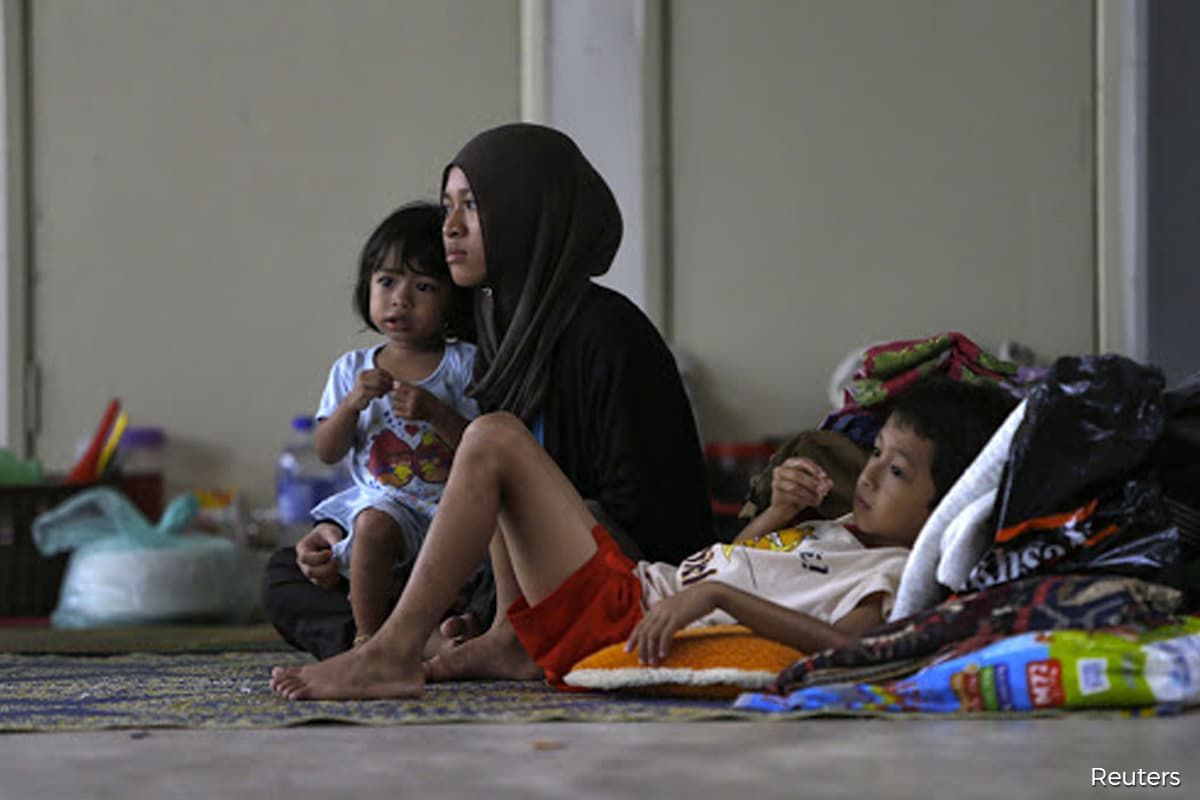 KUALA LUMPUR (Oct 30): Malaysia needs to put in place a more effective social policy framework to provide timely aid to ensure the urban poor do not slip deeper into poverty, with findings of a United Nations-commissioned study pointing to a "partial, uneven and uncertain" recovery for low-income urban families from the COVID-19 crisis.
Although the median household income has increased by 23% to RM2,233 in September from RM1,819 in May, it is still about 9% or RM224 below last year's RM2,457 — and this was before the conditional Movement Control Order (CMCO) was re-imposed in the Klang Valley from Oct 14. The CMCO is slated to last through Nov 9, unless extended again.
"Retrenchment, pay cuts, reduced working hours and difficulties restarting their own business are among the key factors that contributed to the income reduction," according to findings from the "Families on the edge" report (Part 2) commissioned by United Nations Children's Fund (UNICEF) and United Nations Population Fund (UNFPA) and conducted in partnership with public policy research outfit DM Analytics.
Recovery is slowest among female heads of households in these poor urban families, with two of three still earning significantly less than before COVID-19 hit, the findings show.
The median household income among female heads of households had only recovered to RM990 in September, 24% below the RM1,300 as at end-2019, even though it had increased from as low as RM688 in May — the tail end of the nationwide Movement Control Order (MCO) that ran from March 18 to May 3 this year when almost all economic sectors were allowed to reopen.
It was also in May that Malaysia's unemployment jumped to a record high of 5.3% before easing to 4.9% in June and 4.7% in July and August.
Unemployment among heads of households living in the Kuala Lumpur City Hall (DBKL) Projek Perumahan Rakyat (PPR) low-cost flats surveyed in September had improved from May "but remains troubling" with 35% or one out of three adults unemployed — much higher than the national average.
The unemployment rate for female heads of households is also relatively high at 10% compared with the national average (although down from 32% in May), with 20% of their household members not working.
"They work harder and for longer hours than most of us but earn a lot less," DM Analytics managing director Muhammed Abdul Khalid said, noting that many of them do not have employment protection in the form of coverage from the Employment Provident Fund (EPF) or Social Security Organisation (SOCSO) because they are self-employed. "For the self-employed, participation is voluntary in Malaysia."
Even among the wage earners, 45% do not have an account with the EPF or Socso. The figure is higher among working female heads of households (51%) and household heads with disabilities (73%).
With savings depleted amid the pandemic, more families living in Kuala Lumpur City Hall (DBKL) Projek Perumahan Rakyat (PPR) low-cost flats surveyed in September have sunk further into poverty.
"The poverty rate in the community is higher than last year, with one in two of the families now living in absolute poverty, and it is slightly higher among children. In relative terms, 97% of the children and 100% of households with disabilities live in relative poverty," the report read.
Majority of the households are vulnerable to further economic shocks, with 68% having zero savings — worse than 63% in 2019 but slightly improved from 72% in May.
Some 71% of households with disabilities have no savings and are also without EPF or Socso in September, higher than 51% among female-headed households and 49% among the average PPR household.
Even among the households that have savings, their average savings had decreased by 35% to RM1,124 in September compared with RM1,243 in May and RM1,738 in 2019.
It is much worse for female-headed households whose average savings had slipped to RM342 in September from RM453 in May and RM725 in 2019 as well as that of heads of households with disabilities whose average savings have dwindled to only RM74 in September from RM185 in May and RM435 in 2019 before the pandemic.
"The families continue to pawn their valuables and have started to default on their rental payments," researchers note.
New challenges are already emerging, especially on education and mental health, researchers note.
"Children have returned to school, yet 7% of upper secondary-age children (9% for boys) in these families reported not returning to school. Nearly one in five parents reported that their children have lost interest in school, and the incidence is higher among children from female-headed households (one in four).
"A significant proportion of the families reported difficulties in meeting the costs associated with school attendance, especially among female-headed households. COVID-19 has added additional expenses; about four in 10 of all heads of households and one in two of female-headed households reported difficulties in providing face masks to their children," the research note said.
It is clear that negative psychosocial impact of COVID-19 remains a major concern, with almost one in five of heads of households and roughly one in three of female-headed households reporting feeling depressed. They expressed feeling fear, worry, anxiety, anger and stress about uncertain economic and financial conditions, the wellbeing of their children and their parents.
These families "continue to be resilient in facing the challenges", researchers note but added that "it is becoming harder for them to survive". They are not surprised that only 14% of the heads of households expect their financial status to be better in the next six months — and that was in September before CMCO for the Klang Valley was declared.
Read also:
Budget 2021, 12MP need to lift children of the urban poor out of poverty
Many low-income PPR folk don't know what aid is available — UN study
PPR folks want income-generating breaks but still need aid — UN study 
It just takes RM900 a month to lift urban poor out of absolute poverty
PPR folks not rich, though 11% earned over RM5,000 pre-Covid-19 — UN study
Some PPR folks paying higher rents than DBKL rate — UN study