This article first appeared in Enterprise, The Edge Malaysia Weekly, on October 8, 2018 - October 14, 2018.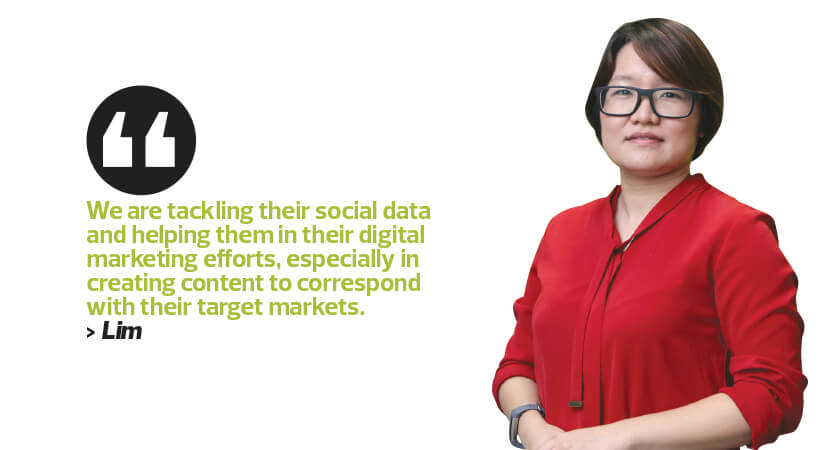 There is no denying that artificial intelligence (AI) is complementary, if not central, to the digital transformation journeys of many businesses and organisations. The technology provides a scalable and efficient way to create a more customer-centric model to deliver better experiences for modern consumers.
Chitpol Mungprom, co-founder and CEO of Thai-based marketing technology (martech) start-up Zanroo, says martech strategies will revolve heavily around AI in the next five years. In line with this, big data and martech companies are gathering information from various platforms, including social media, to build AI capabilities.
"As everyone and everything is becoming more interconnected, advertising and marketing efforts will be more personalised. We will transform all the information gathered via social listening tools into actionable insights to help businesses make marketing and advertising decisions," says Chitpol.
"But in the future, AI will make these decisions and make plans based on all the information and insights gathered. If we have more information, that will help consumer personalisation. Then, businesses can advertise directly to consumers."
Beyond social media monitoring, social listening tools are used as the eyes and ears of brands or businesses. They track conversations based on specific keywords, phrases, brands, topics and industries and leverage the insights gained to uncover leads and create personalised content for specific audiences.
While monitoring collects social interactions and mentions, listening analyses and reflects. Monitoring is done with the intention of replying, liking or routing the message to sales or support, but listening requires looking at the bigger picture behind the conversations with the aim of integrating the lessons into an organisation's social strategy.
Mia Lim, managing director of Zanroo Malaysia, says current AI capabilities are not developed enough to understand customer sentiment. She notes that data-gathering activities are accompanied by manual work done by humans to produce insights as well as categorise and analyse complaints and demands.
"When the AI is finally ready, all these things will be done automatically and the system will learn certain patterns from consumers. For example, they may be able to identify specific periods when complaints tend to pile up. Then, they will learn the patterns and suggest responses," says Lim.
Realising the importance of AI in martech is one of the key ideas behind Zanroo's inception in 2013, says Chitpol. Together with co-founder and chief technology officer Udomsak Donkhampai, he created an insight discovery platform that "ensures insights are quickly and efficiently extracted from social big data".
Since Zanroo was established, it has focused on launching proprietary social media intelligence tools. The company has posted year-on-year revenue growth of 200% to 400%. Its technologies are able to capture and analyse complex multilingual data sets in more than 15 countries in Asia-Pacific, helping businesses to better grasp customer engagement within their markets, says Chitpol.
The start-up, which received Series A funding of US$7.4 million last year, offers three core products — Zanroo Listening, Zanroo Desk and Zanroo Campaign. Chitpol considers the Listening tool, which allows brands to continuously listen and monitor individual mentions and analyse conversations to get market intelligence, as the "king product" as it generates the most income for the company.
The Desk tool, which employs the use of chatbots, helps Zanroo's clients to improve customer care by managing enquiries in real time. Chitpol says it is similar to an online call centre that also looks after brand communities (which are formed based on an attachment to a product or brand) online.
The Campaign tool helps brands improve their campaigns across their digital marketing activities by combining data from multiple sources, including social media platforms such as Facebook Ads, Twitter Ads and YouTube Analytics. More importantly, it identifies the return on investment from earned, paid and owned media.
Earned media takes the form of online word of mouth such as comments, mentions and testimonials. Paid ones are any form of paid advertising while owned media refers to a brand's communication channels such as websites and blogs.
In anticipation of heavier AI use in the future, Chitpol says Zanroo uses the Listening tool to gather social media data while the Desk tool is useful in understanding customer profiles and behaviour. The Campaign tool gives visibility to a company's expenditure and helps it optimise its marketing or advertising campaign budgets.
"To connect with other technology partners and obtain more data for AI, we created Arun, which is an open API platform that combines all the tools and allows integration with other software. It also allows us to connect with other tech partners so we can have more data for AI. This is our focus for the next three to five years," says Chitpol.
The name Arun reflects the start-up's origins as it was taken from Wat Arun, a world-renowned temple in Thailand. Lim says the company aims to be the next unicorn (privately held campanies valued at more than US$1 billion) from Thailand and the name is its way of staying true to its roots.
Targeting bigger enterprises
Zanroo's clients fork out between US$8,000 and US$20,000 a month to use its products and services. Lim says its clients in Malaysia are mainly business-to-consumer (B2C) companies, the majority of which are from the financial services (FI) industry and fast-moving consumer goods (FMCG) sector.
Dealing with FI clients means data security is of utmost importance. Zanroo's clients may have peace of mind as it is recognised as the first martech company in Asean to receive the ISO 27001 certification — the gold standard for information security management.
"We are tackling their social data and helping them in their digital marketing efforts, especially in creating content to correspond with their target markets. The certification is necessary for our banking clients because our data storage is cloud-based. So naturally, banks are very concerned about data security," says Lim.
Compared with other countries in the region such as Thailand, Indonesia and the Philippines, Malaysia is considered a small market (in terms of the size of the companies and the population), says Lim. Zanroo's potential clients can be advanced when it comes to martech, but there is still a significant portion of companies that have just started to pay more attention to the area, she adds.
"So, there is still room to grow for us — at least for the next two years before the market plateaus. We are an SME that targets the Es (enterprises) because our solutions are not so cheap. The average client in Malaysia spends about US$6,000 to US$10,000 a month," says Lim.
She notes that the challenge for Zanroo is figuring out how to tap the market of companies that have just begun dipping their toes in martech. "Educating the market is important and it is not easy to convince brands about the value of these tools. However, if they do not invest in these tools, they are losing out to their competitors and the cost of losing out could be even higher," she adds.
Like other tech start-ups, Zanroo has a list of competitors. But Lim says most of them focus on one specific tool such as the listening tool. None of them, she says, offers a comprehensive and open API platform that encompasses products that speak the same programming language, which makes integration much easier.
Lim is upbeat about the company's growth in Malaysia. In 2015, it had only five staff. But this grew to 40 within two years. Today, it deals with more than 30 clients. To a certain extent, the growth can be attributed to the average size of its clients, she says.
"Our deal size can be quite big and we only need a few big ones to hit our revenue target. However, Malaysian SMEs make up the biggest chunk of businesses in the country. So, we are trying to figure out how to tap this market," says Lim.
"Perhaps we need to do software development to be able to lower our prices. A lot of SMEs are hesitant to adopt these tools because they consider themselves too small to be 'listening' in to conversations about themselves online. But it is not about listening to what people say about you. It is listening to learn how to make people talk about you."
She adds that since English is widely spoken in this region, it means that Zanroo is competing with martech players from the US and Europe that have come up with more established tools. She does not see a problem, however, as she feels that the start-up's local talent and value-added services give it an edge.
"You may have the best tools in the world, but if you do not have the right people to analyse the data, it is difficult to translate it into actionable insights. We have a team that understands the local context and we know how to advise brands according to industry," says Lim.