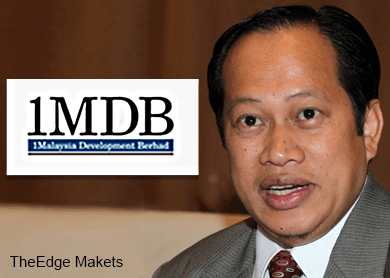 KUALA LUMPUR (Dec 19): Deputy Finance Minister Datuk Ahmad Maslan should testify to the Parliamentary Public Accounts Committee (PAC) and an audit by the Auditor-General (AG) to dispel all accusations of alleged financial shenanigans and impropriety of the 1Malaysia Development Bhd (1MDB), said DAP National Publicity Secretary Tony Pua in a statement today.
"If not, then clearly the Deputy Finance Minister is just putting up a fake front to hide the real truths behind the RM42 billion 1MDB scandal," he added.
Pua had accused Ahmad for being "the worst possible candidate with the least credibility" to be assigned to defend the besieged 1MDB and for believing in 1MDB's innocence, as Ahmad had recently asked 1MDB to clear the air with the public over the various controversies.
Pua who is also Member of  Parliament for Petaling Jaya Utara said this in response to a police report lodged against 1MDB by Batu Kawan Umno division vice-chairperson, Datuk Khairuddin Abu Hassan, where Ahmad pointed out how 1MDB had made profits for four years consecutively.
 "1MDB had only recorded losses last year," Pua pointed out.
It has been repeated umpteen times that 1MDB had made consecutive years of profits from 2010-2013 only as a result of revaluation of assets and properties, he added, and not as a result of any tangible operating profit.
 Ahmad's reputation is already in tatters, after being forced to apologise and retract his answer in Parliament where he denied the existence of a US$3 billion "letter of support" issued to secure a loan for 1MDB, he added.
 "Now, if the above assurance is the most convincing response which one could elicit from the Deputy Finance Minister, then he is certainly doing the worst possible job defending 1MDB," Pua said.
In 2010, 1MDB made a "profit" of RM424 million on the back of a revaluation of its unlisted shares in joint venture investment of US$200 million (RM660 million), he pointed out.
Subsequently, 1MDB recorded paper profits of RM544 million, RM44 million and RM778 million on the back of revaluation of its properties of RM827 million, RM570 million and 2,736 million respectively in 2011, 2012 and 2013, he added, noting that these properties were acquired at rock-bottom prices from the federal government.
If not for the massive asset and property revaluation, Pua said 1MDB would have made consecutive losses of RM236 million, RM273 million, RM526 million and RM1,964 million from 2010 to 2013.
 "Even in 2014 when it reported losses of RM665 million, that was despite recording a property revaluation of RM897 million.  This means that without the revaluation, 1MDB would have lost another RM1,562 million.
"In total over the five years, 1MDB which has taken more than RM42 billion to date, has incurred a staggering cumulative loss of RM4.56 billion," he added.
Earlier in November, Pua also said Ahmad had attempted to assure the Parliament that 1MDB was in good financial health by claiming that the company had "never missed a debt repayment deadline" and was "financially strong".
 1MDB has, not for the first time, missed the deadline to repay an outstanding debt, Pua pointed out that on Nov 30, 2014, 1MDB was due to repay a RM2 billion debt but had failed to do so to date.
Instead, it has asked for an further extension from the financiers, he added, noting that the sum was part of a debt which was due in November 2013 which has already been restructured and extended multiple times.
 Nevertheless Pua said "Worse, the "financially strong" 1MDB is practically insolvent without the injection of new funds because it is now unable to execute the multi-billion ringgit projects it has secured from the government".
 For example, Pua also pointed out that despite being awarded a RM11 billion coal-fired power plant project located at Negeri Sembilan in February 2014, 1MDB has failed to kick-off the project because it doesn't have any funds to do so.
 At the same time, an attempt to raise RM8.4 billion in November failed and had to be postponed which in all likelihood is due to the reluctance of investors and financial institutions to lend more money to 1MDB, he added.