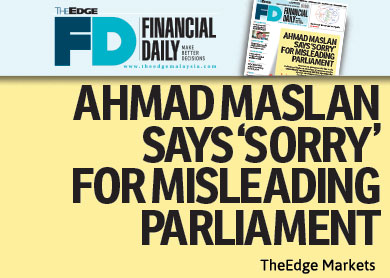 KUALA LUMPUR: Deputy Finance Minister Datuk Ahmad Maslan has apologised for misleading Parliament in his statements made last week that the government did not issue a letter of support to 1Malaysia Development Bhd (1MDB) for the sovereign fund to raise US$3 billion (RM9.6 billion) in bonds.
"I admit to the error of the omission of six words that had led to the confusion.
"I had no intention to confuse the Dewan. What is good comes from Allah and the weak from his servants. Sorry and thank you," Ahmad said in Parliament yesterday.
His apology was in relation to earlier contradictory statements he made on the question of whether there was a letter of support by the government issued to 1MDB for the latter to raise debts.
Ahmad admitted that he had left out "six words" and wanted to correct the statement he made when addressing Parliament on Nov 6. His statements had been recorded in the Hansard in Parliament.
According to Ahmad, the actual statement should read as "...tidak ada surat jaminan lain apa semua ... satu lagi yang disebut mengenai letter of support yang memberi jaminan lain itu sebenarnya tidak ada" (the six words that Ahmad had left out are in bold)
With the correction that will be made in the Hansard in Parliament, Ahmad's statement would mean that the government did not provide an explicit guarantee, other than the RM5.8 billion Islamic loans.
To recap, the deputy finance minister on Nov 6 told Parliament that the government did not give any explicit guarantee for the US$3 billion bonds. However, two days later, he admitted that the government had issued a letter of support to 1MDB when it issued debt papers to raise US$3 billion.
Nevertheless, Dewan Rakyat Speaker Tan Sri Pandikar Amin Mulia yesterday rejected an attempt to refer Ahmad to the Parliament's Rights and Privileges Committee for allegedly misleading the Dewan over his contradictory statements on 1MDB.
The speaker, in passing his judgement, ruled that in order for an individual to be called up to the Rights and Privileges Committee, certain criteria need to be met such as when the facts and arguments are wrong in addition to an intention to mislead Parliament.
Pandikar pointed out that Ahmad had clarified his stand on the matter.
"Many questions had to be answered on the spot. It is my view that the deputy minister had no intention to mislead the Dewan," he added.
This article first appeared in The Edge Financial Daily, on November 19, 2014.