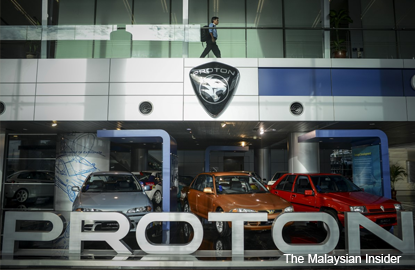 KUALA LUMPUR (March 24): Datuk Ahmad Fuaad Mohd Kenali, who is currently the chief operating officer (COO) of finance and corporate at DRB-Hicom Bhd, has been seconded as the new chief executive officer (CEO) and executive director of Proton Holdings Bhd, with effect from April 1, 2016.
In a statement today, DRB-Hicom, which is the holding company of Proton, said that Ahmad Fuaad's secondment is part of the internal reorganisation of the DRB-Hicom group of companies.
Ahmad Fuaad has been on the board of Proton as a non-executive director since 2013.
Prior to joining DRB-Hicom, he was the chief financial officer of Astro Malaysia Holdings Bhd, and is also a former partner of international audit and consulting firm Ernst & Young.
DRB-Hicom also announced the secondment of Datuk Md Radzaif Mohamed, who is the COO of DRB-Hicom's automotive distribution and manufacturing, to Proton as deputy CEO with effect from April 1.
Like Ahmad Fuaad, Radzaif has been on the board of Proton as a non-executive director since 2013. He began his career with DRB-Hicom in 2004 as COO of Hicom-Teck See Manufacturing Malaysia Sdn Bhd (HTS), and was later appointed CEO of HTS in 2009.
Proton's current CEO, Datuk Abdul Harith Abdullah, shall lead DRB-Hicom as COO of the group in the areas of automotive distribution and defence effective April 1.
DRB-Hicom also announced the transfer of Shamsuddin Mohd Yusof to Composites Technology Research Malaysia Sdn Bhd as the group COO from March 14.
He was previously the COO of Hicom Automotive Manufacturers (Malaysia) Sdn Bhd (HAMM).
Meanwhile, HAMM's general manager of operations Ismail Pandak has taken on the role of acting COO of HAMM from March 14.
DRB-Hicom group managing director Datuk Sri Syed Faisal Albar said the movement of internal talents is consistent with the group's policy to constantly develop capabilities to allow its group of companies to always maintain fresh perspectives to steer the group under the current challenging and competitive business environment.
According to data from the Malaysian Automotive Association, Proton reported new vehicle sales of 5,947 units in the month of Feb 2016, a 28% drop from Feb last year when it recorded sales of 8,254 units.
The national carmaker had announced a price increase for its Proton cars with effect from Feb 15 this year, which would see an increase of RM312 to a maximum of RM2,021 depending on model variants.
At the closing bell today, DRB-Hicom shares were unchanged at RM1.04 for a market capitalisation of RM2.01 billion.