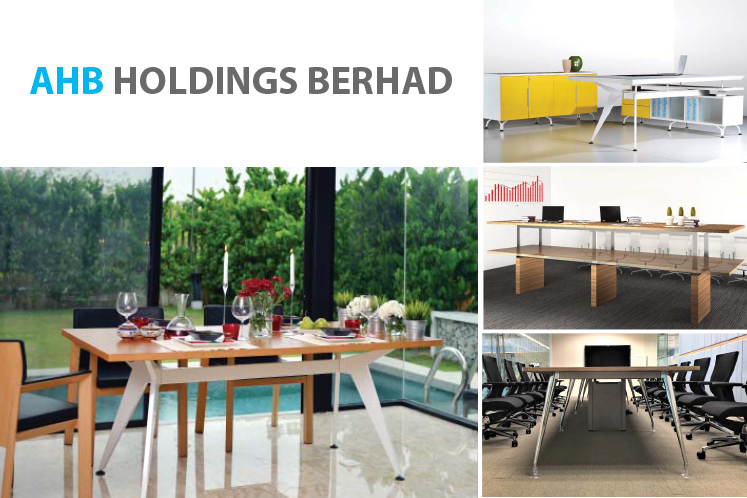 KUALA LUMPUR (July 26): Office furniture manufacturer AHB Holdings Bhd is aiming to raise RM9.86 million from two private placements.
In a bourse filing, the group said RM4.81 million of the money will be used for working capital needs, and another RM4.13 million for capital expenditure (capex) purposes.
A further RM700,000 will be used to pay for marketing expenses and RM225,000 to defray costs associated with the private placement exercise.
AHB said the working capital will be used to pay trade and other creditors for outstanding and new purchases as well as the payment for overseas import products such as electronic height adjustable motors and raw materials.
Meanwhile, its capex will be utilised for the purchase of tools and moulds for new products such as a fully integrated furniture system and a sound pod. At the same time, the group will be utilising the capex to conduct general improvements on its warehouse and the purchase of a delivery truck and associated equipment.
One of the private placements will account for 10% of the group's total share capital of 176.04 million shares or 17.60 million shares.
The second placement will be 30% of the total share capital or 52.81 million shares.
The 10% private placement is expected to raise RM2.47 million, and the 30% private placement RM7.39 million — based on an indicative placement price of 14 sen apiece.
The group is intending to place the shares among its directors, major shareholders or chief executives, a person connected with an interest person and nominee corporations.
In order to proceed, the group needs the approval of Bursa Malaysia to place the shares. It had received permission to issue the 10% private placement during its annual general meeting (AGM) on Sept 4, 2018. Meanwhile, shareholder approval for the 30% private placement will be sought at an upcoming EGM.
AHB said the proposed 10% private placement is expected to be completed by the fourth quarter of 2019 and  the 30% private placement in the first quarter of 2020.
"After having considered all aspects of the proposals, the board is of the opinion that the proposals are in the best interest of the company," said the group.
Shares in AHB closed 3.33% or half a sen lower at 14.5 sen, valuing the company at RM25.53 million.