This article first appeared in The Edge Financial Daily, on February 24, 2020.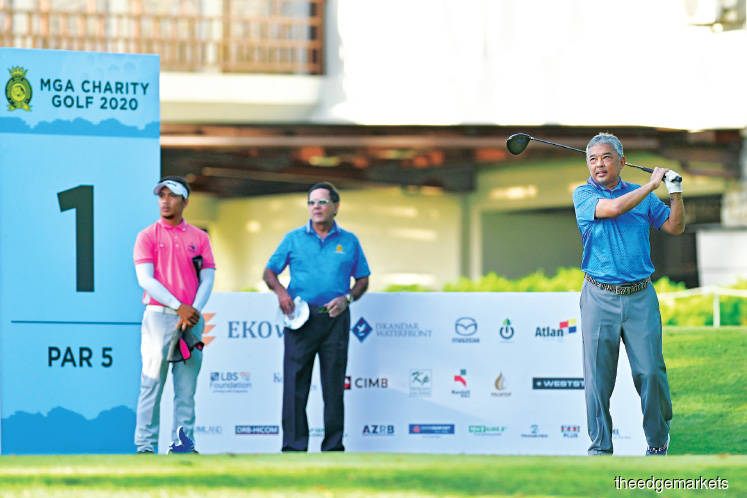 SHAH ALAM: Yang di-Pertuan Agong Al-Sultan Abdullah Ri'ayatuddin Al-Mustafa Billah Shah was the guest of honour of the Malaysian Golf Association (MGA) Charity Golf tournament, which took place yesterday at the Kota Permai Golf and Country Club.
A full field of 120 golfers including MGA committee members, corporate leaders, prominent members of the media, and other dignitaries took part in the event, which succeeded in raising a total of RM1 million in contributions as well as an auction during the prize-giving luncheon. The auction featured valuable items donated by various companies and individuals, including a two-year Kota Permai term membership worth RM20,000.
The charitable collection was bolstered by contributions from golfers in the Beat-The-Pro Challenge at the par-three sixth hole, which featured Malaysia's top lady golfer, Kelly Tan.
The bulk of the proceeds were split between the Al-Sultan Abdullah Foundation (Yayasan Al-Sultan Abdullah) and the MGA National Junior Development Programme with RM400,000 going to each entity.
Jim Tan emerged as the winner of the event with a score of 42 Stableford points, one point ahead of runner-up Datuk Seri Adnan Wan Mamat and third-placed Liew Chin Fatt.
An avid golfer, Al-Sultan Abdullah has been the Royal Patron of the MGA since accepting the appointment last December.
"There are many people to thank, who have made today (yesterday) possible … and on behalf of the Malaysian Golf Association, I would like to extend our deepest gratitude, to His Majesty, Seri Paduka Baginda Yang Di-Pertuan Agong, who has consented to be the MGA patron and graced us with your presence today (yesterday). Without your support and assistance, we would not be able to revive the Malaysian Open. Thank you, Your Majesty!" said MGA president Tan Sri Mohd Anwar Mohd Nor.
"To Datuk Majid Manjit Abdullah, thank you for chairing the organising committee of the MGA Charity Golf and pursuing the sponsors relentlessly to be able to raise RM1 million. To all our sponsors, thank you for your support and we hope our partnership continues for years to come," he added.
Mohd Anwar also expressed his appreciation to the host venue — the Kota Permai Golf and Country Club — for presenting the golf course in a pristine condition and the club's cooperation in ensuring the success of the event. Kota Permai will also be the venue for the Bandar Malaysia Open, which will be held from March 5 to 8, marking the return of the country's national open after a four-year lapse.