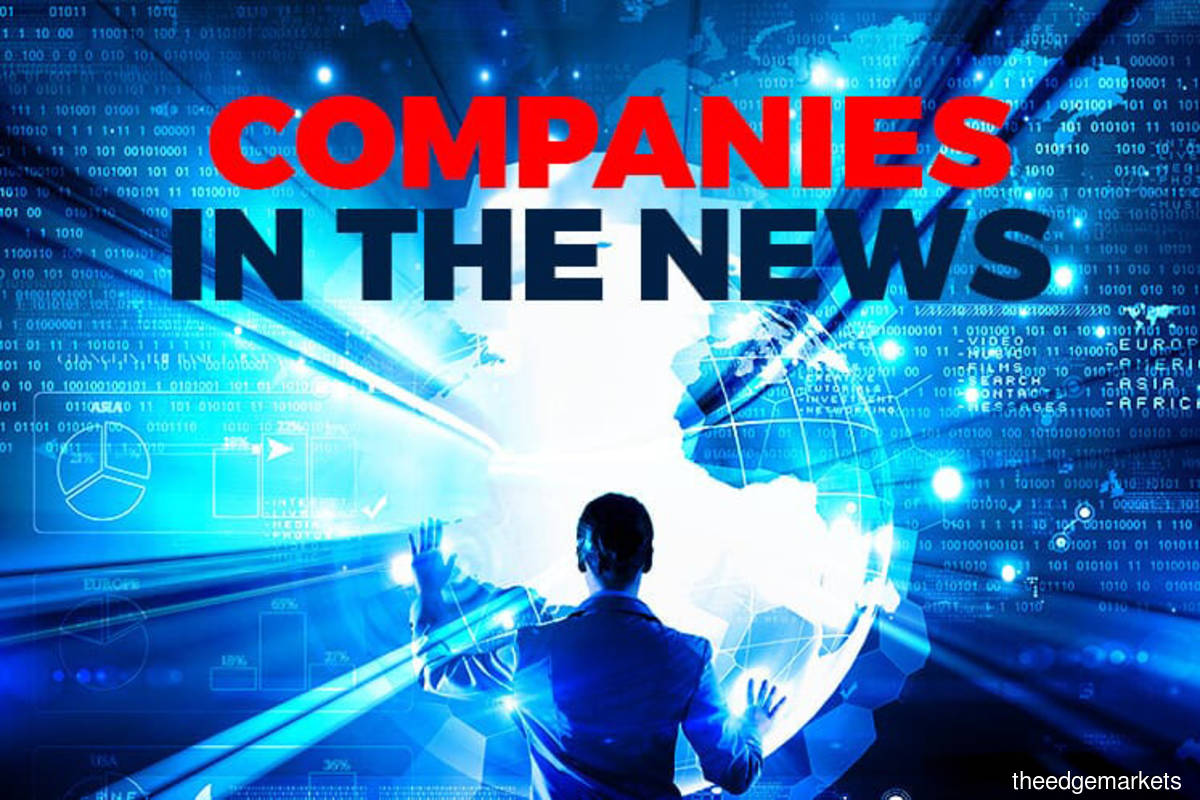 KUALA LUMPUR (Sept 7): Based on corporate announcements and news flow today, stocks in focus on Tuesday (Sept 8) may include: Ageson Bhd, Dancomech Holdings Bhd, Lien Hoe Corp Bhd, GHL Systems Bhd, Ho Wah Genting Bhd, Comfort Gloves Bhd, LKL International Bhd, Mesiniaga Bhd, Top Glove Corp Bhd, GFM Services Bhd, Iris Corp Bhd, Nylex (Malaysia) Bhd and Nova MSC Bhd.
Ageson Bhd, which is being sued by RHB Bank Bhd over a loan default, said it was of the view that it was entitled to a moratorium on the repayments of the loan during the Movement Control Order period.
However, the group said RHB did not take into consideration on granting the moratorium to the company in regard to the loan repayments.
Dancomech Holdings Bhd said its 55%-owned subsidiary has bagged a sub-contract worth S$12.01 million (RM36.5 million) at Jurung Port in Singapore.
The sub-contract forms part of the main contract for the construction, completion and maintenance of the proposed Ready Mixed Concrete Ecosystem Project at Jurong Port.
Lien Hoe Corp Bhd is selling a parcel of freehold land in Bandar Seri Alam, Johor for either RM88.67 million in cash — which is more than its current market capitalisation, or for a reduced price of RM64.62 million, if certain conditions are not met.
Lien Hoe's wholly-owned subsidiary Christine Resort Sdn Bhd on Sept 4, 2020 entered into a conditional sale and purchase agreement with Countryland Realty Sdn Bhd for the land disposal.
GHL Systems Bhd has proposed a bonus issue of up to 381 million new shares on the basis of one bonus share for every two shares held.
The entitlement date for the bonus issue will be announced at a later date, upon receipt of relevant approvals.
Ho Wah Genting Bhd has submitted a research protocol to the Ministry of Health (MoH) to evaluate the effectiveness of oral polio vaccine as a preventive protection against the SARS-CoV-2 virus.
The plan is to assess the cross-reactivity between the poliovirus vaccination-induced antibodies and SARS-CoV-2 virus and evaluate the effectiveness of OPV as a preventive protection against Covid-19.
Comfort Gloves Bhd's latest quarterly net profit jumped by six times to RM42.8 million from RM7.12 million a year ago, on the back of higher prices and sales volume, and better economies of scale that boosted the profit margin to 22% from 6%.
Quarterly revenue rose 68.28% to RM197.95 million from RM117.64 million a year earlier, and was higher by 29.46% compared with RM152.91 million in the preceding quarter.
For the six months ended July 30, Comfort Gloves' cumulative net profit grew by 3.8 times to RM59.14 million, from RM15.53 million a year ago, while revenue increased 47.67% to RM350.86 million from RM237.59 million.
LKL International Bhd, which has received a query from Bursa Malaysia in relation to the supply of nitrile gloves to a China-based customer, said it cannot disclose the name of the client due to "confidentiality and sensitivity".
The hospital bed maker said the gloves will be supplied to a China-based company, which is acting as a distributor.
Mesiniaga Bhd has bagged a RM42.01 million contract from the Royal Malaysian Customs Department.
The IT systems integrator and solutions provider said it had accepted a letter of award for the provision of MYGST maintenance services and licence renewal services from 2020 to 2022.
Top Glove Corp Bhd has submitted an audit report to the US Customs and Border Protection, in relation to the alleged forced labour issue filed against the glove maker.
The report, according to the group, was prepared by an independent consultant and entails virtual interviews of about 1,100 of the company's migrant and local workers across various locations.
GFM Services Bhd is looking to enlarge its portfolio of concession assets to include a rest and service area along PLUS Malaysia Bhd's North-South Expressway via the proposed acquisition of up to 70% equity interest in Amzass (M) Sdn Bhd.
It has entered into a heads of agreement (HoA) with the shareholders of Amzass for the proposed acquisition. Amzass was awarded a conditional approval by the Malaysian Highway Authority (MHA) to upgrade the existing facilities of the Northbound and Southbound Bemban lay-bys, which are located along the PLUS North-South Expressway.
Iris Corp Bhd has received a letter of intent to procure 15 million International Civil Aviation Organization (ICAO)-compliant electronic contactless inlays along with its operating system (in 2ups), which is required for the manufacture of Indian e-passports, worth US$27.54 million.
Nylex (Malaysia) Bhd, controlled by businessman Datuk Siew Ka Wei, has obtained the green light from the Malaysian Investment Development Authority to double its ethanol production capacity to a total of 10 million litres per year. Ethanol is used mainly in the manufacture of sanitisers and disinfectants.
Nova MSC Bhd's indirect subsidiary EyRIS Pte Ltd has bagged a five-year contract from Singapore's Ministry of Health for the deployment of SELENA+, EyRIS' first artificial intelligence (AI)-based product.
The group said SELENA+ will be part of Singapore's national screening programme and is expected to deliver a "tremendous" recurring income for the group over the long run. No value was disclosed for the newly-awarded contract.