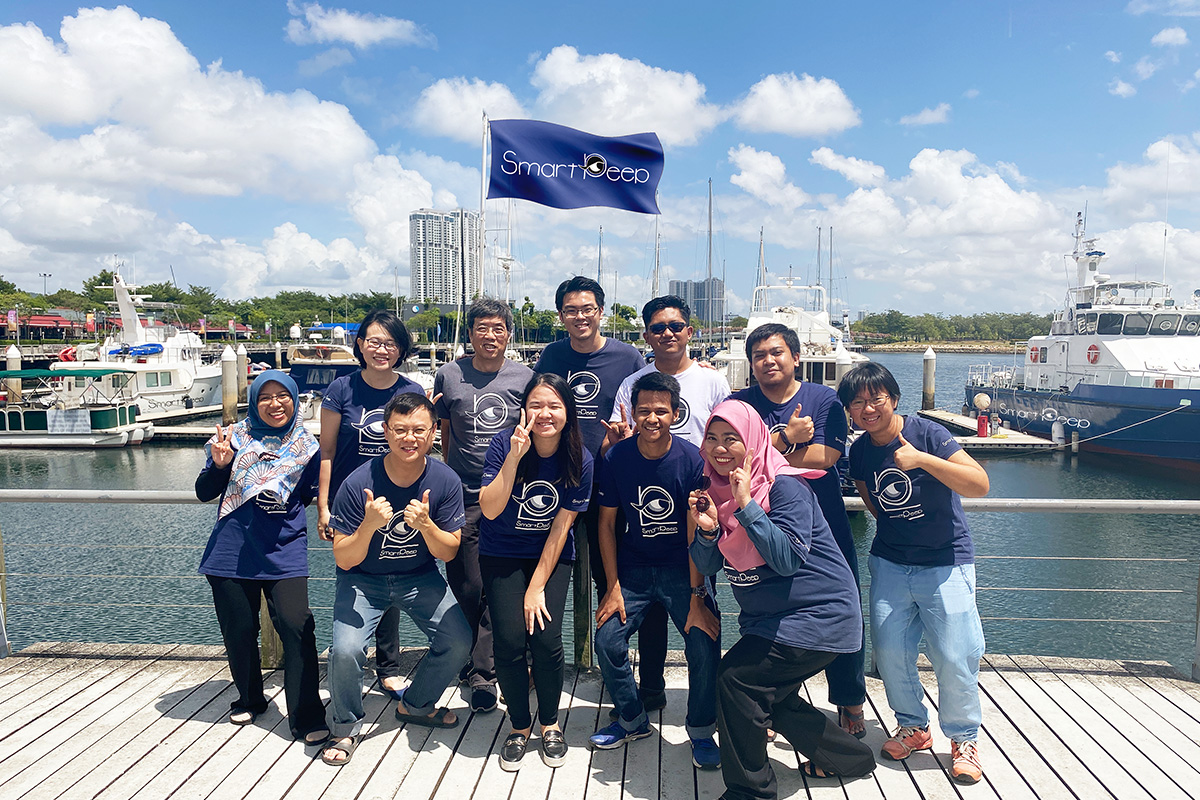 The founders of SmartPeep began looking for a technology-based solution to assist seniors at home after they experienced the stress that occurs when an elderly family member gets into an accident or falls sick.
"Four years ago, our CEO Lim Meng Hui's grandmother fell when she was at home. She couldn't get up. She shouted for help but no one heard her. Fortunately, someone found her several moments later," says Toh Ying Wei, the healthcare technology company's co-founder and chief operating officer.
"But [owing to the trauma], she began refusing to walk and relied on her wheelchair. Her mental condition deteriorated and, one year later, she passed away. This incident caused us to look into how we could use technology to help seniors age safely at home."
Toh herself has also experienced the need for assistance in senior care. Her mother, who is 70, is taking care of Toh's grandfather, who is 90 and afflicted with slight dementia.
"We know that if we rely heavily on humans to take care of the seniors [who are sick], the caregiver has to make many sacrifices. It can be very tiring. We also see many families hiring full-time helpers to do this task, but what about families who cannot afford to do so? Technology is something that can be used to assist these people," says Toh, whose team went on to create an artificial intelligence (AI)-driven sensor that can detect falls in healthcare institutions and at home.
These experiences may become more common in Malaysia as the population ages. Senior citizens may prefer to age in place, which means having the ability to live in one's home independently and safely. At the same time, their children might be worried about the seniors' safety when they are alone at home, especially for those with poor health conditions.
This is where technology — or gerontechnology — is increasingly being deployed to address these concerns. It could be in the form of sensors that can be used to detect abnormal behaviours, exoskeleton robotics that enable mobility, or even just apps that can connect the senior citizens, caregivers and family members.
"The core of gerontechnology focuses on the impact of technology across five domains of human activity, which are health and self-esteem, housing and daily living, mobility and transport, communication and governance, as well as work and leisure," says Teh Pei Lee, professor and director of the Gerontechnology Laboratory in Monash University Malaysia.
A major goal of gerontechnology is to assist senior citizens to live independently, safely and comfortably at home. Advanced technology, such as robots equipped with sensors, can be used for this purpose to help seniors in their daily lives.
For instance, a key concern of many seniors, according to Teh, is the fear of falling, which is a common occurrence. Tech-powered tools can be put in place to prevent it.
"Technology has great potential to support the needs of older people in their living area but requires careful selection to ensure that they fit the older adults' needs. Examples of these technologies include smart home technologies, domotics and digital home assistants," says Teh.
Smart home monitoring systems can provide family members or healthcare professionals with information about the senior citizen's activities at home, with consent from the senior citizen, she adds. Domotics, which refers to home automation, can be used for security or entertainment purposes.
"Digital home assistants such as Google Home, Amazon Echo or Jingdong Dingdong are increasingly popular. These technologies have voice recognition and are easy to use for older adults," says Teh.
It is also important for seniors to have mobility, as it allows them to remain independent, active and socially connected, she says. This could be achieved through community-based transport systems that enable seniors to travel at any time.
Technology must be senior-friendly
Some senior citizens may face challenges in using technology tools, especially if these products are not designed with their needs in mind. An example of a solution that is not necessarily useful for senior citizens is wearables such as smart wristbands.
"We realise that a majority of senior citizens prefer not to use wearables, especially on their wrists. That's because their skin can be very sensitive, so it's uncomfortable to wear it on a day-to-day basis," says Martin Yap, CEO and founder of Care Concierge, which provides elderly care and post-hospitalisation care at home, as well as day-care services for senior citizens.
"That's why we work with partners who can create products that are unobtrusive, like those using Bluetooth Low Energy technology and chips that are embedded on a shirt."
Yap, who integrates technology into Care Concierge's services, observes that its se­nior clients are accepting of new technology if it is easy to use and they understand the importance of the service.
"During the Movement Control Order, seniors were one of the fastest to adopt technology. They had to use Zoom calls to connect with family members, so now they are using it more," says Yap.
Older technology such as panic button pendants are still relevant, he adds. "It's a tactile thing for some of them. They feel comforted that they can press the button physically and know that help is there. But, for things such as monitoring of their health conditions, they prefer to use technology that is unobtrusive."
One also cannot say Malaysian seniors are technophobic. "From our years of experience, Malaysian seniors have been open to learning and using a wide range of new technology if training and support are available," says Teh.
Teh's Gerontechnology Laboratory recruits adult volunteers aged above 55 to contribute ideas and insights to its research. "Technology is advancing rapidly. Older adults need to be considered in the design of gerontechnology. Design is a process. It begins with understanding the users and their needs, which leads to the exploration of ideas and development of prototypes," she says.
Making gerontechnology commonplace
Some industry players have observed that the implementation of gerontechnology is still nascent in Malaysia. But as the population ages, the demand for such solutions will increase.
"The fact that we are talking about ageing is great progress … There is now a wonderful convergence between demographic [change] and disruptive technology, [which can] come together and make people's lives better," says Teh.
"The private sector, government and non-governmental organisations have a chance to write a new social contract, which says that as we age, we can and should be productive, and we can and should be engaged."
SmartPeep's Toh brings up Singa­pore's Agency for Integrated Care (AIC) as an example of what could be introduced in Malaysia. AIC was set up by Singapore's Ministry of Health to coordinate the delivery of aged care services. Having such an agency could increase awareness of the needs of seniors, she observes.
"For instance, the mother of one of my Singaporean colleagues had a stroke. The family knew that the period of recovery would be long and their whole lifestyle had to be changed. The house layout had to be amended too, because it was not designed for a wheelchair user. When this happened, the family was stressed out. But AIC came in to assist them," says Toh.
"[AIC coordinated to send service providers] to the house to install grab bars, and check what assistive devices could assist the senior patient's recovery, among other things. It provides good support for family members to take care of seniors at home instead of sending them to nursing homes."
This is an area of opportunity for Malaysian companies as well. Care Concierge's Yap has partnered with two local tech companies — one of which is SmartPeep — that serve the needs of seniors.
"Malaysians are building technology for the future. Having a tech platform makes their lives better, so they can be safe at home and be connected with family members. When we become an ageing nation, we will need these tech solutions," he says.
SmartPeep and smart monitoring
Three years ago, SmartPeep's founding team began testing the use of computer vision and artificial intelligence (AI) in detecting falls in hospitals and nursing homes.
"We use cameras that we call optical sensors to detect what is happening on the scene, and we train our AI to recognise the seniors' behaviours," says co-founder and chief operating officer Toh Ying Wei. SmartPeep installed its first product in healthcare institutions to alert nurses whenever the sensor detected a fall, she adds.
"Imagine a senior patient who has just had a surgery and is unable to walk. But the patient might want to go to the toilet without asking for help, and that's when they might fall. If it happens, this will prolong their hospital stay."
This year, SmartPeep launched similar products for home use, so family members and caregivers can be immediately alerted if the senior falls or exhibits abnormal behaviours at home.
"The AI is trained to recognise patterns such as a person collapsing or falling down … We've already accumulated quite a lot of experience deploying this technology in healthcare facilities in Malaysia, Singapore and Australia, so now we are bringing it to the consumer space. We have tried it with 20 customers in Johor Baru," says Toh.
How does it work?
The sensors will be installed in areas such as the living room, kitchen and walkways. Not only does the AI detect falls, but it can also alert family members if the senior does not appear in all the cameras for more than four hours, for instance.
"We can also detect if someone sleeps on the sofa for hours with no movement at all. This will trigger an alert to inform family members or send a nurse to check on the senior. Strokes can happen when someone is sleeping," says Toh.
While they do not recommend installing sensors in rooms to protect the senior's privacy, some family members request for this service if the senior has serious health conditions.
"But only family members can view the videos. The nursing home only receives emergency alerts, and no third party can check this information," she says.
SmartPeep wants to introduce more features to its AI-powered sensors. This could be sensors that monitor whether a senior has been in the toilet for too long, Toh says, as there have been many cases of slips and falls in toilets.
"It's dangerous when they can't ask for help, especially if the fall is caused by a stroke. If you can discover the senior within three hours of a stroke's occurrence, the doctor can inject medicine into the patient to remove the clot so the patient can recover quickly," says Toh.
Bundled as a service
SmartPeep sells its home products as a service in collaboration with nursing homes. For instance, once the sensors detect a fall, an alert will be sent to the family members and a nursing home, which will send someone to check on the senior.
"If it's a hard fall, where the senior cannot stand up at all or may be bleeding, the nursing home will immediately call an ambulance and send a caregiver," says Toh.
In some cases, SmartPeep could also work with experts to review the footage and analyse the condition of the senior. Toh cites, for example, a case in which a senior had repeated falls. With consent from the family members and the senior, SmartPeep sent the footage to a geriatrician.
"The doctor said the senior's condition had most likely progressed from dementia to Parkinson's, and her medication may need to be reviewed. This is not a diagnosis but a second opinion to inform the caregiver whether this is just a normal fall or indication of something more severe," says Toh.
The company hopes to help families whose children are working all day but are worried about their parents or grandparents at home.
"We've heard a lot of cases where the senior lies on the floor for five hours until the children come home because they cannot reach their panic button or phone. We are now introducing a non-intrusive and contactless method to track these incidents," says Toh.
Care Concierge modernising nursing homes
Martin Yap, CEO and founder of Care Concierge, has always wanted his company, which provides caregiving, nursing and day-care services for seniors, to be tech-centric. He believes that technology can improve the quality of life for seniors and make caregiving more effective.
One of the services that he has introduced is an app for caregivers to input data regarding the senior's vitals and activities, which is then shared with family members daily.
"It gives the family peace of mind and a sense of accountability … A lot of traditional nursing homes here don't use technology, but we noticed the inefficiencies of doing so," says Yap.
During home visits, the caregivers have to input the seniors' vitals into the app, which are then monitored by the staff at the headquarters.
In certain occasions, they can catch issues that the caregiver missed. "There was once when we found that a patient was suffering from internal bleeding, based on the data provided by the caregiver. We immediately called an ambulance for the patient," says Yap.
"Technology allows us to connect the dots. We looked at the patient's blood pressure data, records of his mood, what he ate, as well as his stool colour from an uploaded image into the app. With that, we managed to diagnose the patient."
Care Concierge also partners with tech companies such as SmartPeep and Go Lifestyle, which provides it with a geofencing technology.
"We have a dedicated centre for dementia and Alzheimer's patients. We allow them to wander around freely and we have activities for them. Geofencing is a good solution for that centre because we give the seniors the independence to move around, but we also get notified immediately if they go out of the boundaries," says Yap.
Monash studying the needs of ageing Malaysians
The Gerontechnology Laboratory in Monash University Malaysia has three key priority research areas: artificial intelligence (AI) and data science; better governance and policy for the new demands of the longevity economy and the future of retirement; as well as sustainable development, which covers social, economic and epidemiological perspectives for healthy ageing.
The Lab has four stations — health, cognitive, living hall and kitchen — which focus on different research projects.
The health station is working on a soft robotics project and an urban mobility project. The soft robotics project uses AI and a human-sized robot to retrieve objects.
"[For the urban mobility project], we are studying the ageing population in Sunway City and its vicinity … We identify key environmental and genetic factors that affect their health and identify gaps in transport for older residents in the area," says Teh Pei Lee, professor and director of the Lab.
In the cognitive station, the Lab is working on the Ambulate Me and mobility project. Ambulate Me is an exoskeleton that supports the body by sending stimulation signals to the muscles, enabling it to perform particular motions.
"The device is able to detect weak muscles and send calculated stimulation signals to the muscles," says Teh. Meanwhile, the mobility project is a five-year longitudinal study that examines the awareness, perceptions, needs and awareness of older adults.
For the living hall station, the Lab has designed and developed the smartphone home system, which is an Internet-of-Things (IoT) assistive technology that provides a convenient home experience for seniors.
"The application does not require an internet connection, which is regarded as costly and inconvenient to older adults. It enables a 'tap to connect' interaction between the physical and virtual world with the use of a smartphone with NFC (near-field communication) technology and a photo interface. For instance, the user taps the smartphone on a photo interface to operate home appliances," says Teh.
At the kitchen station, the Lab has younger people wear an ageing suit to perform a range of activities to simulate the challenges seniors may experience.
"These insights have important implications on the service sector, specifically towards the caring of the ageing population," says Teh.
After creating prototypes of products, the Lab collaborates with businesses or organisations to gather feedback. Sunway Group, Alzheimer's Disease Foundation Malaysia, The Senior Care and Green Pastures are some of its partners. Currently, the work done in the Lab is still at this preliminary stage.
"When it is ready for commercialisation, we will work with Monash Malaysia R&D Sdn Bhd to do so," says Teh.
She wants to keep improving the lives of seniors by harnessing the power of AI and smart technologies. The Lab's research will continue to focus on transport and personal mobility solutions, as this is essential for maintaining the independence and well-being of seniors.
Teh also hopes to shape the direction of businesses and policies to capitalise on the longevity economy. "Many people are choosing to remain in the workforce longer, and this trend has implications for the workplace … We want to develop public policies to accommodate a rapidly ageing workforce in a fast-changing work environment," she says.