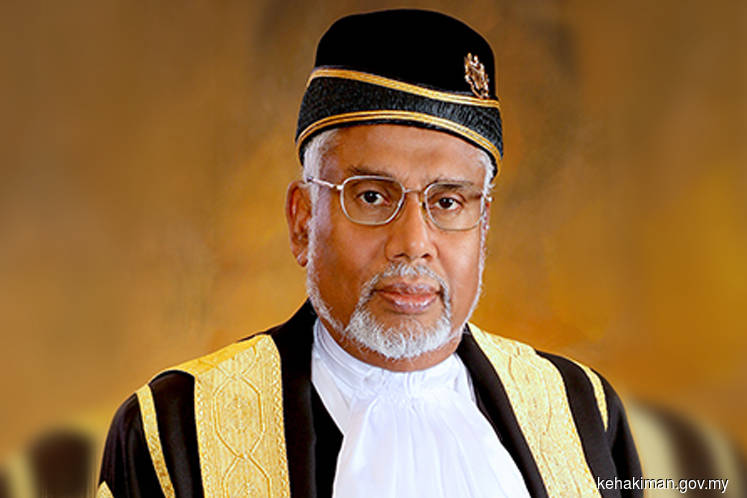 KUALA LUMPUR (March 13): The Attorney General's Chambers (AGC) wants the High Court to remove a big portion of an affidavit filed by the Court of Appeal judge Datuk Dr Hamid Sultan Abu Backer which revealed the alleged misconduct of top judges and judicial interference with regard to the late Karpal Singh's sedition case.
Senior Federal Counsel Suzana Atan, who acted for the Chief Justice's office, told reporters outside the court that the affidavit filed by Justice Hamid Sultan does not fulfil the requirement under Order 41 Rule 5(1) and 6 of the Rules of Courts 2012.
She said the court may order to strike out any affidavit which is scandalous, irrelevant or otherwise oppressive in accordance with the law.
"We filed the affidavit on March 7, and we are of the view that the big part of the affidavit is contemptuous, scandalous, a scurrilous attack on judiciary as a whole and it's hearsay and only based on presumption," she said.
She said the High Court Judge Datuk Mohd Firuz Jaffril now fixed the date for case management on April 3, while waiting for the applicant Sangeet Kaur Deo, the daughter of the late Karpal Singh, to file an affidavit in reply.
Earlier, lawyer Sangeet, who is also the applicant in this case, said she will take a position on the AGC's application in term of the law, on whether it is right to expunge the affidavit.
"In any event, his (Hamid Sultan) own solicitors are now coming on board to respond to that," she said.
Meanwhile, counsels Haniff Khatri and Datuk Joy W. Appukuttan who appeared on behalf of Justice Hamid as watching brief said they need time to take proper instructions from the judge with regard to the attempted application to expunge their client's affidavit as the AGC's application came in at the eleventh hour.
Haniff said they will make an application to intervene. Thus, this will be another issue which the High Court must deal with first.
Justice Hamid had affirmed an affidavit in support of Sangeet's originating summons in connection with the alleged interference by the judiciary in the outcome of her father's sedition case and in the case of the religious conversion of three Hindu children.
On Jan 14, Sangeet Kaur Deo had sued the Chief Justice, seeking a declaration that he failed to protect and defend the integrity of the judiciary in relation to Karpal's sedition case.
The originating summons listed the Chief Justice office as the sole respondent.