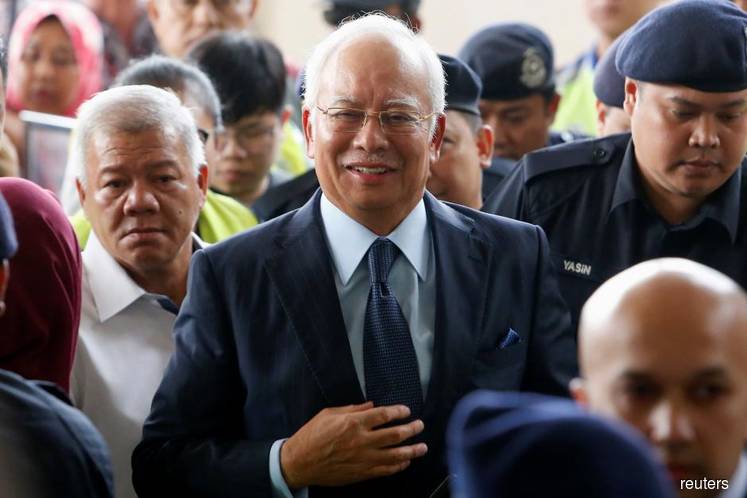 KUALA LUMPUR (March 22): The Attorney General's Chambers (AGC) will file an application to seek an earlier date from the Federal Court to hear the four appeals raised by former Prime Minister Datuk Seri Najib Razak and AGC in relation to Najib's seven charges of criminal breach of trust and abuse of power regarding RM42 million of SRC International Sdn Bhd funds.
SRC International is a former subsidiary of 1Malaysia Development Bhd (1MDB).
Yesterday, the Court of Appeal dismissed three of four appeals filed by Najib, namely wanting a gag order against the media from discussing his case, wanting more documents to the case, and questioning the transfer of the case from the Sessions Court to the High Court.
However, the Court of Appeal allowed his application to challenge the appointment of senior lawyer Datuk Sulaiman Abdullah as a prosecutor, and ordered AGC to produce the certificate of appointment on Sulaiman's appointment as the prosecutor within three days.
Besides, the Court of Appeal also allowed Najib's application to suspend the High Court hearing pending the outcome of the Federal Court.
Deputy public prosecutor Manoj Kurup told the High Court today that the prosecution has filed an appeal against the Court of Appeal's decision yesterday regarding Sulaiman, and will be filing a certificate of urgency together with the appeal for the stay in Federal Court, asking the Federal Court to facilitate the hearing of all four appeals.
"We hope to come back next Friday (March 29) to inform the court of the possible outcome in regard with the trial date.
"The Court of Appeal also indicated that the full written grounds should be ready by next week. We hope the Federal Court can hear all the appeals in April," he added.
However, lawyer Tan Sri Muhammad Shafee Abdullah requested the High Court to fix a mention date on April 3 while waiting for the Federal Court's instruction.
He said the Court of Appeal might need more time to prepare the full grounds of judgment and he will be away on March 29.
He claimed that the defence's appeals to the Court of Appeal have no element of delay, and also no attempt to delay the High Court trial.
"My request is a bona fide request, I will be back to Malaysia on March 29, but I'm going off to Kota Kinabalu to undertake a trial," he added.
Shafee said he prefers to attend the proceedings by himself rather than send other counsel to the court.
High Court Judge Mohd Nazlan Mohd Ghazali then fixed a mention date on April 3 pending the Federal Court's instruction.