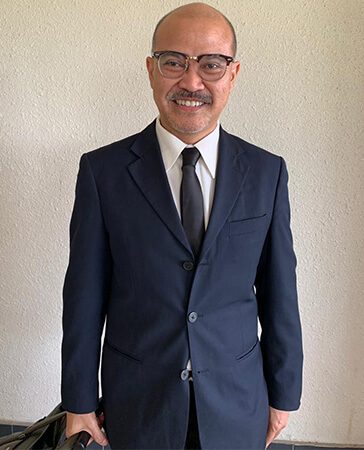 Senior Federal Counsel Shamsul Bolhassan. Photo by Paw Ai Chin/The Edge
KUALA LUMPUR (June 17): The Attorney-General's Chambers (AGC) has opposed the leave application by AirAsia Group Bhd to commence a judicial review against Malaysian Aviation Commission (Mavcom) for refusing to mediate an ongoing dispute between the budget airline and Malaysia Airports Holdings Bhd (MAHB).
The AGC, represented by senior federal counsel Shamsul Bolhassan, intervened in the leave application on grounds that the judicial review could not be conducted because Mavcom has not decided on the MAHB-AirAsia dispute but has merely deferred the decision, court documents showed.
"This does not amount to a decision that renders the applicants (AirAsia) adversely affected or aggrieved that is amenable to judicial review under Order 53 of Rules of Court 2012," the AGC said in its submission to oppose the leave dated June 14.
The AGC also argued that there is multiplicity of proceedings with the judicial review.
"The filing of the judicial review is clearly frivolous, vexatious, and an abuse of the court process for multiplicity of proceedings, given that the same issue is already before the Civil Courts and will shortly be decided upon," it added.
AirAsia filed the judicial review application on May 14 this year against Mavcom and Malaysia Airports (Sepang) Sdn Bhd (MASSB), a unit of MAHB.
In the application, AirAsia sought a certiorari order to quash Mavcom's decision not to rule on the budget airline's dispute with MAHB, and a mandamus order to compel Mavcom to decide on the dispute.
AirAsia maintained that Mavcom has a statutory duty to mediate the dispute and has erred in law by its refusal to do so. Under section 74 and 75 of Mavcom Act 2015, Mavcom will have to decide on a dispute between aviation service providers if mediation fails after a specified time frame.
The civil suit in question arose in December last year, after MAHB claimed uncollected airport taxes from AirAsia Group and AirAsia X Bhd amounting to RM36.12 million. The next hearing is scheduled on July 4.
MASSB was initially not a party in the hearing of the ex-parte leave application by AirAsia.
Concurrently, MASSB has today applied to be a respondent in the leave application, and High Court Judge Datuk Nordin Hassan has approved for Skrine, representing MASSB via Datuk Lim Chee Wee, to hear the application as a putative respondent.
The High Court has fixed the hearing of the leave application on June 25, during which AirAsia Group will put in its submission on the leave application, said Anand Ponnudurai from Messrs Bodipalar Ponnudurai De Silva that is representing the airline.