This article first appeared in The Edge Financial Daily, on December 18, 2018.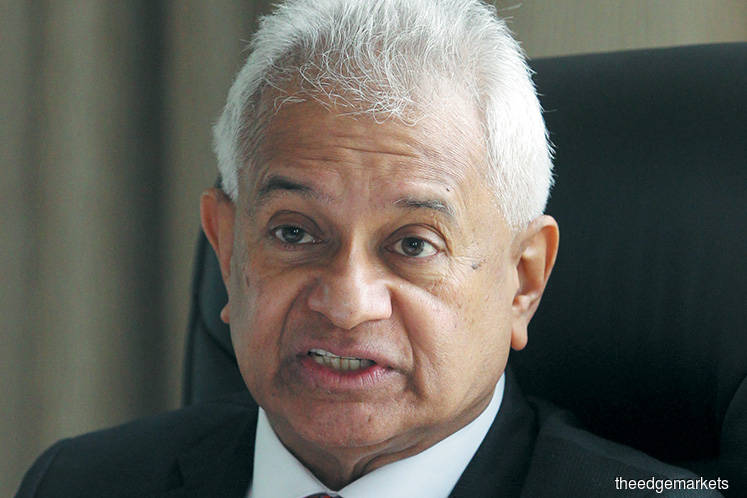 KUALA LUMPUR: Malaysia's Attorney-General (AG) Tommy Thomas said criminal charges were filed against Goldman Sachs and others yesterday as they had broken laws "at the heart of capital markets" when they sold three bonds totalling US$6.5 billion (RM27.17 billion) for 1Malaysia Development Bhd (1MDB).
"The charges arise from the commission and abetment of false or misleading statements by all the accused to dishonestly misappropriate US$2.7 billion from the proceeds of three bonds issued by the subsidiaries of 1MDB," Thomas said in a statement.
"Their fraud goes to the heart of capital markets, and if no criminal proceedings are instituted against the accused, their undermining of our financial system and market integrity will go unpunished," he added.
He said the offering circulars for the bonds filed with the Labuan Financial Services Authority, Malaysia's offshore banking jurisdiction, contained statements which were false, misleading or from which there were material omissions by representing to investors that the proceeds of the bonds would be used for legitimate purposes when in fact they were "corruptly and fraudulently misappropriated".
"Offering circulars are serious documents intended to be relied on, and in fact were relied on, by purchasers of the bonds," he added.
To reflect the severity of the alleged offences, Thomas said prosecutors will seek criminal fines against the accused well in excess of the US$2.7 billion misappropriated and the US$600 million fees paid to Goldman. They will also seek the maximum custodial sentence of 10 years against all the individuals accused of abetting Goldman.
The accused that Thomas referred to are those named in the charge sheets filed with a Kuala Lumpur court. The main accused is Goldman Sachs International (UK) which arranged for the bonds in 2012 and 2013.
Those charged with abetment are Goldman Sachs (Singapore) Pte Ltd, Goldman Sachs (Asia) LLC, former Goldman employee Timothy Leissner, ex-1MDB general counsel Jasmine Loo Ai Swan and Malaysian businessman Low Taek Jho (Jho Low).
All were charged in absentia.
Another former Goldman staffer, Roger Ng Chong Hwa, detained by Malaysian police pending extradition to the US, is expected to be brought to court this week to face charges of abetting Goldman Sachs International in the fraud.
Thomas said the scheme was designed and crafted by the accused to fraudulently structure the bonds for ostensibly legitimate purposes when they knew the proceeds would be misappropriated and fraudulently diverted.
Their scheme to defraud is a contravention of Malaysia's securities laws, particularly Section 179 of the Capital Markets and Services Act 2007, he added.
"Having held themselves out as the pre-eminent global adviser/arranger for bonds, the highest standards are expected of Goldman Sachs. They have fallen far short of any standard. In consequence, they have to be held accountable," said Thomas.