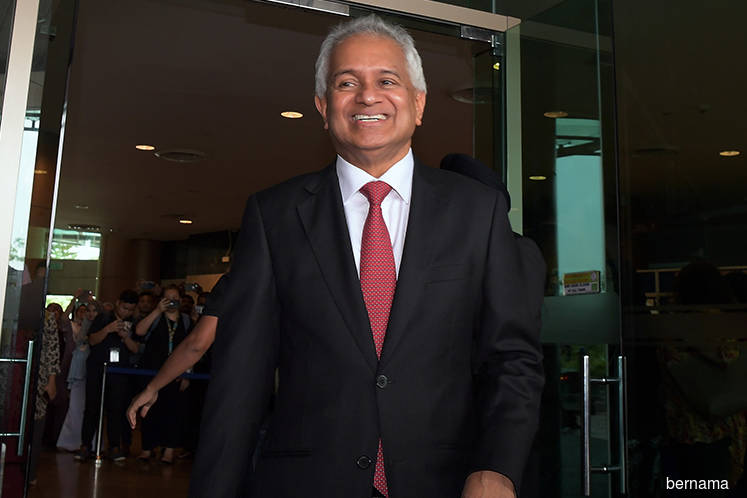 PUTRAJAYA (March 12): Attorney General Tommy Thomas reminded a three-member Court of Appeal bench that the population and the whole world want to see the start of former premier Datuk Seri Najib Abdul Razak's criminal breach of trust and money laundering trial involving SRC International Sdn Bhd funds amounting to RM42 million.
This follows the bench being informed that Najib's lead counsel Tan Sri Muhammad Shafee Abdullah wanted a short adjournment from the court and that he be excused from submitting the appeal or issue of improper transfer and the withdrawal of the Section 417 Criminal Procedure Code certificate scheduled today as the senior lawyer has fractured his hand.
Thomas then objected to the postponement of the hearing to another day as the hearing of the appeal has been fixed for two days ending today.
"The prosecution is under scrutiny from the public as they want to see the trial proceed. The whole world is also looking at us and if possible we want to see the trial (before the High Court in Kuala Lumpur) proceed tomorrow if possible," he told the bench, which comprises Justices Datuk Zabariah Mohd Yusof, Datuk Rhozariah Bujang, and Datuk Lau Bee Lan.
The court had fixed two days beginning yesterday to hear the appeal.
Shafee, who earlier attended another proceeding in Shah Alam, informed the bench he could not submit the fourth issue of the appeal, namely the transfer of the case.
"My pet dog jumped on me resulting in me to fall and I fractured my hand. I have to get my hand X-rayed and unfortunately the specialist at the Columbia Hospital in Shah Alam is not available.
"I have to get my hand X-rayed again to see the extent of the injury maybe tonight," he said in open court.
"However, I am prepared to do the appeal tomorrow and continue on Thursday and Friday," he said.
Before the end of the case, Zabariah fixed Friday for the hearing of the last appeal.
All three judges will be on duty with separate benches on Wednesday while Thomas has to be in Johor Bahru for another matter.