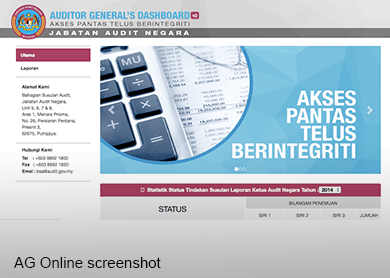 (Apr 9): Members of the public are encouraged to visit the improved AG Online Dashboard 2.0 website, which now allows greater public scrutiny on government procurement processes.
In a statement today, Performance Management & Delivery Unit (Pemandu) said the improvements were made to a key initiative in the area of government procurement under the fighting corruption national key results area (Anti-COR NKRA).
The unit said the move indicated that Putrajaya and the Auditor-General's Office were serious about the effective closure of all issues highlighted in the A-G's Report, which saw its first series tabled earlier this week.
The improvements are now live on AG Online Dashboard 2.0, recently launched by Minister in the Prime Minister's Department Datuk Paul Low.
Low said the main improvement was the ability to track cases at a more granular level, as each issue highlighted in the report would be listed under the relevant ministry.
"We encourage the public to utilise this platform, as it is also a medium for the public to comment on all issues that remain.
"Together with the A-G's Office, we hope that ministries will be responsible in dealing with cases in the 'red light' with greater urgency," he said.
Low said an open dialogue involving the people, facilitated by the site, would let everyone discuss the issues highlighted in the report in a more constructive manner, instead of being sensationalised like in the past.
Meanwhile, Anti-COR NKRA director Ravindran Devagunam said with an even more effective system in place to monitor and track cases, and also allow open dialogue with the public, action would be taken to make necessary corrections.
He said it would also help the government achieve the objective of greater transparency and accountability in governance.
"We commend both the chief secretary and the ministerial secretary-generals for their efforts in institutionalising the media engagement sessions after each tabling, as we believe such an unprecedented move will continue to be fundamental in the government's commitment towards greater transparency," he said.
Previous engagements with the people through town hall sessions in June and November 2013 had effectively led to disciplinary action initiated and expedited against 339 officers involved in 211 punitive strikes highlighted in the A-G's report.
The AG Online Dashboard 2.0's website is at https://agdashboard.audit.gov.my/. – The Malaysia Insider