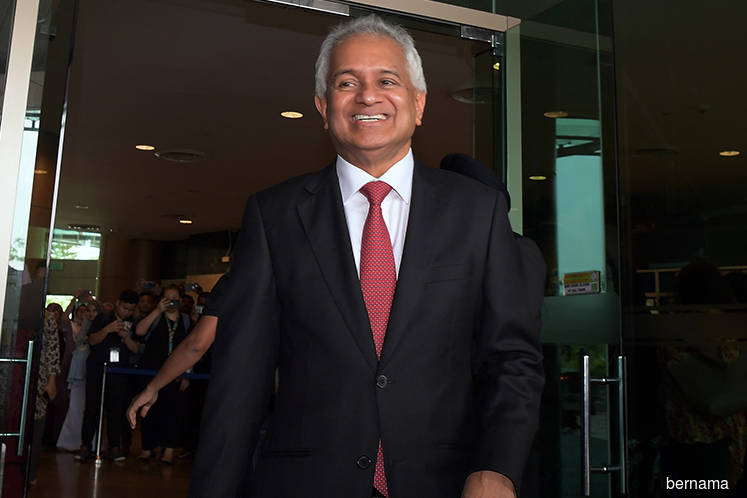 KUALA LUMPUR (Aug 9): Attorney-General Tommy Thomas has defended the appointment of Sitpah Selvaratnam, a senior shipping and maritime lawyer in his former law firm, to handle the government's claim of Equanimity, a RM1 billion super yacht that was bought using funds allegedly siphoned from 1Malaysia Development Bhd (1MDB).
Thomas said his decision to appoint Sitpah, which was done at no cost to the taxpayers, was because the Attorney-General's Chamber does not have a specialist shipping unit to handle the litigation matters, especially pertaining to the legal arrest of ships and vessels.
"The decision to appoint Ms Selvaratnam was mine, and mine alone, because I have trust and confidence in her ability and integrity," Thomas said in a statement today.
"Her services are rendered to us without any charge to the taxpayer," he added.
Yesterday, Umno youth politician Nik Saiful Adli Burhan had questioned the appointment of Sitpah and Thomas' former law firm representing 1MDB in claiming the Equanimity, saying this could lead to a conflict of interest.
"There is no question of conflict of interest because we are all on the same side. It is neither right nor sensible for Malaysia to be deprived of the services of Ms Selvaratnam merely because I was in the firm where she has been a consultant for the past eight years," Thomas stressed.
In addition, Thomas said Sitpah's appointment will entitle Malaysia to the best shipping lawyer, given her experience of more than 25 years in specialised maritime practices.
Pointing out Sitpah's strong credentials of chairing the Bar Council's shipping and admiralty law committee, and founding president of International Malaysian Society of Maritime Law, Thomas said, "She is therefore the obvious choice to advise Chambers and myself on the matter."
At the same time, Thomas also said Sitpah's appointment was amid an intricate transaction and layered corporate deals, which were carried out by businessman-turned-fugitive Low Taek Jho, or Jho Low, and his advisers to hide the true source of funds used to purchase the yacht.
"Serving the warrant of arrest with the sheriff on the yacht required experience and expertise by lawyers who have actually conducted admiralty arrests," he added.
Going forward, Thomas said Sitpah's real test of experience and expertise would come into play when Jho Low or any other party applies to set aside the Equanimity's warrant of arrest.
"The arguments would then be vigorously put forward by all sides when the court hears the matter on its merits, and it is critical that Malaysia has the best barristers," he said.
"Litigation is dynamic: unpredictable events in court, and Malaysia's case must be in safe hands," he added.