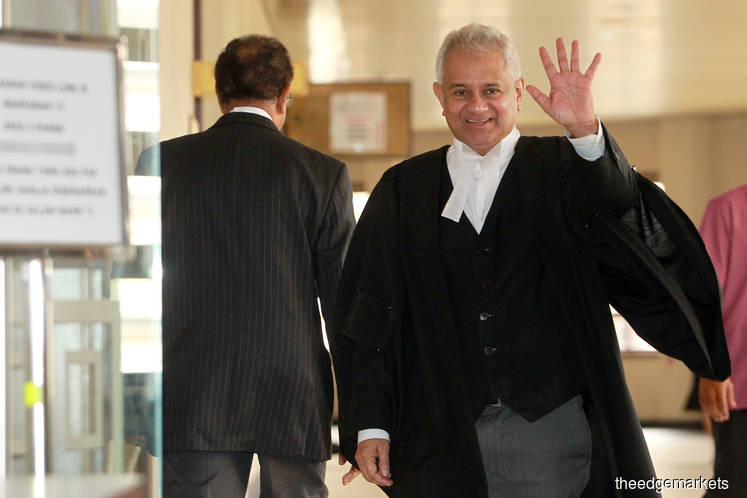 KUALA LUMPUR (June 21): The prosecution in the criminal trial of Datuk Seri Najib Razak over the RM42 million allegedly siphoned from Ministry of Finance Inc unit SRC International Sdn Bhd is expected to call 25 more witnesses, says Attorney-General Tommy Thomas.
Thomas, who is leading the prosecution in the Najib-SRC trial, told the High Court this as he sought a third postponement for another Najib trial — on RM2.28 billion allegedly misappropriated from 1Malaysia Development Bhd.
"It is a matter of principle, where the second case shouldn't start until the first case completes," said Thomas.
"Prosecution [in the SRC trial] is going slower than expected... We have called in 40 witnesses, there are 25 witnesses more," he told High Court judge Justice Collin Lawrence Sequerah, who is overseeing the 1MDB trial.
On May 14, the judge agreed for a second postponement of the 1MDB trial to Aug 19, to make way for the ongoing SRC trial.
The SRC trial was expected to be concluded by Aug 15.
Thomas had asked for Sequerah to postpone its trial date to October, to give way for the SRC trial, which had called in its 42nd prosecution witness, SRC's director Datuk Suboh Md Yassin, on Thursday.
In response, Sequerah said the prosecution cannot assume the future progress of the SRC trial, and set another case management date for the 1MDB trial on July 15 to have a clearer direction.
On the SRC trial, Najib is currently facing seven charges for criminal breach of trust, abuse of power and money laundering in receiving RM42 million from SRC.
This comes after SRC received government-guaranteed loans totalling RM4 billion in 2011 and 2012 from Kumpulan Wang Persaraan Diperbadankan (KWAP).
In the 1MDB trial, he is facing 25 charges for using his position in the government to misappropriate RM2.28 billion from the controversy-laden state investment fund.
Hearing for the SRC trial will continue on July 1 before High Court Judge Mohd Nazlan Mohd Ghazali.