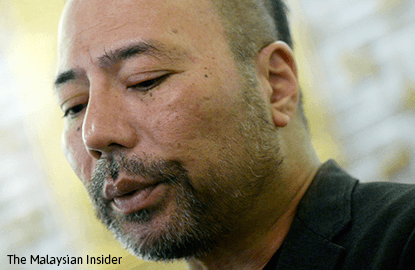 KUALA LUMPUR (Feb 3): Former Umno division leader Datuk Seri Khairuddin Abu Hassan is challenging the attorney-general's (A-G) decision not to prosecute Datuk Seri Najib Razak over alleged financial scandals, a day after former minister Datuk Zaid Ibrahim filed a similar application.
Khairuddin, the former Batu Kawan Umno division vice-chairman, will file a judicial review leave application in the Kuala Lumpur High Court today to set aside Tan Sri Mohamed Apandi Ali's decision not to frame criminal charges against the prime minister.
"My client will also be asking for an order to compel the A-G to give permission to the Malaysian Anti-Corruption Agency (MACC) to collect evidence outside Malaysia," Khairuddin's lawyer Mohamed Haniff Khatri Abdulla told The Malaysian Insider.
He said Khairuddin was seeking a declaration that Apandi had no authority to order MACC to close investigations papers over the RM2.6 billion "donation" and RM42 million linked to SRC International Sdn Bhd.
Haniff said the application stated that Apandi was not a validly constituted A-G and public prosecutor following the abrupt removal of his predecessor Tan Sri Abdul Gani Patail on July 28.
Gani was heading a high-powered task force to investigate the donation saga, SRC and the troubled 1Malaysia Development Berhad (1MDB), when he was relieved of his position on medical grounds.
Haniff (pic, right) said other grounds cited were that Apandi was in breach of natural justice and had conflict of interest.
"He also did not act as a reasoanable public prosecutor but more as counsel to exonerate Najib of the alleged offences during a press conference last week (January 26)," he said.
The lawyer said Apandi exceeded his jurisdiction conferred under Article 145 (3) when he ordered MACC to close investigation papers.
Last Tuesday, Apandi announced that MACC, after six months of investigations, did not have sufficient evidence to bring charges against the prime minister.
The three papers are one on the RM2.6 billion donation and two on SRC International, which had taken a RM4 billion loan from the Retirement Fund Inc (KWAP).
Haniff said Khairuddin would also file a criminal application in another High Court for a declaration that a charge against him of sabotage of the Malaysian economy and the country's financial system, was unconstitutional.
"This is because my client is questioning the appointment of Apandi as A-G and public prosecutor," he said.
He said the Federal Constitution and the Criminal Procedure Code could not give protection to Apandi as his appointment was deemed invalid following Gani's removal.
On October 12, Khairuddin and his lawyer Matthias Chang were charged before a magistrate with attempted sabotage of the Malaysian economy and the country's financial and banking system, after he lodged reports against 1MDB.
On November 18, the Kuala Lumpur High Court allowed bail for the duo pending trial in the Sessions Court.
Judge Datuk Mohd Azman Husin ruled that Parliament had never intended the charge framed against the two under Section 124L of the Penal Code to be a security offence.
"As such, procedures under Security Offences (Special Measures) 2012 could not be applied on them," the judge said in allowing their application.
He released them on RM10,000 bail, and ordered the trial to commence in the Sessions Court.
The charge carries a jail term of up to 15 years upon conviction.
Khairuddin was detained on September 8 and Chang, a former political aide to ex-prime minister Tun Dr Mahathir Mohamad, was arrested on October 8.
The prosecution's appeal in the Court of Appeal would be heard on February 26.