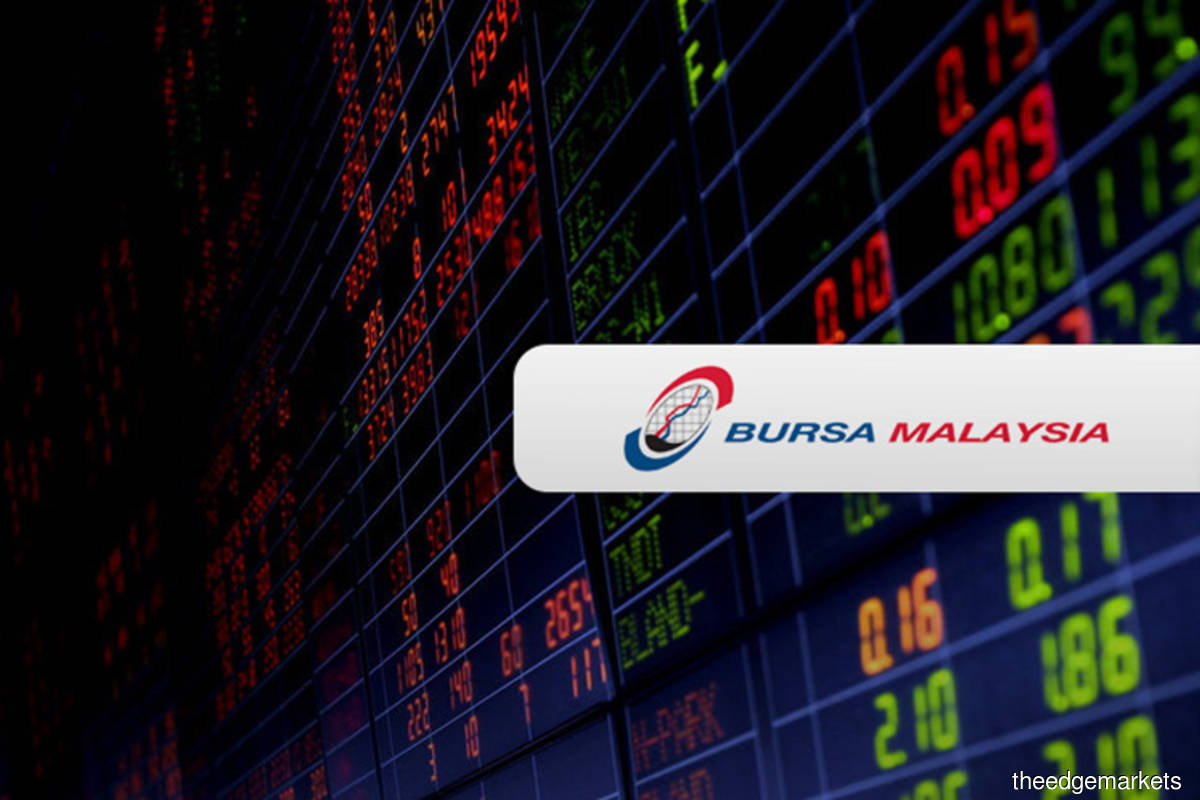 KUALA LUMPUR (April 13): During the pandemic-driven global equity rout last year that saw share prices being hammered – with many hitting their lowest in a decade – some RM421.41 billion in market capitalisation was wiped out from the local stock exchange between Jan 1 and March 19. Since then, however, the local bourse has gained some RM554 billion in market cap up till March 31 this year.
The V-shaped recovery resulted in some 85% of listed companies on the local bourse recovering from their trough last year. So, what does this mean now for these public listed companies or PLCs in terms of valuation?
A check with Bloomberg showed that only 10 out of the top 100 largest PLCs by market cap on Bursa are deemed attractive now, in terms of price-to-earnings (P/E) valuation, compared to a year ago.
Among them are six KLCI-component stocks – half of which are rubber glove stocks, namely Top Glove Corp Bhd (5.35 times), Hartalega Holdings Bhd (16.18 times) and Supermax Corp Bhd (4.3 times). The other three are plantation counters Sime Darby Plantation Bhd (23.67 times), IOI Corp Bhd (30.12 times) and Kuala Lumpur Kepong Bhd (KLK) (25.69 times).
The remaining four counters that make up the 10 are: Kossan Rubber Industries Bhd, Genting Plantations Bhd, United Plantations Bhd and Yinson Holdings Bhd – with the last being the only one from the oil and gas sector.
But compared with their five-year average, nearly a third or 33 of the top 100 PLCs have lower trailing 12-month (TTM) P/E.
And two-thirds or 66 companies have a lower forward P/E compared with their TTM P/E. This indicates that analysts covering the stocks are anticipating higher future earnings for these companies.
In terms of return-on-equity (ROE), about a quarter of them (24 out of the 100 companies) has a higher ROE compared with their respective five-year average ROE, and eight of these are KLCI-component stocks.
The three companies that top the list with the biggest increase in ROE are all glove makers, led by Top Glove with a ROE of 111.9%, versus its five-year average of 22.71%; followed by Kossan's ROE of 57.07% versus its five-year average of 25%; and Hartalega's ROE of 56.62% versus its five-year average of 19.77%.
Some notable counters that achieved better ROE versus its five-year average are Bursa Malaysia ( (45.47% versus 28.64%) and DRB-Hicom Bhd (7.6% against 1.08%).
Plantation counters stand out
As the recovery theme comes into play amid rising optimism inspired by the global vaccine roll-out, cyclical stocks such as banks and planters have come under investors' radar.
Apart from FGV Holdings Bhd, which was loss-making in 2018 and 2019, five out of the six plantation counters that are among the top 100 PLCs have lower P/E now, compared with a year ago.
And of these five counters, four – IOI Corp, KLK, Genting Plantations and FGV – are deemed attractive in terms of their forward P/E.
In terms of ROE, only two of them – KLK, and United Plantations – have higher returns compared with their respective five-year average ROE.
Note that crude palm oil price jumped to its 13-year high of RM4,274 last year, before slipping to RM4,061 as at end-March 2021 – still a high price point.
Meanwhile, five out of the nine banks listed on the local stock exchange are now trading below their book value, with Affin Bank Bhd having the lowest price-to-book (P/B) of 0.38 times, while Public Bank Bhd has the highest P/B of 1.73 times.
Interestingly, BIMB Holdings Bhd is the only bank with an ROE that is higher than its cost of equity (COE) at 11.62% against 10.02%. The attractiveness of a bank declines, when it has an ROE that is lower than its COE.
Dividend yield-wise, BIMB stands out with the highest at 3.16%, followed by Public Bank's 3.1%, while the rest of the banks provide yields of between 1.12% (CIMB Group Holdings Bhd) and 2.32% (AMMB Holdings Bhd).
In contrast, the dividend yields were seen between 4.26% (Hong Leong Bank Bhd) and 9.04% (Alliance Bank Malaysia Bhd) a year ago.
The tech growth
Deemed growth stocks, analysts are bullish on technology counters' future earnings. Out of the 12 tech counters among the top 100 PLCs, all 12 have lower forward P/E compared with their TTM P/E.
Three counters with forward P/E of below 30 times are SKP Resources Bhd (22.1 times), VS Industry Bhd (22.44 times), and Unisem (M) Bhd (27.53 times). Only Unisem has a lower forward P/E compared with its P/E of 41.29 times a year ago. UWC Bhd, on the other hand, has the highest forward P/E among its peers of 60.94 times.
Only three tech counters have a higher ROE versus their five-year averages, namely D&O Green Technologies Bhd (31.81% vs 19.71%), Frontken Corp Bhd (20.07% vs 15.16%) and Unisem (9.13% vs 7.8%).
Midcaps not very attractive for now
A similar trend is seen among the mid caps, whereby only six companies have lower TTM P/E compared with their P/E a year ago. Notably, two are REITs – Sentral REIT (13.37 times) and UOA REIT (13.59 times).
The four other companies are: Sarawak Consolidated Industries Bhd (6.14 times), Hiap Teck Venture Bhd (11.57 times), Chin Teck Plantations Bhd (14.47 times) and CB Industrial Product Holdings Bhd (10.84 times).
Roughly 34% or 33 out of the 98 midcaps listed on Bursa have a lower forward P/E against their TTM P/E, with some notable being Pharmaniaga Bhd, Amway Malaysia Holdings Bhd, Solarvest Holdings Bhd and Ranhill Utilities Bhd.
And 20 of these midcaps reported lower TTM P/E, compared with their five-year average P/E.
In terms of ROE, about 30% or 29 of the midcaps registered higher ROE, compared with their respective five-year average ROE.
Interestingly, only 40% or 39 companies are currently trading below its book value. Based on data culled from Bloomberg, construction firm Econpile Holdings Bhd has the lowest P/B of 0.21 times.
On the other hand, nearly all of the 98 midcaps have reported growth in terms of market value since a year ago. Cumulatively, these midcaps saw a total inflow of RM33.84 billion during this period.
Notably, AwanBiru Technology Bhd (Awantec), previously known as Prestariang Bhd, reported the highest increase in market cap among the midcaps, as its share price grew from merely 10 sen to reach a 52-week high of RM1.28.