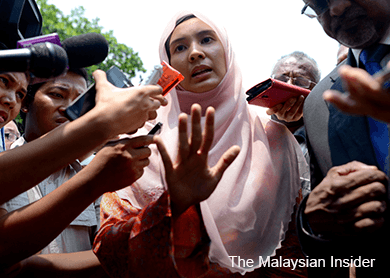 (Aug 19): PKR accused Putrajaya of blocking access to its jailed leader Datuk Seri Anwar Ibrahim after an alleged attempt to topple Prime Minister Datuk Seri Najib Razak was made public.
The party's vice-president, Nurul Izzah Anwar, said prison authorities have denied visits by family members, doctors and lawyers in the past week, in a move that coincides with talk that Najib was facing a crisis within ruling party Umno.
"In the past week, especially after talk that a few Umno leaders had prepared statutory declarations, prison authorities denied us access to Anwar.
"He was not allowed visits from his famly, doctors and lawyers.
"This is politically motivated," the Lembah Pantai MP, who is also Anwar's daughter, said during a press conference at the PKR headquarters in Petaling Jaya today.
On Saturday, Deputy Prime Minister Datuk Seri Ahmad Zahid Hamidi claimed there was a plot to topple the government and vowed not to let it happen.
He had said that he knew of an elderly Umno leader with "ambition" as the one leading the plot with the support of opposition lawmakers, and that they were seeking the signatures of MPs from both sides for a statutory declaration to change the government.
Today, Nurul Izzah said that on the day Zahid made the statement, prison officials had cancelled a visit by Selangor Menteri Besar Mohamed Azmin Ali to Anwar, who is still the state's economic adviser.
"They cancelled the visit immediately, that very same day Zahid came up with his statement," she said.
Nurul Izzah added that Anwar was also not allowed to go to the library in prison.
"They are also stopping opposition leaders like Lim Kit Siang, Rafizi Ramil and Azmin from greeting him when he came to court.
"And they shortened the time period (he has) with lawyers from two hours to 45 minutes," she added.
At the same press conference, PKR chief whip Datuk Johari Abdul said Anwar was still being denied state medical care, adding that the former opposition leader was suffering from a shoulder injury.
"We object that he is being denied government medical care.
"The Home Ministry, Prison Department and hospital knows about the serious injuries he has. This is causing him constant pain and his shoulder needs to be operated on immediately," Johari added.
He also criticised the government for disregarding Anwar's plight despite the prime minister assuring that the former opposition leader would be given all necessary medical care.
"We have applied and appealed for treatment to solve the problem directly and also through the lawyers, but no one has responded to our appeals," Johari said.
He urged that Anwar be allowed treatment by the family doctor and if found that he required hospitalisation, for the process needed to be facilitated speedily.
"The home minister, the Prison Department director and Putrajaya will be held  fully responsible over Anwar's medical needs and any negative effect to his health as long as their appeals for him to receive treatment are ignored," he added.
Last month, Anwar was admitted to the Kuala Lumpur General Hospital for treatment over a shoulder injury following a car accident last year.
Anwar is serving a five-year prison sentence which began in February after he failed in his appeal to the Federal Court against the conviction of sodomising a former aide. – The Malaysian Insider