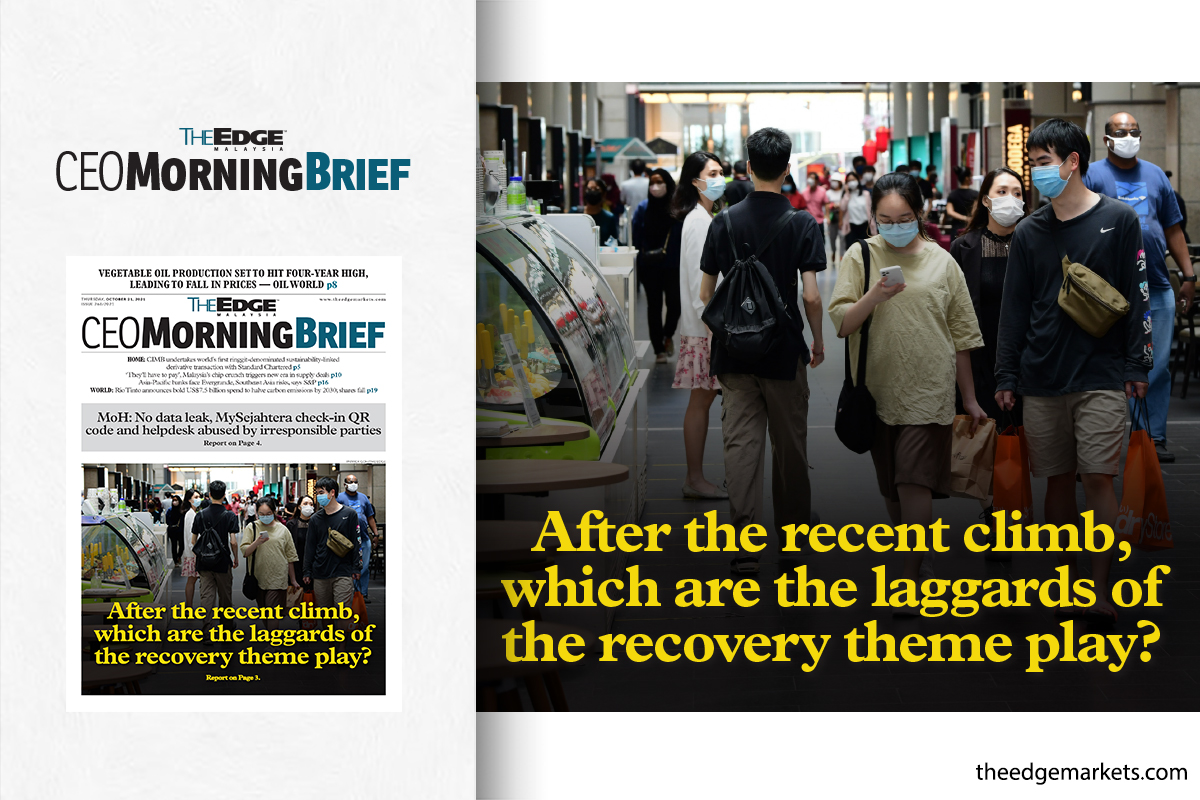 KUALA LUMPUR (Oct 21): Investors are looking for proxies to the rebound on consumer spending as more Malaysians have started leaving homes for work, social gatherings, shopping and holiday trips as a result of the reopening of the domestic economy.
The rally in consumer-related counters such as AirAsia Group Bhd and The Body Shop products distributor InNature Bhd lately and shares of the Genting group of companies and banking stocks being actively traded showed that the recovery-theme play is gaining momentum on Bursa Malaysia.
In fact, the valuations of some consumer stocks are already on par with historical average. These include the breweries, petrol kiosk operator Petronas Dagangan Bhd, majority of home appliances companies, as well as those in the fashion and apparel business like Bonia Corp Bhd, and Magni-Tech Industries Bhd which has Nike as a key customer.
With the recent run-up, those who are optimistic about the economic recovery will look harder for laggards among companies that may benefit as more people head back to the malls and offices.
"In terms of valuations, one of the ways we benchmark the companies is by comparing their current P/E (price-to-earnings) ratio with their average P/E for the last three years," said Mahani Ibrahim, chief executive officer (CEO) of PMB Investment Bhd which has over RM1.3 billion in assets under management.
Another fund manager concurred. "The 2017-2019 average P/E will be a fair comparison.
"Of course, when making the comparisons, investors should keep in mind that certain sub-sectors may have a slower pace of recovery than others," the fund manager added.
Using the above valuation method, The Edge has compiled a list of companies of over RM500 million in market capitalisation, with lower P/E multiple (based on current share price and 2019 earnings) relative to the 2017-2019 average.
Bloomberg data showed that among common names on the list include MyNews Holdings Bhd, which is en route to have 50 branches of South Korea's CU store operational by year end, from five early this month.
It should also be interesting to see Berjaya Food Bhd's performance moving forward, after posting record revenue of RM717.27 million for the financial year ended June 30, 2021. The company is the franchisor of brands like Starbucks, Kenny Rogers Roasters, Krispy Kreme and Jollibean.
Sector-wise, companies involved in the sale of cars and motorcycles are still undervalued compared with their historical valuations. Sime Darby Bhd in its latest annual report pointed to the best ever results by its motor division in 2020, largely supported by its China operations.
That said, it should be noted that the Malaysian Automotive Association in July revised its total industry volume for 2021 to 500,000 units, down 5.6% from actual sales in 2020. The industry sold 318,874 vehicles in 9M2021, or 63.8% of the full-year forecast, while second-hand car sales gained traction.
Other laggards include the number forecast operators — which saw downward pressure on dividend payouts during the pandemic period — but remain as analysts' picks as a proxy for a meaningful recovery come 2022.
Certain companies have missed the list due to the absence of historical P/E ratio, including InNature and MR DIY Group (M) Bhd, who were listed in 2020.
InNature, which touched a record high of 87.5 sen this week, ramped up its e-commerce business during the lockdown, and posted commendable results during the temporary reopening in 2H2021.
Home improvement retailer MR DIY continues to expand its outlet network by opening 35 new stores in October, for a total of 175 additions this year. It currently has more than 800 stores nationwide.
Restrictions on foreign tourists' entry another factor to watch
Some risks remain on the horizon.
Neighbour Singapore, which has vaccinated 86% of its population, has seen daily new cases surge from under 150 during its relaxation of certain Covid-19 rules in August to over 3,000 cases this month before coming off its peak. This reflects the risk of a resurgence in Covid-19 infection.
On top of that, higher raw material prices, such as agriculture feedstock and packaging materials, due to reasons ranging from supply chain disruptions to elevated commodity prices, could be eating into companies' profit margins.
Fund management outfit Areca Capital, which managed RM2.75 billion as at end-March 2021, opted for a barbell investment strategy balancing between recovery play and growth stocks, said its CEO Danny Wong Teck Meng.
In a nutshell, the barbell strategy is used during times of uncertainty by investing in the two extremes of high-risk and no-risk assets, while avoiding middle-of-the-road choices.
"On recovery play, we like banks, consumer counters, and selected construction companies," said Wong. For growth counters, Wong prefers exporters, industrial companies and those in the electrical and electronics (E&E) segment.
Other factors are also at play. While Malaysians are spending again, retail sales volume has not improved much since the 2020 Movement Control Order, an economist told The Edge.
"It will eventually go back to pre-pandemic levels, but the question is when? It depends on external factors mostly, as well as tourists too. No more Chinese tourists," the economist said, referring to the influx of tourists with strong spending power for several years before the pandemic.
On the other hand, this could also mean the upside potential from the impending return of international tourists into the country. The government has said that it is looking to reopen borders for foreign travel in December, with the 90% adult population vaccination benchmark already surpassed this month.
As of Oct 20, seven states and federal territories were in Phase 4 of the National Recovery Plan, while the other nine were in Phase 3. Malaysia has also reduced the quarantine period for fully vaccinated travellers to seven days, from 14 days previously.