This article first appeared in The Edge Malaysia Weekly, on March 26, 2018 - April 01, 2018.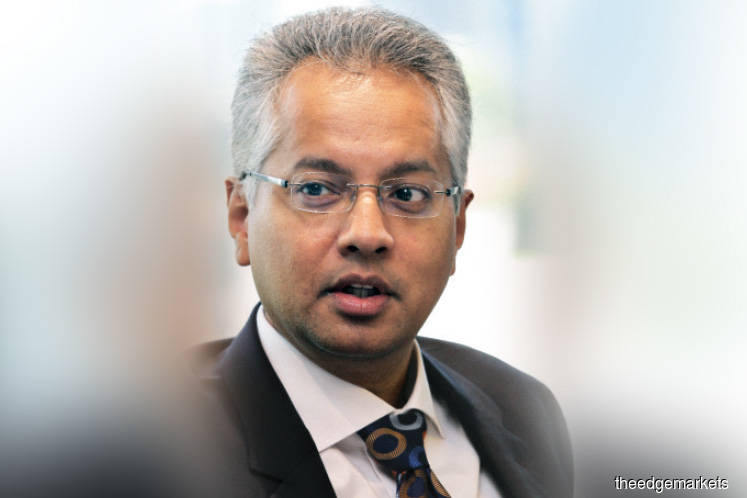 AFTER a busy several years reconfiguring its core businesses, UEM Edgenta Bhd expects wider margins and a more consistent earnings growth trajectory over the next five years.
The infrastructure and asset solutions group, which completed the sale of its 61.2% stake in New Zealand-listed Opus International Consultancy Ltd (OIC) in December, is now looking to its healthcare and infrastructure divisions to drive further growth.
Managing director and CEO Datuk Azmir Merican says it is targeting for its revenue to achieve a compound annual growth rate (CAGR) of 10% to 15% for the five years to the financial year ending Dec 31, 2022 (FY2022).
In terms of margins, UEM Edgenta is "at 6% now and we're expecting that to grow to 8% and maybe the low teens as we move forward", he tells The Edge in an interview.
The group ended FY2017 on a high as its fourth-quarter net profit surged about 20 times to RM324.81 million from RM16.49 million the year before.
That was thanks to the sale of its 61.2% stake in OIC for NZ$173.8 million (RM490.1 million), netting it a gain of RM274.91 million. Payment was received on Dec 4, 2017.
The group used part of the proceeds to repay borrowings, which reduced its gross gearing from 0.64 times in FY2016 to 0.35 times in FY2017.
It said the early repayment will save RM20 million over two years, and retains RM503.8 million cash against RM559.76 million in total borrowings.
UEM Edgenta also announced a special dividend of 18 sen per share on top of a payout of 13 sen for FY2017. Its dividend payout policy is up to 70% of profit after tax and non-controlling interest (Patanci).
The 31 sen dividend per share (DPS) is a record payout for the group, which paid a DPS of only seven sen in FY2016 — a record low since the creation of the group via a three-way merger in 2014.
UEM Edgenta made a net profit of RM418.19 million on the back of revenue of RM2.12 billion in FY2017 — a vast increase from the preceding year's RM80.06 million net profit and RM1.58 billion revenue.
(Note that the figures were restated following the disposal of OIC and discontinuation of OIC's contribution.)
Redeploying capital
Given the exchange rate, OIC had been a significant contributor to the group's top line over the years. But the disposal was a strategic decision driven by multiple factors, says Azmir.
The New Zealand-based consultancy made up 44% of group revenue in FY2015 and 46% in FY2016. However, OIC only made up 16% of normalised Patanci in FY2015 and 8% in FY2016, according to UEM Edgenta.
Azmir attributed the reduced contribution to generally tighter margins for the consultancy business — of around 3% — adding that OIC had not been able to expand significantly beyond New Zealand to achieve sufficient scale to boost margins. As a result, UEM Edgenta's margins were affected too.
"So when you filter down to Patanci, it's not that big," he says. "We also didn't like the markets we were exposed to via OIC."
Recall that in FY2016, UEM Edgenta booked an impairment loss of RM110.8 million that was attributed to OIC's Canadian and Australian operations being enmeshed in the oil and gas-related slowdown. The bulk of the impairments came from Canada, which saw write-offs amounting to RM94.4 million in FY2016.
"The Canadian market was too far for us and we didn't quite understand it, so [as a shareholder] we have very little to contribute. We don't think we have enough to make a dent in that market, so why play around someplace where you're not serious?" says Azmir.
Also a factor was an attractive premium offered by WSP Global Inc for the controlling stake in OIC, which was acquired by UEM Edgenta from its major shareholder UEM Group in 2014.
When UEM Edgenta inked a lock-up agreement to accept the offer on Aug 14, the offer was an 85% premium to OIC's one-month volume-weighted average market price inclusive of a possible seven sen dividend that would not affect the sale price.
"What we want to do is redeploy capital to where it makes the most money and the most sense," says Azmir. "Those are healthcare services and infrastructure, both of which make far superior margins and are growing."
Post-OIC, the core business revenue mix of UEM Edgenta is 40% healthcare services, 40% infrastructure services and 10% real estate services.
The other 10% is represented by its remaining consultancy business, Opus International (M) Bhd, which operates mainly in Malaysia and Indonesia.
That Malaysian consultancy unit is retained as the capability is presently needed in the country's construction boom, says Azmir.
Among its functions are to act as the Transport Ministry's independent checking engineer for the construction of the Sarawak Pan Borneo Highway as well as to support UEM Group's participation in the Sabah portion of the highway where it is joint project delivery partner.
The unit currently has an estimated RM557 million worth of consultancy work-in-hand slated for delivery in the next three years. That does not include potential new contract wins going forward.
Organic growth
With the OIC disposal completed, UEM Edgenta is now markedly different from the 2014 merged entity.
At the time, UEM Edgenta (then known as Faber Group Bhd) had merged with Opus Group Bhd and Projek Penyelenggaraan Lebuhraya Bhd in a RM1.15 billion exercise.
The following year, it relinquished majority control in both its hospital management concessions in Sabah and Sarawak, becoming a 40% shareholder in each.
In 2016, it acquired Singapore-based healthcare facilities manager, Asia Integrated Facilities Solutions Pte Ltd, for S$185.9 million as well as an 80% stake in integrated facilities manager, KFM Holdings Sdn Bhd, for RM128 million.
Along the way, UEM Edgenta also discontinued the legacy property development business under the old Faber Group.
The realignment had contributed to swings in its annual financial performance, but Azmir maintains that that is in the past as currently, about 60% of the group's income is recurring, providing earnings stability and dividend predictability.
UEM Edgenta is now shifting its attention to pursuing organic growth after major acquisitions in FY2016.
"There is emphasis on capital expenditure because we need to strengthen and have the right assets to drive the business," says Azmir, adding that RM100 million has been set aside.
The investments are expected to drive operational efficiencies, the adoption of new technology and innovation as well as beef up assets deployment for the infrastructure division.
Consequently, he says it is expected to add RM18 million in additional depreciation and amortisation this year.
With a stronger balance sheet and volatility risk from OIC dissipated, can shareholders expect the dividend policy to be revised upwards?
"The management may recommend increasing [the] dividend policy for FY2018," Azmir responds, adding that it would be up to the board to decide.
UEM Edgenta closed unchanged at RM2.63 last Thursday, giving it a market capitalisation of RM2.2 billion.
Save by subscribing to us for your print and/or digital copy.
P/S: The Edge is also available on Apple's AppStore and Androids' Google Play.