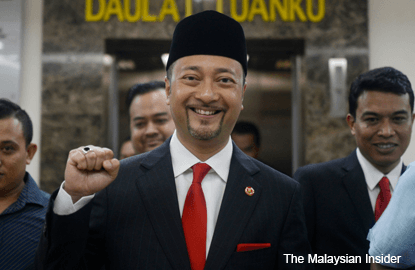 KUALA LUMPUR (Feb 4): As the curtains came down on the Kedah menteri besar saga yesterday, Umno insiders in the state were worried that the episode could spell the end of Barisan Nasional (BN) rule in the state at the next general election.
They told The Malaysian Insider that while Umno president Datuk Seri Najib Razak removed a potential thorn on his side, he had risked BN's future in Kedah.
Analysts said Umno would struggle to contain the political fallout, but said the episode did not automatically benefit opposition parties as they are still not a united front.
"We have to remember, the people of Kedah have lived under opposition rule before and although PAS did not do much, no one suffered," said a Kedah Umno division veteran of 40 years.
"So Kedah going back to PAS is a definite possibility," said the veteran on condition of anonymity.
Unjustified removal
To most Kedahans, Datuk Seri Mukhriz Mahathir's removal is unjustified and it would be difficult for Umno to convince them otherwise, said an Umno branch leader.
Mukhriz was not only a popular menteri besar, he was the reason Kedahans voted Umno back in 2013, said political scientist Prof Shaharuddin Badaruddin.
He was not involved in any scandals nor did he have any contentious policies.
"If Najib wanted to use Mukhriz's management of Kedah as a reason for him to be removed, then why has (Pahang Menteri Besar Datuk Seri) Adnan Yaakob not been removed?" asked the branch leader.
Adnan still has his job despite failing to deal with the serious pollution from bauxite mining that turned rivers and towns red in eastern Pahang.
It would be difficult to hide the fact that Mukhriz was ousted as part of the purge of Najib's critics in Umno, and because he didn't cosy up to party warlords.
"There is a big disconnect between what the Kedah Umno warlords want and what the Kedah public want," said the branch leader.
"The Kedah public want a clean, young, dynamic and capable menteri besar. That is what Mukhriz is to them but to Kedah Umno, this is not enough."
Kamarul Azman Habibur Rahman, a member of the coalition of Umno branch chiefs critical of Najib, said feedback from state branch leaders was grim.
"We are going to see Umno loyalists in Kedah retaliate in the next election. They might not vote for the opposition but they won't go out to vote for Umno."
Although Najib can still rely on the party's middle management, the divisions, to back him during the elections, they still depend on ordinary branch activists to do the leg work of canvassing for votes.
Kamarul Azman said going by the mood in Kedah now, many of these ordinary activists would likely stay home during the campaign period.
"Either way, we will see a drop in people who will vote BN, there will be more fence-sitters and these people can go to the opposition," said Kamarul Azman, whose movement is known by its Bahasa Malaysia acronym GKCM.
Dealing with discontent
Kedah Umno division leaders are hoping the two years before the election and short political memories will be enough to soothe public discontent.
"But what they don't realise is that Umno members do remember, like in (Datuk Seri) Anwar Ibrahim and Tengku Razaleigh Hamzah's cases. During those crises, Umno members voted for the opposition," said the Kedah Umno veteran.
In the 1990 election, BN lost Kelantan due to Tengku Razaleigh's Semangat 46 splinter party.
Then, in 1999, BN lost Terengganu and was almost dethroned in Kedah due to Anwar's reformasi movement.
There is also deep scepticism that Mukhriz's replacement, Datuk Seri Ahmad Bashah Md Hanipah, could deal with public discontent, said Shaharuddin, of Universiti Selangor.
He said although Ahmad Bashah led the campaign to oust Mukhriz, questions remain on his capability.
"To succeed, Bashah has to do even better than Mukhriz. But will he really be able to change Kedah in two years?"
The only consolation for BN and Najib is the fact that opposition parties are still split and have not been able to present a united, alternative front to Kedahans.
PAS is Umno's chief rival in Kedah, but it also has a prickly relationship with other opposition parties.
It has clashed with the DAP and considers Parti Amanah Negara (Amanah) traitors, and currently has ties only with PKR.
The opposition has 15 assemblymen in the Kedah legislature. PAS currently holds eight seats, PKR four, DAP two and Amanah one.
The opposition need at least 19 out of the 36 seats to form the government.
"The possibility of Kedah going back to PAS is there but this also depends on whether PAS can work with Pakatan Harapan," said Shaharuddin.