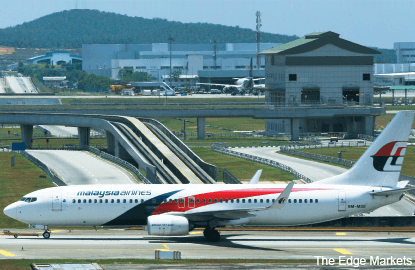 KUALA LUMPUR (May 26): Malaysia Airlines Bhd, which has managed to deliver ahead of its financial budget for the first quarter of 2016, is bracing for a weaker second quarter due to expected softer demand during the Ramadan period.
And the good start to the year notwithstanding, it is expecting to still record a loss for the year 2016, according to the airline in a statement today.
 
Nevertheless, it updated that it has made good progress on its turnaround plan to be sustainably profitable by 2018.
Though revenue was down 21.7% with available seat kilometres (ASK) decreasing 30.2%, its average yield per passenger rose a strong 23.4% against the same quarter last year, it said. 
Overall load factor was softer at 68.9%, but with an upward trend, it noted.
Meanwhile, costs declined by 32.9% year-on-year (y-o-y) due to the airline's saving initiative, with a lower than budgeted fuel price and fuel savings contributing significantly to its improved cost position.
The headcount reduction and improved work efficiency also resulted in payroll savings before exceptional items of 40.5% y-o-y.
"By moving swiftly and making tough decisions early, we have reshaped the business for a strong, sustainable future. Our financial progress achieved this quarter shows that we are firmly on the right trajectory," said group chief executive officer Christoph Mueller. 
It was previously reported that after years of reporting losses, Malaysia Airlines had posted its first quarterly profit – RM14 million – for the period between January to end-March this year. Group-wide, the profit was RM51 million before exceptional cost.
In its statement today, the airline said it recorded positive operation cash flow before exceptional items like sign-on bonuses and other restructuring costs during the period. 
Besides that, punctuality of flights improved steadily, reaching a year-to-date level of 83% at the end of the quarter. This follows disappointing performances in Dec 2015 and Jan 2016.
On-time performance on domestic flights year-to-date was also encouraging, at around 90%.
"Improved technical dispatch reliability across all fleets and increased ground handling productivity at Kuala Lumpur International Airport were the main contributors to our improved performance overall," the statement read.
Increased punctuality, combined with a 50% reduction is mishandled luggage, saw customer complaints decline by 37%, reaching the lowest level since 2012.
Malaysia Airlines also noted signs of improvement in the Chinese and North Asian market environment. 
In light of this, it has commissioned two additional A350-900 aircraft to be introduced late 2017, adding to the original four on order, to reach a critical fleet size that will allow for scheduled maintenance and future network expansion. 
It added that preparations for the introduction of the new aircraft are ahead of schedule, with initial pilot and engineering training well under way.