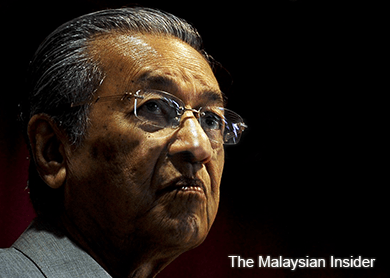 (June 25): Malaysia is now sliding backwards and is acting like Saudi Arabia in its zeal to impose a dress code on the public, Tun Dr Mahathir Mohamed said today.
He said it was a person's right to wear shorts in public, and, "as long as they aren't naked", they should be allowed to enter a government building or hospital.
"In government offices, certainly there is a dress code. But that is an office matter.
"Public matters are different. We shouldn't be telling others what to do, they aren't Muslim," he told a press conference after a buka puasa event with Perkasa in Kampung Baru, Kuala Lumpur.
He said dress codes in government buildings should only apply to its staff, and not visitors, especially those who are not Muslim.?
"We are now sliding backwards. Soon, not only shorts will be an issue. If a woman leaves a house without a burqa, it will be considered wrong.
"We are acting like Pakistan, Afghanistan, Saudi Arabia. That's their culture. When we try to turn it into our culture, it becomes a problem."
A Road Transport Department (RTD) guard had caused a storm on social media for ordering a woman who had gone to the department's Gombak office to wear a sarong. The woman had worn a skirt which ended above her knees.
On June 16, another woman was told to cover her legs before she was allowed into the Sungai Buloh hospital. She was not given a sarong to wear but wrapped herself in a borrowed towel.
About a week later, two women were barred from entering the Selangor government headquarters in Shah Alam for wearing skirts that ended above their knees.
The RTD and hospital have issued apologies to the women involved in the three incidents, after they attracted public scorn including from former ministers.
This evening, however, the umbrella union of the civil service, Cuepacs, announced that it was giving special recognition to colleagues who had been enforcing the dress code in government departments.
Cuepacs president Datuk Azih Muda said a certificate of appreciation would be given to the Rela (People's Volunteer Corp) member who told the woman visitor at the Sungai Buloh hospital to cover her legs.
He said a letter of thanks had already been given to the RTD guard at the Gombak office who gave the woman customer a sarong. – The Malaysian Insider