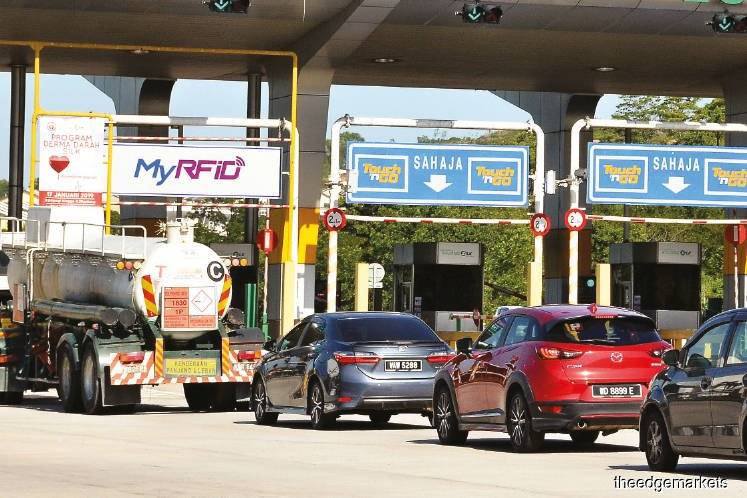 KUALA LUMPUR (Nov 11): CIMB Group Holdings Bhd and PLUS Malaysia Bhd announced today that their joint venture company, Touch n' Go Sdn Bhd (TNG), will be launching the RFID tag as an additional payment option for road users at all PLUS expressways across the country next year.
The announcement came after the JV partners revealed late last month that they had reached a settlement that puts an end to their dispute over PLUS' decision to launch its own toll collection system using the RFID, which stands for radio frequency identification.
CIMB holds a controlling 52% stake in Touch 'N Go, while PLUS has a 28% stake and MTD Equity Sdn Bhd holds 20%.
In a joint statement, CIMB and PLUS said the RFID payment option promises a seamless experience with more options for toll payment, anchored on the concept of open payments, and will give highway customers the choice to link their TNG RFID tags to any of their bank accounts, credit or debit cards, or the TNG e-wallet.
"It is the intent of CIMB and TNG to roll-out the Open Payments facility to all toll highway concessionaires across Malaysia in the future. Over time, this RFID-driven payment mode is expected to replace the TNG card that has been the defacto mode of payment for toll transactions across the country," the statement read.
TNG RFID services will be available on 10 open system toll plazas situated along PLUS' expressways by Jan 1, 2020. The service will be rolled out on all 83 closed system toll plazas on PLUS expressways, by April 1, 2020. 
Open system toll plazas are a system where the toll fare is fixed based on the vehicle class, while a closed system is one where the rate is based on the vehicle class, as well as the distance travelled from entry to exit on a particular highway.
CIMB and PLUS said "there will be absolutely no disruption to the current card, SmartTAG or PayDirect services", and that the scheme is being coordinated and devised in collaboration with the Ministry of Transport, Ministry of Works and the Malaysian Highway Authority. And as an added convenience, PLUS and TNG are also collaborating to enable PayDirect across all PLUS expressways by middle of 2020.
CIMB Group chief executive officer Tengku Datuk Seri Zafrul Aziz said CIMB is pleased to work with PLUS, on this "landmark initiative".
"The democratisation in toll payments is something we fully champion and the CIMB teams, together with the teams at our subsidiary TNG, are committed to collaborating with PLUS and, in time, another highway concessionaires, to make Open Payments an accessible reality for all Malaysians," Tengku Zafrul said.
PLUS Managing Director Datuk Azman Ismail, meanwhile, said giving more options to customers is an important aspect in enhancing their road journeys and a key consideration when working with the group's partners.
"We are pleased that open payment options will soon be available to toll highway customers, in line with the needs of our customers who look forward to more convenience."RFID transactions will be real-time, as our highway customers will receive an immediate notification of their balance and CIMB/TNG have given their commitment to this high standard of service delivery," Azman said.
On Oct 24, CIMB said it and its wholly-owned unit CIMB SI 1 Sdn Bhd would withdraw the suit they initiated against PLUS, as well as discontinue the arbitration proceedings they had sought over PLUS starting its own RFID business.
Read also:
CIMB, PLUS reach settlement over RFID system dispute