This article first appeared in The Edge Financial Daily, on June 27, 2019.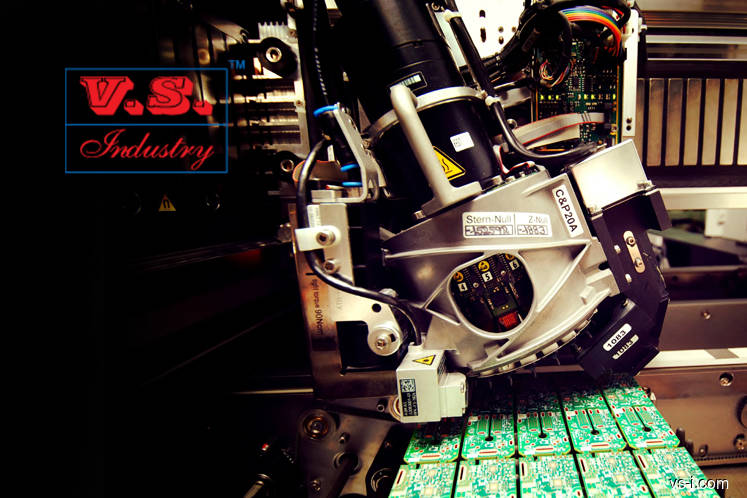 VS Industry Bhd
(June 26, RM1.09)
Maintain hold with a higher target price of RM1.15: VS Industry Bhd's (VSI) third quarter of financial year 2019 (3QFY19) revenue came in at RM890 billion (+1% year-on-year [y-o-y], -10% quarter-on-quarter [q-o-q]) with a core net profit of RM31 million (-4% y-o-y, -17% q-o-q). This brings its nine-month (9M) earnings to RM109 million, which accounted for 87% and 85% of our and consensus expectations respectively, beating expectations.
 
The variance between our full-year earnings estimate and the actual results was mainly due to (1) lower-than-expected operating expenses (3QFY19 operating expenses dropped 19% y-o-y partly on the back of improved operational efficiency, and (2) lower-than-expected share of core operating losses from its China operations. For the nine-month period of FY19 (9MFY19) the group's share of core operating losses from its China operations amounted to RM15 million compared to our full-year estimate of RM27 million.
Its Malaysian operations posted revenue of RM743 million (+7% y-o-y, +10% q-o-q) and profit before tax (PBT) of RM47 million (+63% y-o-y, -10% q-o-q) in 3QFY19, which formed 83% and more than 100% of group revenue and PBT respectively. The stronger earnings on a y-o-y basis were mainly driven by higher sales orders and improved operational efficiency.
Its China operations recorded revenue of RM93 million (-29% y-o-y, -12% q-o-q and a core loss before tax (LBT) of RM10 million in 3QFY19 (versus PBT of RM1 million in 4QFY18 and LBT of RM4 million in 2QFY19).
Despite its ongoing cost-cutting exercise since the second half of 2018, we understand that sales orders have declined significantly, weighed down by the ongoing US-China trade war. The group has accelerated its cost-cutting exercise in view of declining sales orders. We gather that the downsizing will continue in the upcoming quarters.
We raise our FY19-2021 earnings by 9%/3%/3%, mainly to account for (a) lower assumptions for share of core operating losses from China operations (FY19: RM22 million/FY20: RM11 million/FY21: RM5 million versus previously FY19: RM27 million/FY20: RM13 million/FY21 RM8 million), and (b) trimming our FY19-21 operating expenses assumptions by 1-4%.
The upcoming potential decline in order from its customer X remains a key earnings risk for the group. We observe that one of its key products with customer X is nearing the end of its product life-cycle. Non-renewal or replacement of the product in the upcoming quarters could pose earnings downside risks to VSI.
On the positive front, upon securing a new contract with Bissell recently, management is in advanced negotiations with about five customers and is optimistic of winning more jobs in 2019, where the earnings contribution from these potential wins could filter through from FY20 onwards. The prospect of clinching new clients could present upside potential to our FY20-21 earnings forecasts. — AllianceDBS Research, June 26