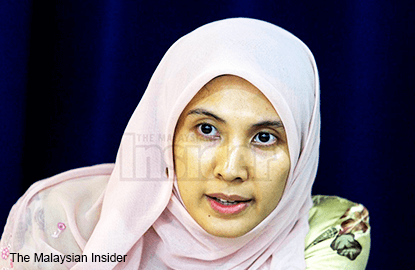 (Nov 27): PKR vice-president Nurul Izzah Anwar today said she respected the Sabah assembly's decision to bar her from entering the state, but emphasised that she was not a traitor to the country.
She added that she was disappointed and upset with the decision as she apologised for hurting the feelings of Sabahans after photographs of her and Jacel Kiram, the daughter of self-styled Sultan of Sulu Jamalul Kiram III, were uploaded on Facebook.
"Whatever it may be, I respect the decision of the Sabah assembly. Although it really pains me, I love the state.
"I will fully work to the end to clear my name when again there is no basis to any of the allegations made.
"I have filed a suit yesterday. I am no traitor to Malaysia. I love my country and I have stated that I will defend the sovereignty of Sabah as part of the federation," she told reporters before going in to give her statement at the Bukit Aman police headquarters in Kuala Lumpur.
Nurul Izzah, who is also Lembah Pantai MP, has been criticised for taking pictures with Jacel.
One of them depicted both women holding posters demanding the release of jailed former opposition leader Datuk Seri Anwar Ibrahim. The picture was posted on Jacel's Facebook page and went viral.
The police called Nurul Izzah seeking an explanation and it is unknown under which act she will be investigated.
"Today, consider that I have nothing to hide, I have come willingly to the Bukit Aman police station to answer queries that might arise from the said photo."
On her defamation suit against Inspector-General of Police Tan Sri Khalid Abu Bakar and Rural and Regional Development Minister Datuk Seri Ismail Sabri Yaakob, she said it was necessary as the allegations were linked with treason.
"Like it or not, it is important to set a precedent as you cannot allow any Malaysian for that matter under whim and fancy of the government to be tied or linked to treason.
"I don't want to create a precedent that because of the backlash I hide from that matter.
"I took the decision to respect my host and that's the end of it," she said.
She added that she did not just take photos with Jacel and that the host had earlier prepared the "Free Anwar" placards.
The Sabah assembly yesterday passed a special motion to bar Nurul Izzah and Tian Chua from the entering the state.
The special motion, backed by Sabah Barisan Nasional assemblymen, was tabled by Deputy Chief Minister Datuk Raymond Tan and seen as an affront to the sovereignty of Sabah.
Tan, in his motion, also demanded an investigation to be carried out and legal action to be taken against the duo. – The Malaysian Insider