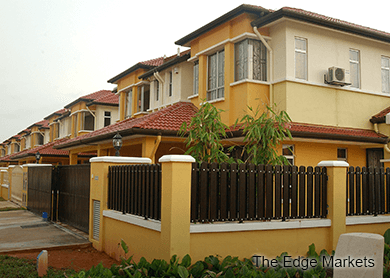 (May 19): The Negri Sembilan government will do away with low-cost houses in a new housing policy soon.
Its Menteri Besar Datuk Seri Mohamad Hasan said low-cost houses would be replaced with affordable homes.
"Houses with one room is not suitable anymore, the minimum should be affordable homes with three rooms and two bathrooms," he told reporters in Seremban.
He added that with the state aiming to be a developed state by 2020, having low-cost houses was no longer feasible.
"A developed state should not have low-cost houses," he said.
Mohamad added that the affordable homes to replace all low-cost houses would measure at least 20 feet x 60 feet.
"But of course there won't be expensive finishing like plaster ceiling and kitchen cabinets," he said.
He said the new housing policy would be meaningful to the people of Negri Smebilan.
"The house should be where a family with two or three children can live comfortably," he added.
He pointed out that the low-cost homes would be replaced with affordable homes type A, B and C.
The standard affordable homes (type A) will be priced at RM80,000 and below, deluxe affordable homes (type B) at RM250,000 and below, while superior affordable homes (type C) at RM400,000 and below.
Mohamad said the affordable homes would make up 50% of all housing projects.
"The remaining 50%, developers can sell at any price," he said.
Mohamad said this was to protect the public's interest.
"We do not want to boast of being a fast-developing state but the people cannot afford to buy houses," he said.
Meanwhile, he revealed that the state government will review the approval given to housing developers.
"We know many developers have not built the low-cost houses, we will discuss with them to make changes and build affordable homes instead," he said. – The Malaysian Insider