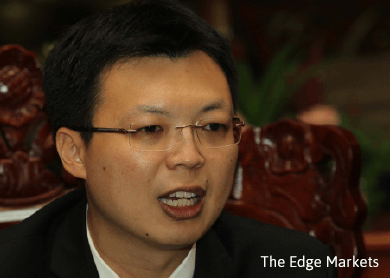 KUALA LUMPUR: Residential properties priced between RM200,000 and RM500,000 will drive demand for housing this year, said Deputy Finance Minister Datuk Chua Tee Yong.
"In 2013, there were 74,153 transactions for residential properties ranging from RM200,000 to RM500,000. Last year, this (number) increased to 102,082 transactions. Clearly the demand for affordable housing surpasses [that for high-end housing] with a price tag exceeding RM1 million," he told a news conference yesterday after launching the Property Market Report 2014 by the National Property Information Centre (Napic).
He said between 2010 and 2014, residential properties priced below RM500,000 had shown a steady year-on-year growth. They accounted for 84% of residential property transactions last year.
According to the Property Market Report 2014, a total of 384,060 transactions worth RM162.97 billion were recorded last year, a marginal 0.8% increase in volume (2013: -10.9%) and a 7% rise in value.
The residential sub-sector led the overall property market in 2014, with 247,251 transactions or a 64.4% contribution in terms of volume. It recorded a 0.4%  growth in 2014, from 246,225 transactions in 2013.
In terms of value, the residential sub-sector took the lead with RM82.06 billion, or a 50.4% share.
For 2015, Chua expects the residential sub-sector to continue to be the main contributor to the property market.
"Last year, the property market came off from a higher base in 2013. However, the focus will be on affordable housing in 2015 and that should be something that the property developers can concentrate on," said Chua.
Nevertheless, Chua noted that the number of transactions in the residential subsector this year will depend on the supply that property developers put into the market.
"It would also depend on what kind of projects the property developers are promoting.
"If the trend [among developers] still moves towards properties above RM1 million, there may not be that positive growth for the residential subsector, as [our data] points towards growth in the affordable housing segment.
"[Hence,] we believe that property developers will be digesting [Napic] data in deciding on their future launches," he said.
According to the Napic data, Selangor, Johor and Perak remained the three leading states in the residential segment for 2014, each with a 24.6%, 15.8% and 11% market share.
By type, terraced houses accounted for 41.4% (102,313 units) of the total residential properties sold in 2014, followed by condominums/apartments with a 12.6% share (31,072 units).
There were 68,351 units of new residential launches in 2014, up from 62,376 units in 2013, which was partly due to the high numbers of condominiums and serviced apartments, which formed nearly 44.9% of the new launches.
By property category, there was a fair balance between landed (49.7%) and high-rise (49.6%) units launched.
"In terms of performance, landed units achieved higher overall take-up of 34.4% compared with 11.1% obtained by high-rise counterparts, by type terraced houses formed the majority of the new launches, accounting for 37.7% of the total and securing 36.9% of the sales performance.
"Serviced apartment was the next highest with a 27.8% share but its sales performance was low at 5.5%," said Napic.
The residential overhang showed positive signs as the numbers receded to 11,816 units worth RM4.04 billion, down by 12.8% in terms of volume and 15.9% in value. By state, Johor continued to record the highest number of national overhang units, accounting for 30.2%, or 3,572 units in total.
"Nevertheless, the numbers reduced by a slight 0.2% though value shot up by 32.4% to RM952.43 million, Johor also holds the highest number of unsold units under construction(30.5%) and those not constructed (40.8%) in the country," read the report.
On the performance of the overall property sector for the year, Chua said, "Given that we have forecast a gross domestic product of 4.5% to 5.5% this year, a low unemployment rate and the fact that we are still able to attract foreign direct investments, we are positive on the property sector.
"On the issue of the goods and services tax, we believe that the spending patterns should normalise in the next six months, not only for the property sector but across all sectors."
This article first appeared in The Edge Financial Daily, on April 15, 2015.