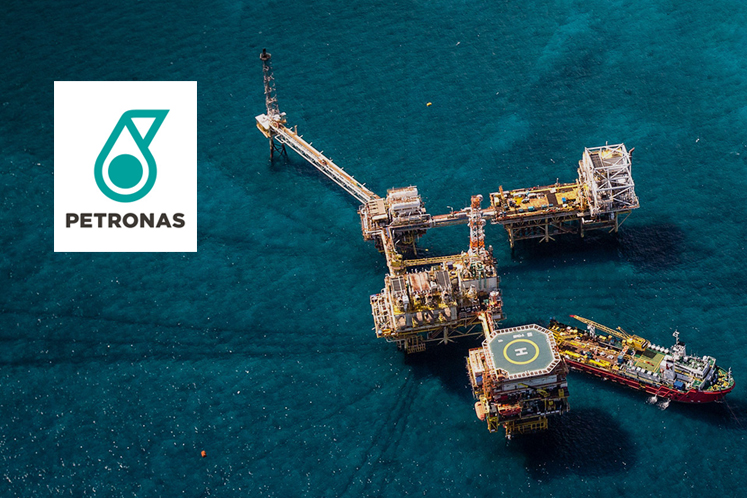 KUALA LUMPUR (March 24): Should the crude oil price stay low for longer than expected, Affin Hwang Capital Research said the soft crude prices will prompt Petroliam Nasional Bhd (Petronas) to cut its capital expenditure this year. 
However, Affin Capital Research did not specify the magnitude of the possible cut on the national oil firm's capex, which dictates the prospects of the local oil and gas industry. 
Globally, Affin Hwang said major oil companies have cut their capex for 2020 by 23% on average. Using that as a benchmark, Petronas' estimated capex of RM50 billion for this year will shrink to RM38.5 billion. 
Petronas revealed that it wanted to raise Malaysian production by about 5%, as it increases its domestic capital expenditure (capex) allocation to between RM26 billion and RM28 billion this year, with an emphasis on upstream projects.
The national oil firm has maintained its overall capex estimate at RM50 billion for 2020. It spent RM47.8 billion in capex last year, up from RM46.9 billion in 2018.
However, these figures were given prior to the meltdown on crude oil prices to below US$30 per barrel this month. 
"We expect Brent oil prices to trade in the range of US$45-US$50/bbl in the second half of 2020 (2H20) (averaging US$45/bbl for full-year 2020 on the assumption that oil trades at US$30/bbl in 2Q20) and US$50-US$55/bbl in 2021," Affin Hwang said in a note today. 
"The oil market has had its worst luck in 1Q20 on softer oil demand due to the virus outbreak, compounded by OPEC and Russia failing to reach an agreement on potential supply cuts. With no signs of a compromise possibly until June, we see risk of a slower contract roll-out, even for potential beneficiaries from Petronas' Activity Outlook," Affin Hwang commented. 
According to the research house, through channel checks with industry players, the impact of Petronas' cut on capex tends to have a six-month lag. 
Affin Hwang said offshore support vessels (OSV) and jack-up rig operators are both at risk in terms of daily charter rates (DCR) in a prolonged low oil price environment. 
It said most of the OSV players (about 70% of their respective fleets) have locked in a long-term Integrated Logistic Control Tower (ILCT) contract, with DCR lower than the current market rate. 
Likewise for the rig operator, it said Velesto Energy Bhd's four contracts with Petronas are set to expire by the second half of this year and expected to be renewed closer to the market rate. 
With global factors not favouring higher oil prices, Affin Hwang Research has retained its "underweight" call for the sector. 
The research house has a "sell" call on MISC Bhd, Petronas Gas Bhd and Petronas Dagangan Bhd, while maintaining a "hold" on Petronas Chemicals Group Bhd. 
It has downgraded Bumi Armada Bhd to a "hold" from a "buy", after reflecting its revision of weaker earnings and lower OSV utilisation and DCR.