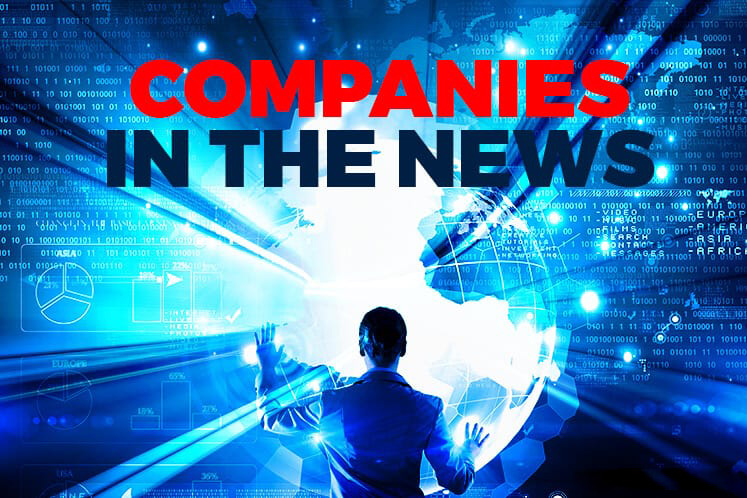 KUALA LUMPUR (Apr 18): Based on corporate announcements and news flow today, stocks in focus for Thursday (Apr 19) may include the following: Aeon Co (M) Bhd, T7 Global Bhd, Zhulian Corp Bhd, PLB Engineering Bhd, Keck Seng (Malaysia) Bhd, Chemical Co of Malaysia Bhd, Malayan Banking Bhd, MBM Resources Bhd and UMW Holdings Bhd
Aeon Co (M) Bhd is looking to strengthen and expand its presence in Sabah and Sarawak with its first mall in Kuching, Sarawak.
Aeon Mall Kuching Central, which will be open to the public on April 20, is located within 25 minutes from Kuching. With the launch of the mall, the group will have a total of 27 Aeon malls and 35 Aeon stores nationwide.
Aeon said the new mall has over 1.6 million square feet of gross built-up area housing more than 130 retail lots spread across three floors. In addition, the mall also comes with 1,800 car park bays spread over five floors.
T7 Global Bhd's units have secured three contracts for a combined value of RM63 million.
T7 Global said Wenmax Sdn Bhd, a subsidiary of its wholly-owned subsidiary Gas Generators (M) Sdn Bhd, had on Jan 15 this year received a letter of award from Murphy Sarawak Oil Co Ltd for the provision of maintenance services, spare parts and consumables for Gastec Nitrogen Generator for Murphy Production Operations.
The project is from Jan 15 until the completion of the contract which is expected to end on Jan 14, 2021, with an option to extend for an additional one year.
Meanwhile, T7 Marine Sdn Bhd, another wholly-owned subsidiary of the group, also received a letter of award from Marine Crest Technology Sdn Bhd for one-off upgrading works of combat management system for Royal Malaysian Navy's vessel, which is expected to be completed in August 2019.
Additionally, Tanjung Offshore Services Sdn Bhd received a contract from CP Energy & Services Sdn Bhd for the supply of equipment and upgrading works for six months from April 17 to Oct 16, 2018.
Zhulian Corp Bhd's net profit for the first quarter ended Feb 28, 2018 (1QFY18) fell 38.05% to RM9.02 million or 1.96 sen per share, partly because of smaller foreign exchange gains.In the same period last year, it had posted earnings of RM14.56 million or 3.16 sen per share.
Even so, the group has declared a first interim dividend of two sen per share for the financial year ending Nov 30, 2018 (FY18), payable on June 8.
Zhulian's revenue for the quarter declined 10.42% to RM43.34 million, from RM48.38 million in 1QFY17.
The group is expecting a more challenging business environment this year, influenced by various factors such as weak consumer sentiment in regional markets and the fluctuating ringgit.
PLB Engineering Bhd has proposed a private placement of up to 10% of its share capital that would raise up to RM18.2 million for working capital purposes.
The placement will involve up to 11.24 million new shares, at an indicative price of RM1.62 per placement share.
The placement shares will be placed out to third party investor(s) to be identified, and the actual issue price will be determined and announced later.
The group said its gearing ratio will improve to 1.1 times after the private placement, from 1.35 times as at Aug 31, 2017.
Keck Seng (Malaysia) Bhd is close to acquiring a stake in Luxembourg-based AccorInvest Group SA, which boasts a portfolio of 891 hotels in the economy and midscale segments — the majority of which are located in Europe.
Keck Seng said an investment in AccorInvest is expected to provide an opportunity for the group to gain exposure to a diversified portfolio of hotels mainly located in Europe with resilient income stream and opportunities for value creation.
Keck Seng said its wholly-owned subsidiary Brosna Ltd had yesterday entered into a subscription agreement with A2I Holdings S.À.R.L to subscribe for shares and Tracking Preferred Equity Certificates (TPECs) issued by A2I for €25 million (RM120 million) plus fees.
The objective of A2I is to acquire the shares of AccorInvest. It is raising funds from various investors by issuing shares and TPECs. As such, the €25 million proceeds received by A2I from Keck Seng's subscriptions will be used to buy part of the shares to be issued by AccorInvest.
Barring any unforeseen circumstances, the transaction is expected to be completed in the second quarter of 2018.
Chemical Co of Malaysia Bhd (CCM) has secured a US$25 million (RM100 million) credit facility from Sumitomo Mitsui Banking Corp Malaysia Bhd (SMBC) to pare down its existing borrowings.
The company has an outstanding term loan with SMBC of RM150.57 million, which is maturing on April 30.
CCM said the facility was undertaken to facilitate the overall cashflow planning and loan restructuring exercise of the company.
The repayment of the existing bank facility and drawdown from this facility will see the gearing ratio of CCM Group reduced to 0.18 times for the financial year ending Dec 31, 2018.
Malayan Banking Bhd (Maybank) is preparing to spin off and list its Etiqa insurance arm on the local stock exchange, sources with knowledge of the matter said on Wednesday.
Etiqa, which operates in Malaysia, Singapore, the Philippines and Indonesia, is estimated to be worth at least US$1 billion, two sources said. It would have a bigger market value than insurance peer Syarikat Takaful Malaysia Bhd, which is valued at about US$700 million.
Maybank's insurance business is called Etiqa International Holdings Sdn Bhd. It owns 69% of Maybank Ageas Holdings Bhd, while Ageas, the Brussels-based international insurer, holds the remainder. Maybank Ageas owns various Etiqa units.
As part of the transaction, Maybank's investors are expected to receive shares in the insurance company in proportion to their existing holding in the bank, the sources said, adding that no new money is expected to be raised in the listing.
The Perodua Labour Union has objected to a proposed acquisition of MBM Resources Bhd (MBMR) by UMW Holdings Bhd (UMWH), as it fears the move would negatively affect the rights and interests of its members.
The union expressed concerns that the takeover will be detrimental to the rights and interests of union members, which have been safeguarded by the existing Perodua management for the past 25 years.
Moreover, it is also worried that Perodua's Japanese partner Daihatsu Motor Corp may review its involvement as a technological partner of Perodua and discontinue the partnership.