This article first appeared in The Edge Financial Daily, on September 30, 2019.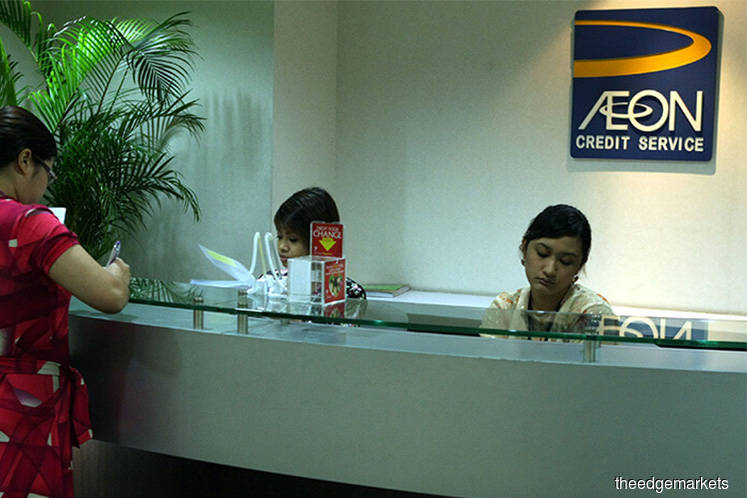 AEON Credit Service (M) Bhd
(Sept 27, RM14.36)
Maintain hold with a target price (TP) of RM14.85: AEON Credit Service (M) Bhd's second quarter of financial year 2020 (2QFY20) earnings plunged by 39% year-on-year (y-o-y) to RM49 million (-42% quarter-on-quarter [q-o-q]), primarily due to significantly higher impairments made for FY20. Nevertheless, the company charted a solid revenue growth of 22% y-o-y (+7% q-o-q) with a growing financing receivables portfolio. On a fiscal year-to-date basis, earnings were below both our and the consensus estimates at 35% and 37% respectively. Its return on equity (ROE) was 18.9% against 23.3% for the previous year. AEON Credit declared a 22.25 sen dividend for the first half of FY20, constituting a 42% payout ratio.
 
AEON Credit's stronger top line was almost completely led by its receivables growth of 22% y-o-y (+5% q-o-q). This was fuelled by its bread-and-butter vehicle and personal financing segments, which expanded by 24% and 26% y-o-y respectively (+6% and +2% q-o-q). Its motorcycle financing segment grew by 27% y-o-y (+6% q-o-q), while the company's auto portfolio rose 15% y-o-y (+4% q-o-q). Estimated yields were fairly stable y-o-y, though funding costs increased from the larger debt incurred over the year (+22%).
The group's non-performing loan (NPL) ratio for 2QFY20 fell to 2% from 2.1% a year ago but inched up on a sequential basis (1QFY19: 1.9%). In absolute terms though, NPLs grew by 19% y-o-y (+9% q-o-q). Gross provisions increased by 62% y-o-y, arising from higher general provisions as well as seasonal factors; recoveries were also lower by 15% over the same period. Overall, net credit cost rose to 4% from 2.2% for 2QFY19.
AEON Credit's main growth engines — vehicle and personal financing — are expected to continue driving its receivables base, though yields could fall in tandem with a larger mix of higher-income customers (asset quality has also improved markedly, compared with the previous years). However, the company is still exposed to downside risks from a moderating economic environment given its still relatively high exposure to consumers in the bottom 40% income group, which would weigh on provisions.
We maintain our earnings forecasts and TP for now. Our TP is based on the Gordon Growth Model, assuming a 20% ROE, 4% long-term growth and 12% cost of equity. — AllianceDBS Research, Sept 27