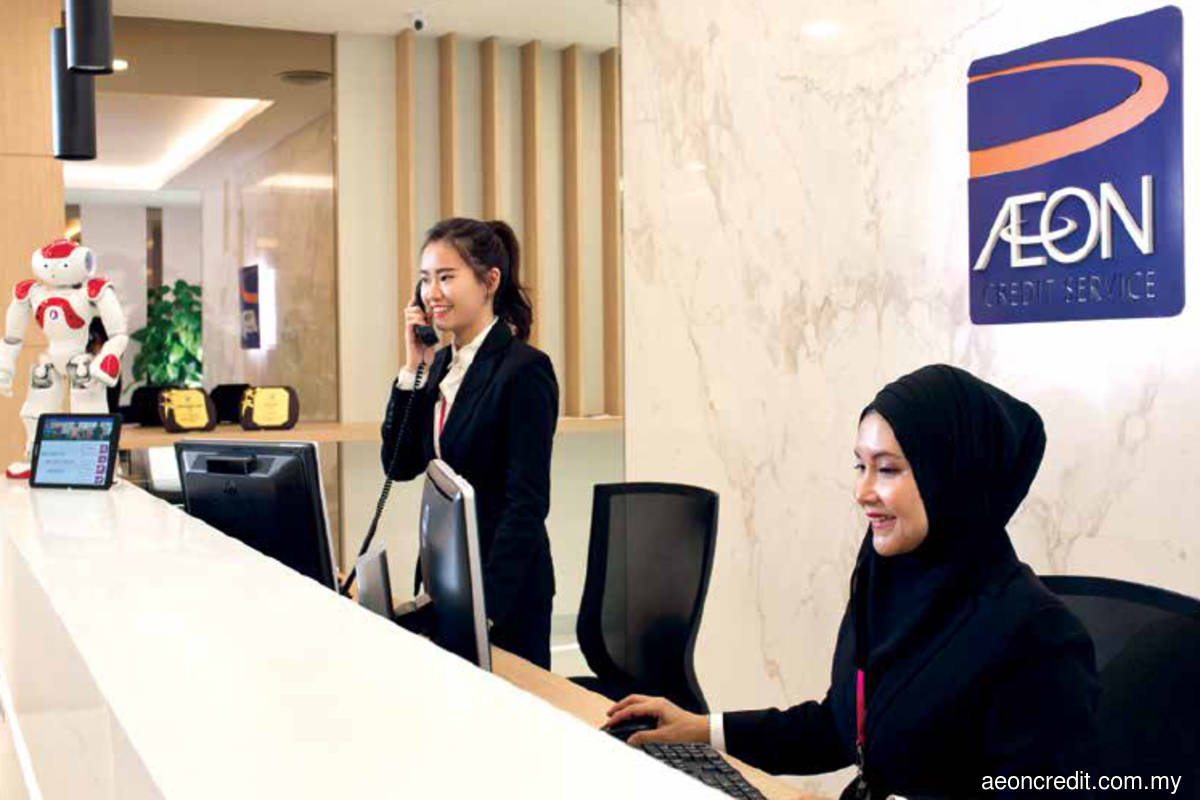 KUALA LUMPUR (Sept 29): Aeon Credit Service (M) Bhd reported a 5.4% increase in its net profit to RM51.81 million for the second quarter ended Aug 31, 2020 (2QFY21), from RM49.13 million a year earlier, amid lower operating expenses.
However, revenue for the quarter fell 10% year-on-year to RM363.97 million from RM404.45 million, due to the recognition of Day-One modification loss of RM28.41 million under the AEON Relief Programme launched in June to provide financial assistance to customers affected by the pandemic outbreak, and lower revenue fee income.
Notwithstanding a stronger quarter, Aeon Credit announced a lower interim dividend of 9.2 sen per share or a total of RM23.49 million, payable on Nov 5, compared with the 22.25 sen payout it declared in the year-ago quarter that amounted to RM56.43 million.
In a filing with the bourse, Aeon Credit said the lower operating expenses during the quarter — which resulted in the ratio of operating expenses against revenue standing at 65% as compared to 74% in the same quarter last year — came in due to lower impairment losses on financing receivables, as well as lower personnel and advertising expenses.  
The group's gross financing receivables stood at RM10.26 billion as at Aug 31, up RM662.84 million year-on-year, while net financing receivables after allowance for impairment loss stood at RM9.43 billion, up 5.5% from RM8.94 billion a year earlier.
Its non-performing loans (NPL) ratio came in at 1.95% as at Aug 31, down marginally from 2% in the previous year. Its other income was little changed at RM41.7 million — comprising mainly of bad debts recovered and insurance commission — compared with RM41.53 million previously.
Meanwhile, funding cost for the current quarter was higher compared to the preceding year, amid higher borrowings, in line with the growth of receivables. The nominal value of the borrowings as at Aug 31 stood at RM8.05 billion, compared with RM7.33 billion as at Aug 31 last year.
The group's net profit for the first six months of FY21, however, was down 41% to RM78.09 million from RM133.73 million a year earlier, though revenue only contracted 3.7% to RM753.85 million from RM783.03 million.
The drop in earnings was mainly due to the impact of the Movement Control Order that had disrupted its operations, it said, which resulted not just in lower revenue from fee income but also lower bad debts recovered and higher impairment losses on financing receivables in
anticipation of the effects of the pandemic outbreak, and higher interest expenses.
AEON Credit managing director Yuro Kisaka said the group had navigated the unprecedented pandemic crisis by focusing on manpower allocation, sales growth and receivables collection. Meanwhile, the group continues to closely monitor and assess the inherent credit risk in its financing portfolio by emphasising on enhancement of asset quality, embracing prudent cost and cash management, and improving financial and operational efficiencies.
"The pandemic has increased the digital acceptance in the market. In FYE21, we will accelerate the deployment and rollout of our digitisation efforts to improve our customers' touch points and user experience.
"Meanwhile, we continue to leverage on the AEON Group's established customer database to capture better asset quality customers and  re-strategise our capital investment plan this year on projects that drive efficiencies," Kisaka said in a separate statement.