This article first appeared in The Edge Malaysia Weekly, on February 1, 2021 - February 07, 2021.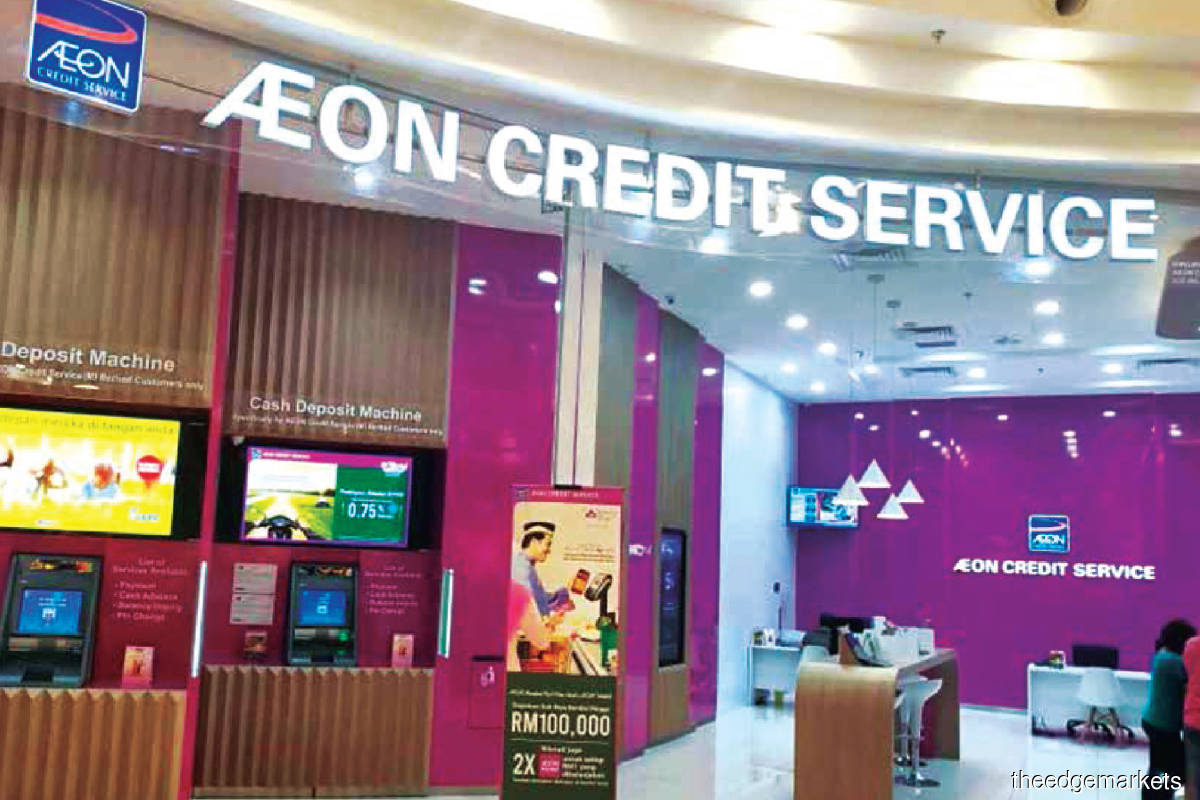 AFTER two years of holding on to a moneylending licence, Aeon Credit Service (M) Bhd is finally preparing to make use of it. The company is currently in the process of deciding what kind of products and services to develop for merchants and business associates within the Aeon Group ecosystem, says chief financial officer Lee Siew Tee.
"We are targeting to use the moneylending licence to provide working capital financing for merchants and business associates, including business partners from Aeon Retail," she tells The Edge in a brief interview. Aeon Retail refers to its sister companies, Aeon Co (M) Bhd and Aeon BiG (M) Sdn Bhd.
Aeon Credit hopes to launch the new products in the financial year ending Feb 28, 2022 (FY2022), says Lee.
A Main Market-listed consumer finance company, Aeon Credit is in the business of providing personal, motorcycle and used-car financing. The non-bank lender also issues credit cards.
In January 2019, it obtained a moneylending licence, valid for two years, from the Ministry of Housing and Local Government. At the time, it said the ministry's approval meant it could undertake any business relating to moneylending that complemented its existing business. However, it has yet to make use of the licence.
Three weeks ago, the company announced that its licence had been renewed and is now valid for another two years until Jan 14, 2023.
Developments in this area will be closely watched as it would mean a new revenue stream for Aeon Credit, albeit a small one compared with its existing businesses.
The company is seen by some as one of the strongest proxies for a recovery in domestic consumption.
Interestingly, Aberdeen Asset Management PLC has been steadily accumulating shares in Aeon Credit since mid-November 2020. Stock market filings show that Aberdeen held a 6.22% stake in the company as at Jan 27, compared with 5.58% as at Nov 16 last year. Aeon Credit's biggest shareholder is  Japan's Aeon Financial Service Co Ltd (61.9%).
On Jan 22, RHB Research upgraded Aeon Credit to a "buy" from "neutral", citing its more attractive valuation after a pullback in the share price following the company's lacklustre third-quarter financial results released on Dec 21, 2020.
"We advise investors to look beyond the short-term earnings hiccups and focus on the recovery. Good traction was seen in both collection and top-line growth until the re-imposition of a Movement Control Order (MCO). Management opines that the economic impact will be less severe than the first MCO but remains watchful, especially on asset quality," the research house says.
It kept a target price of RM13.30 on the stock and made no changes to its earnings forecasts. The counter, which has shed 11.3% since the company released its third-quarter earnings, closed at RM10.82 last Friday, giving the company a market capitalisation of RM2.76 billion.
Aeon Credit reported a 41% decline in net profit to RM120.34 million for the first nine months of FY2021 even as revenue fell 2.6% to RM1.16 billion. Dividend per share fell to 9.2 sen from 22.25 sen in the same period a year earlier.
In the third quarter alone, net profit declined by 39.7% year on year and 18.7% quarter on quarter to RM42.15 million because of higher impairment losses amid the Covid-19 fallout. Impairment losses on financing receivables rose 40% q-o-q to RM157 million.
RHB Research has forecast for FY2021 net profit to decline for the second straight year before improving in the following year. It sees FY2021 net profit at RM171 million compared with RM292.05 million in FY2020 and RM354.62 million in FY2019.
Aeon Credit's Lee is optimistic that FY2022 will be a better year for the company. "We're projecting for a recovery in earnings next year, barring any worsening of the Covid-19 situation … but it may take two to three years for earnings to go back to pre-Covid-19 levels."
She says it is too early to gauge the impact of MCO 2.0 on the group as yet.
"The current MCO 2.0 is very much different from the MCO implemented by the government last year as most of our merchants and business partners are continuing to operate, [unlike the previous] MCO. We continue to focus on collection activities as well as to enhance the asset quality for this financial year."
The company's non-performing loan (NPL) ratio, which in the past hovered around 2%, rose to 2.88% as at Nov 30 last year.
"For FY2022, we will continue to focus on implementing effective collection and recovery strategies to improve the NPL ratio. We are of the view that the NPL ratio will remain relatively stable, supported by the growth in financing receivables in view of the expected improved market conditions in FY2022," says Lee.
On Jan 4, Aeon Credit reached an out-of-court settlement with the Inland Revenue Board, under which the unpaid taxes sought by IRB from the company were significantly reduced. The amount sought, inclusive of penalties, has been brought down to RM10.31 million from RM96.82 million previously.
According to Lee, the RM10.31 million will be reflected in 4QFY2021. "We do not foresee that this will materially impact our financial performance."
Meanwhile, the company is aiming to capture more middle 40% (M40) customers while easing its reliance on the bottom 40% (B40) in order to optimise returns. Its plan is to have the B40 account for 60% of its customer portfolio, with M40 making up the remaining 40% — a target it hopes to achieve in "two to three years".
"The breakdown between B40 and M40 [now] is approximately 70% and 30% respectively. We note that there is an increase in demand from M40 customers for our Superbike and Vehicles Financing as well as Personal Financing," says Lee.
Last December, Aeon Credit launched relief measures to help its borrowers who are in a difficult situation. According to RHB Research, the company estimated that about 2.5% of its borrowers may require repayment assistance. "Management is considering whether more targeted relief measures are needed in view of the MCO 2.0," the research house says.
It notes that the company had proactively set aside RM77.6 million in pre-emptive provisions in 9MFY2021.
Of at least four research houses (including RHB Research) that track Aeon Credit, two have a "buy" recommendation, while the other two have a "neutral".
"We believe that provisions will continue to [weigh on] Aeon Credit's earnings, especially post loan deferment period. However, we observed that there is improvement in revenue, which will moderate this impact. Our concern presently is on asset quality but we believe that it will likely remain stable," MIDF Research said in a Dec 22 report last year after the 3QFY2021 results. It maintained a "hold" call but raised its target price to RM12.90 from RM9.90.