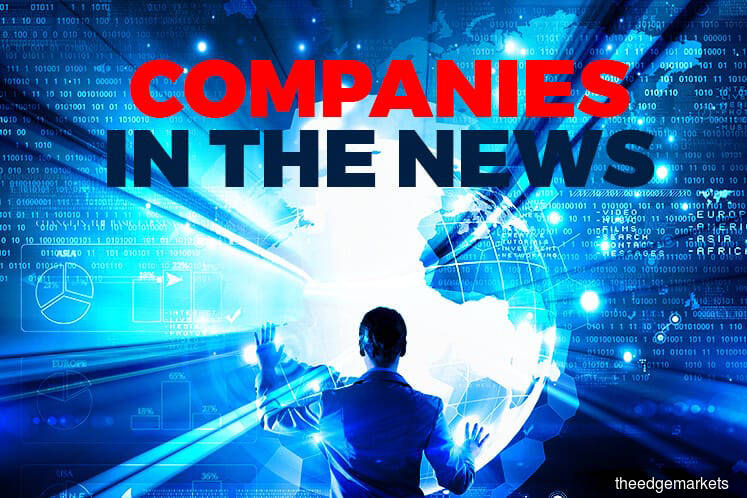 KUALA LUMPUR (July 9): Based on corporate announcements and news flow today, companies that may be in focus on Wednesday (July 10) may include: Aeon Credit Service (M) Bhd, IJM Corp Bhd, YTL Power International Bhd, Barakah Offshore Petroleum Bhd, Asdion Bhd, Pensonic Holdings Bhd, TFP Solutions Bhd and PUC Bhd.
 
Aeon Credit Service (M) Bhd is being sued by the government to recover unpaid taxes due for the seven years of assessment from 2010 to 2016.
The amount of taxes due was not revealed, but back in December 2017, the company was slapped with a demand for RM96.81 million in additional assessment with penalties by the Inland Revenue Board for the same period of assessment, that is from 2010 to 2016. 
IJM Corp Bhd says it will seek "appropriate legal redress" after being terminated as the contractor for the underground package of the Light Rail Transit Line 3 (LRT3) project. 
Its unit, IJM Construction Sdn Bhd, received the notice of termination from the LRT3 turnkey contractor MRCB George Kent Sdn Bhd (MRCBGK) on Monday (July 8). 
It noted that the termination was due to the project being remodelled from a project delivery partnership model to a fixed price contract model, pursuant to the direction of the government. 
Noting it had announced the letter of acceptance for the project worth RM1.12 billion on March 13 last year, IJM Corp said preliminary works had commenced before the project was suspended in June 2018. 
YTL Communications Sdn Bhd, the 60%-unit of YTL Power International Bhd, has come out to refute allegations raised by the Ministry of Education (MoE) to reject its service in relation to the 1BestariNet project. 
YTL Communications said MoE had failed to follow the contract phase award process, as laid out in the project documents.
This includes joint review of the project performance, changes in technology, basic educational needs and price prior to the expiry of each phase and before parties reach agreement on the next phase.
 
Debt-laden PN17 firm Barakah Offshore Petroleum Bhd said its unit PBJV Group Sdn Bhd has been notified by national oil firm Petroliam Nasional Bhd (Petronas) that its unit's licence has been suspended.
Barakah said the letter from Petronas indicated there was an adverse report from Petronas Carigali Sdn Bhd (PCSB), pertaining to the non-performance of PBJV in relation to the contract for the provision of underwater services for PCSB.
"Resulting from that, Petronas has decided to suspend PBJV's licence for a period of three years with effect from the date of the letter," it said.
Asdion Bhd's board has proposed to undertake a capital reduction to cancel RM30.76 million of its issued share capital, to eliminate the company's accumulated losses.
Asdion, which specialises in providing advanced integrated business and operations solutions, has been making losses since 2009.
According to the group's filing today, its accumulated losses as at March 31, 2019 stood at RM31.61 million. This will be reduced to RM964,184 after the exercise, it said.
Pensonic Holdings Bhd said it is selling its commercial property in Petaling Jaya, comprising a land plot with buildings, for RM19.5 million cash.
Part of the sale proceeds will be used to repay borrowings (RM10 million) and reduce them to 0.57 times, from 0.71 times as at end-May 2018. Another RM9.2 million will be used for working capital, the group said. 
The disposal is part of its asset rationalisation exercise to unlock and realise the increase in value of its landed assets, including the property, to improve the overall financial position of the entire group, Pensonic said.
TFP Solutions Bhd has inked a product co-branding agreement with mobile virtual network operator Tune Talk Sdn Bhd.
It said its unit MBP Solutions Sdn Bhd has entered into the agreement with Tune Talk, to promote and market the latter's product and services through TFP's co-branded mobile fintech product, OneCALL.
TFP said OneCall, which targets the "un-banked" population (people without bank accounts) in Malaysia, contains unique features such as remittance, virtual ATM, game PINS, Lifestyle tools, Bill Payments, as well as a B40 entrepreneur programme.
PUC Bhd is keen to explore opportunities to participate in the digital or virtual banking business, said group managing director and CEO Cheong Chia Chou.
"We are eager and look forward to Bank Negara Malaysia's announcement on the digital banking framework. We have to look at the details first and evaluate the possibilities, but certainly, it's in line with our group's direction," Cheong said.
He added that the digital service company is also open to discussing with more parties, so as to offer its micro-financing service, which is due for launch this year.