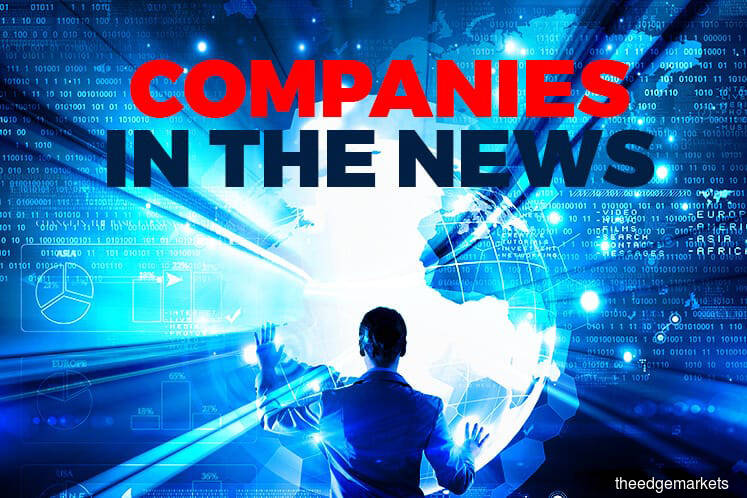 KUALA LUMPUR (Dec 17): Based on corporate announcements and news flow from today, stocks on focus for Wednesday (Dec 18) might be as  follows: Aeon Credit Service (M) Bhd, Alam Maritim Resources Bhd, Asia Poly Holdings Bhd, GFM Services Bhd, Scientex Bhd and Top Glove Corp Bhd.
Aeon Credit Service (M) Bhd is raising RM2 billion fresh capital through a sukuk programme to fund loan disbursements and refinancing any existing loans. The sukuk programme accords flexibility to Aeon Credit, allowing to issue both senior and or subordinates sukuk, so long as it does not exceed RM2 billion. 
RAM Rating Services Bhd has assigned to AA3 (stable) rating to the senior sukuk, with the subordinated sukuk rated A1 (Stable) — which will be recognised for the purpose of meeting Bank Negara Malaysia (BNM)'s capital adequacy ratio.
Alam Maritim Resources Bhd bagged a contract worth RM6.58 million for the provision of an anchor handling tug vessel from Petronas Carigali Sdn Bhd — who will charter Alam Maritim's Taha Assafa vessel for 125 days, with a 30-day extension option. 
The contract took effect on Oct 3. The contract is expected to positively contribute to earnings for the financial year ending Dec 31, 2019 (FY19) and FY20.
Asia Poly Holdings Bhd's indirect subsidiary Asia Poly Bio Gas Sdn Bhd inked a renewable energy power purchase agreement (REPPA) with Tenaga Nasional Bhd (TNB). Asia Poly is to sell and deliver renewable energy to TNB under the agreement. Asia Poly maintains a 51% stake in Asia Poly Bio Gas, with the rest in the hands of Musteq Green Renewable Sdn Bhd.
GFM Services Bhd is to acquire a 49% stake in downstream O&G company Highbase Strategic Sdn Bhd for RM1. 
At the same time, it will be acquiring up to RM20 million worth of HSSB's redeemable convertible preference shares (RCPS), subject to a minimum cash subscription of RM15 million. GFM will also subscribe to RM1 call option, which gives the right to acquire up to 117,648 shares or a 2% stake in HSSB at 51 sen per share. If exercised — available from June 2020 to July 31, 2014 — GFM's stake will rise to 51%. The acquisition is to be completed in the first half of 2020.
The RCPS, whose acquisition will be funded through a combination of internal funds, equity financing and or borrowings, will also provide a fixed dividend rate of 6% per annum to GFM.
Scientex Bhd is to acquire 18 parcels of leasehold agriculture land in Kota Tinggi, Johor from Fiamma Holdings Bhd. The land, which measures 85.73 acres and located less than 5km from Kota Tinggi and 25km from Johor Bahru, will be turned into mixed property development. The acquisition will be funded through internal funds and bank borrowings and is expected to be completed in the first half of 2020.
Scientex posted a 50.9% increase in its first quarter ended Oct 31, 2019 (1QFY19) net profit to RM80.96 million or 15.71 sen per share, from RM53.67 million or 10.98 sen per share. The higher earnings followed improved sales from its manufacturing and property divisions. Quarterly revenue rose 22.9% to RM877.37 million, from RM713.64 million last year.
Top Glove Corp Bhd's first quarter ended Nov 30, 2019 (1QFY20) saw net profit grow marginally by 1.2% to RM111.43 million or 4.36 sen per share, from RM110.06 million last year or 4.31 sen per share, following a greater contribution from the nitrile glove segment. Quarterly revenue fell 4.2% to RM1.21 billion from RM1.26 billion, following lower average selling prices and raw material prices.