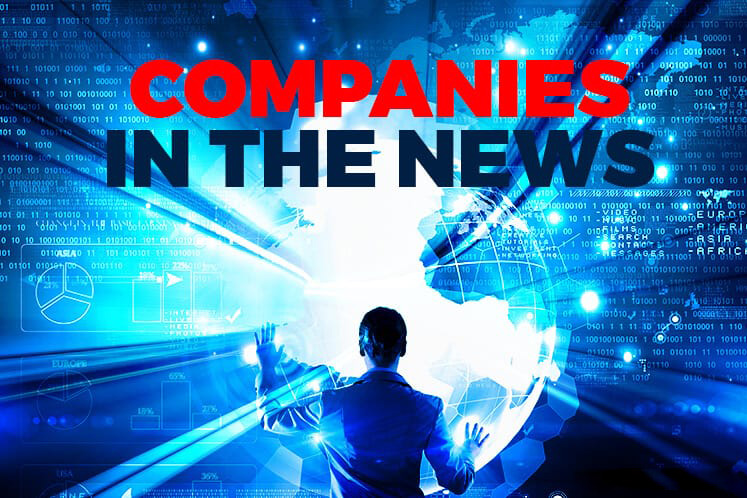 KUALA LUMPUR (May 20): Based on corporate announcements and news flow today, companies in focus tomorrow (May 21) may include: AEON Co (M) Bhd, Telekom Malaysia Bhd, Petronas Chemicals Group Bhd, Petronas Gas Bhd, Velesto Energy Bhd, Serba Dinamik Holdings Bhd, Malaysian Pacific Industries Bhd, Genting Plantations Bhd, Supermax Corp Bhd, MMC Corp Bhd, Suria Capital Holdings Bhd, Malakoff Corp Bhd and Chemical Company of Malaysia Bhd.
Japanese retailer AEON Co (M) Bhd's net profit plunged 77.1% to RM7.47 million for the first quarter ended March 31, 2020 (1QFY20) from RM32.64 million a year earlier, as revenue slipped to RM1.19 billion from RM1.21 billion on lower contributions from its retail business and property management services segments.
It also recorded higher operating expenses during the quarter, and a share of loss from associates as opposed to a gain previously.
Telekom Malaysia Bhd's (TM) 1QFY20 net profit more than halved to RM152.52 million from RM308.28 million a year earlier, due to lower contributions from its Unifi internet business and TM wholesale division.
Quarterly revenue fell 7.98% to RM2.56 billion from RM2.78 billion, following reduced contribution from voice services on lower usage, and lower internet services contribution due to the Streamyx downward price adjustment since September last year.
Petronas Chemicals Group Bhd (PetChem) posted a lower net profit of RM506 million in 1QFY20, down 37% from RM800 million in 1QFY19, on compressed margin, while quarterly revenue dropped 6% to RM3.89 billion from RM4.13 billion, largely due to lower product prices.
Petronas Gas Bhd's (PetGas) net profit fell by 29% to RM368.12 million in 1QFY20 from RM515.46 million last year due to unrealised foreign (forex) exchange losses from the softening of the ringgit against the US dollar.
Quarterly revenue rose 2.1% to RM1.4 billion from RM1.37 billion a year ago mainly due to higher revenue from its Gas Transportation and Regasification segments, which the group said was in line with the new tariffs under the Regulatory Period 1 (RP1) that came into effect on Jan 1.
Velesto Energy Bhd returned to the black in 1QFY20 with a net profit of RM16.32 million against a net loss of RM22.21 million last year due to higher contribution and invoicing efficiency from drilling services segment during the quarter.
Quarterly revenue increased to RM176.26 million from RM127.02 million previously, mainly due to improved performance in the drilling services segment.
Serba Dinamik Holdings Bhd's net profit rose 18.9% to RM133.6 million for 1QFY20 from RM112.37 million last year, as all its business segments registered growth.
Quarterly revenue was up 29.9% at RM1.27 billion, from RM984.38 million, due to higher call-out works under its operation and maintenance (O&G) business, as well as higher engineering, procurement, construction and commissioning (EPCC) activities. The group declared a first interim dividend of 1.2 sen per share for FY20, payable on June 26.
Malaysian Pacific Industries Bhd (MPI) saw its net profit jump 31.5% in 3QFY20 to RM22.05 million from RM16.77 million, on higher revenue and foreign exchange gain. Quarterly revenue rose 13.99% to RM376.29 million from RM330.11 million previously. Revenue for Asia and the US segments were both higher by 25% and 9% respectively. It declared a second interim dividend of 17 sen per share, payable on June 23.
Higher selling prices of palm products boosted Genting Plantations Bhd's net profit for 1QFY20 by more than twofold to RM91.3 million from RM41.68 million last year, while revenue fell 8.47% to RM569.04 million mainly due to softer demand for refined palm products of its downstream manufacturing segment.
Driven by a surge in demand for medical gloves, Supermax Corp Bhd's net profit jumped 106.9% to RM72.34 million in 3QFY20 from RM37.96 million a year ago. Quarterly revenue grew 23.8% to RM447.27 million from RM385.49 million.
MMC Corp Bhd's net profit rose 8.16% to RM57.88 million for 1QFY20 against RM53.52 million previously, thanks to higher contributions from the Port of Tanjung Pelepas and Johor Port Bhd. Revenue however fell 4.4% year-on-year to RM1.09 billion, compared with RM1.14 billion, due to lower work progress for underground work packages for the Klang Valley MRT Sungai Buloh-Serdang-Putrajaya Line, lower volume handled at Northport and lower contribution from Kontena Nasional Bhd.
Port operator Suria Capital Holdings Bhd's net profit declined 32.8% to RM10.54 million in 1QFY20 from RM15.68 million a year ago, on lower revenue from operations and higher other expenses during the quarter. Revenue fell 17.9% to RM56.94 million from RM69.33 million, due to lower contributions from the port operations segment.
Malakoff Corp Bhd posted a 33% on-year rise in net profit for 1QFY20 to RM89.18 million, boosted by the inclusion of income from newly acquired subsidiary Alam Flora Sdn Bhd (AFSB) and higher contribution from associate companies as well as lower operations and maintenance costs.
This is despite an 11.63% drop in revenue to RM1.77 billion from RM2.01 billion, as it recorded lower energy payments from its Tanjung Bin Power Snd Bhd (TBP) and Tanjung Bin Energy Sdn Bhd (TBE) facilities.
Chemical Company of Malaysia Bhd (CCM) reported a two-third year-on-year decline in its 1QFY20 net profit to RM2.18 million from RM6.25 million, on continued margin squeeze from lower average selling price of its chlor-alkali products, while revenue dipped to RM96.63 million from RM96.98 million.
Its earnings was also impacted by a share of loss from its associate Orica-CCM Energy Sdn Bhd of RM1.1 million, together with lower volume sold from its chemicals business as customers got hit by the Movement Control Order (MCO). In addition, 1QFY19 had enjoyed a one-off land disposal gain of RM1.1 million.