This article first appeared in The Edge Malaysia Weekly, on June 15, 2020 - June 21, 2020.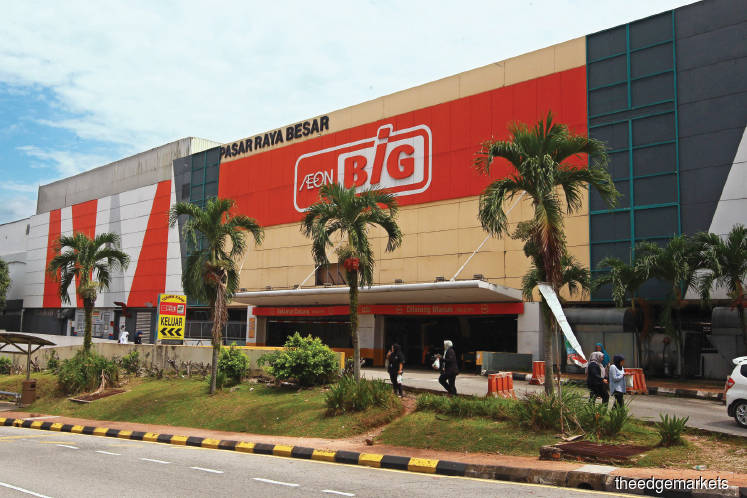 COME July, the management of AEON Co Ltd's retail units in Malaysia — AEON Co (M) Bhd and AEON BiG (M) Sdn Bhd — will be restructured and consolidated into a single organisation as part of a 10-year strategy to create an agile, resilient and intrapreneurial retail organisation.
The management reorganisation calls for privately held AEON BiG to relocate its offices from Subang Jaya, Selangor, to AEON Co's headquarters at Taman Maluri, Kuala Lumpur, beginning next month, an internal memorandum sighted by The Edge reveals.
Japan's AEON Co Ltd owns 51% of Bursa-listed AEON Co and 95.49% of AEON BiG. The remaining 4.51% in AEON BiG is held by AEON South East Asia Sdn Bhd. Profitable AEON Co mainly operates department stores while loss-making AEON BiG manages hypermarkets.
The restructuring memo has raised a number of questions.
Who will be in charge of AEON Co and AEON BiG? Will there be two different teams or will AEON Co staff also be managing AEON BiG, and vice versa? How exactly will AEON Co and AEON BiG separate the businesses of the two retailers? Will AEON Co end up "financing" AEON BiG or will AEON BiG pay AEON Co for the services rendered? Which company will benefit more and by how much?
In the internal memorandum dated April 9, titled "AEON Retail Malaysia" — presumably in reference to the businesses of both AEON BiG and AEON Co — AEON Co managing director Shafie Shamsuddin says AEON Retail has decided to take the "growth" approach moving forward, as it is cognisant of the fact that the Covid-19 pandemic will have a far-reaching economic impact, especially on the retail and mall business in Malaysia. This will result in a fall in top-line trade.
Shafie, who signed off the memo as CEO of AEON Retail Malaysia, assumed his post in AEON Co on Jan 1. He is also a director of AEON BiG. Between July and December 2019, he was the chief strategy officer of AEON Asia Sdn Bhd.
Do shareholders of AEON Co need to be concerned about the restructuring?
In 2012, AEON CO Ltd purchased the ailing Malaysian chain of French retailer Carrefour, comprising 26 stores, for an enterprise value (value of debt in the business minus cash in the business) of €250 million. Magnificient Diagraph Sdn Bhd, which held Carrefour, was later renamed AEON BiG.
For the year ended Dec 31, 2014, AEON BiG made a small profit but it has been in the red since then.
Based on its FY2018 financials — the latest data available — AEON BiG posted revenue of RM1.68 billion and a net loss of RM54.6 million. It had total liabilities of RM1.06 billion and retained losses of RM561.5 million against total assets of RM1.1 billion. Today, only 21 AEON BiG stores are still operating after the retailer shut its outlet in Alor Setar on June 10.
Incidentally, Shafie worked with the Carrefour group for 17 years — from 1996 to 2013. He was the CEO of Carrefour Malaysia from February 2006 to June 2009.
In contrast, AEON Co's FY2019 financials indicate a net profit of RM109.29 million on the back of RM4.54 billion in revenue. It had RM928.66 million in borrowings and net cash and cash equivalents of RM67 million as at Dec 31, 2019. It had total assets of RM6.5 billion against total liabilities of RM4.8 billion. Based on a recent circular to shareholders,  AEON Co operates a total of 34 department stores cum supermarkets. It also operates a total of 10 MaxValu Prime supermarkets, 44 Daiso outlets and 72 Wellness pharmacies.
AEON Co did not respond to questions sent by The Edge on the memo. It plans to answer questions relating to the companies' restructuring during its annual general meeting, which is scheduled to be held on June 24.
However, in response to questions sent by The Edge earlier, Shafie said that AEON BiG was requesting AEON Co to provide shared services and would pay AEON Co for the services rendered. A proposal on the matter was to be tabled at a board meeting scheduled for May 20. The outcome is not known.
It is worth nothing that the two companies already have some level of shared services, such as administrative, information technology and support services, for which AEON BiG  plays AEON Co.
With the headquarters of both companies in one location, AEON Retail hopes to have a more simple, flat and efficient structure for quicker processes and decision-making. This is expected to strengthen the malls and hypermarkets by giving the entities greater autonomy to take action promptly in line with customer needs.
Staff from the headquarters will be relocated to the hypermarkets, malls or stores to help out where necessary. No additional costs are expected to be incurred.
Under the "Back to Profit Centre" programme that was to have begun on May 1, according to the memo, 30% of the headquarters' staff will be relocated to the hypermarkets, malls or stores. It is unclear if the staff of one company are expected to work for the other. The remaining 70% of employees will need to work at the hypermarkets, malls or stores for one or two days a month, including weekends, to gain better knowledge of customers and the market and to ensure a high quality of service.
The memo also touches on new initiatives such as drive-in counters, personal shoppers and home delivery, which have been launched to help boost sales. An online shopping platform is to follow soon.
Stringent cost-cutting measures are also underway but AEON Retail says permanent staff will not be cut or have their salaries reduced.
However, C-suite-level employees — including Shafie, Kotera Hiroyuki (deputy CEO), Sunny Setiawan (COO), Amanda Ho (CFO), Hanaoka Nobutada (chief governance officer), Djoni Harlanbang (chief technology officer), Lee Beng Beng (chief property officer) and Dr Kasuma Satria (chief human resources officer) — have volunteered to take a 10% salary cut between April and December this year.
Incidentally, five of the executives joined AEON Co only this year. Ho and Djoni were appointed in April while Lee and Kasuma came on board in March.
Staff of AEON Co and AEON BIG were paid their performance bonus and special payment for 2019. However, salary increases have been revoked and a hiring freeze implemented.
Separately, executive director Poh Ying Loo — previously AEON Co's main spokesperson — will retire on June 24 and will not seek re-election at the AGM. Poh joined AEON Co, then called Jaya Jusco Stores Bhd, in 1996.