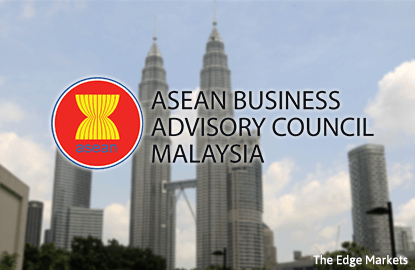 KUALA LUMPUR (March 10): The small and medium enterprise (SMEs) sector, which generates the bulk of employment opportunities, can make or break the Asean Economic Community (AEC), said the Asean Business Advisory Council Malaysia (Asean-BAC Malaysia).
In a statement today, Asean-BAC Malaysia chairman Tan Sri Dr Mohd Munir Abdul Majid, who is co-chair of Asean-BAC this year, said SMEs drive economies, none more so than in Asean, where employment depends overwhelmingly on the sector.
"If employment is seriously threatened, barriers will rise, which will cause the AEC to be rolled back, if not fail," he said, after a meeting between Asean-BAC Malaysia and Malaysian SMEs and SME associations yesterday to exchange views and learn firsthand the challenges being faced by the sector since the AEC was pronounced at the end of last year.
Munir also noted that there is Malaysia's ratification of the Trans-Pacific Partnership (TPP) looming, which would increase the pressure of liberalised markets on SMEs.
"While there is the opportunity of exports abroad, there is the challenge of liberalised markets at home," he added.
Munir said Asean-BAC Malaysia is committed to ensuring it provides the necessary support to Malaysian SMEs, as well as those in Asean.
Yesterday's dialogue organised by Asean-BAC Malaysia forms part of a series of substantive dialogues to be held nationwide with multiple SME (and other) organisations.
To date, feedback has been collated and submitted to Asean leaders during the Asean Leaders meeting in April 2015, the Asean Economic Ministers meeting in August 2015 and most recently, at the Asean Leaders Summit in November 2015.
"The process continues this year with greater emphasis. The setting up of the AEC is only a stage in that process," said Munir.
About 40 representatives from various SME associations and companies attended the dialogue. 
The points raised and suggestions made will be taken up by Asean-BAC Malaysia at the national and regional level.