This article first appeared in The Edge Financial Daily, on July 22, 2019.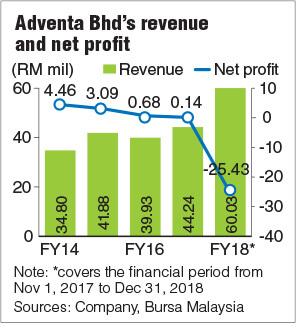 KUALA LUMPUR: To support its scaling-up objective, pharmaceutical player Adventa Bhd is set to exit its sterilisation business and fully focus on growing its core healthcare business, both organically and inorganically.
The company's decision to dispose of its industrial and commercial sterilisation business unit, Electron Beam Sdn Bhd (E-Beam), comes despite being its sole profit contributor for the past three financial years.
Adventa managing director Low Chin Guan sees the disposal as an opportune moment to move ahead as the management can fully focus on its healthcare business where it sees growing demand.
"This year, we are spending a lot of time realigning and restructuring our business model. We see a lot of good potential in the dialysis business that is realisable this year and next year [as] registrations are coming through," Low told The Edge Financial Daily.
"Prospects are very encouraging. There is a huge amount of people coming onto the market in the next 10 to 15 years. We expect to grow into the neighbouring countries, such as Thailand and Taiwan, next year," he added.
As of June, Adventa owned 33 units of automated peritoneal dialysis (APD) machines, of which nine are used in Malaysia and another eight used for demonstration purposes in Sri Lanka. The group plans to utilise the remaining 16 APD machines in Sri Lanka as its usage is expected to pick up.
For Thailand and Taiwan, Low said Adventa has started the process of obtaining regulatory approvals from the respective authorities, with a targeted completion by the second or third quarter next year. Contributions from these new markets are expected to kick in thereafter, he said.
The group's confidence in scaling up its home-based dialysis business is not so much due to the rising prevalence of global chronic kidney disease, but more so the rising awareness and affluence in its target markets.
"There is huge potential for more patients. The real number of patients requiring dialysis is actually about three to five times more than what is actually being treated in Asia today.
"All countries have more or less the same prevalence rate, the difference lies in [who] can afford to pay for the treatment," said Low.
He added that rising public awareness is directing more customers to Adventa, as its home dialysis services are in real cost 60% to 70% lower than haemodialysis, but as good as, if not better than, hospital treatments.
Last week, shareholders gave their green light for Adventa to sell its entire 100% equity interest in E-Beam to a wholly-owned unit of New York-listed STERIS plc, Synergy Sterilisation (M) Sdn Bhd, for RM75 million cash. Adventa will net a gain of about RM33.4 million from the disposal.
Besides paying a special dividend of seven sen per share and estimated expenses related to the exercise, Adventa plans to spend RM20 million of the sale proceeds to pare down borrowings, and RM21 million for working capital, including the purchase of inventories and other operating costs.
The group has earmarked RM22.5 million to support its business expansion, including the purchase of 600 APD machines in the next three years, as well as any potential acquisitions.
Low said that besides growing its home dialysis business, Adventa is eyeing the acquisition of companies involved in the distribution of healthcare products. The group is currently in exploration stages and plans to fund future acquisitions either by raising debts or capital, he said.
"It is a business of economies of scale. And we do see a lot of areas where synergies with other similar companies could be tapped for growth and operational efficiency, but we will not rush into [them].
"The funds for the M&A (mergers and acquisitions) will depend on the attractiveness and potential of those target businesses. We are not closing out any options," he added.
Adventa's business, prior to the disposal of Electron Beam, was in two main segments - healthcare and provision of sterilisation services.
For its 14-month financial period ended Dec 31, 2018 (FY18), the healthcare business contributed RM41.59 million or 69.3% to its group revenue but posted a net loss of RM30.87 million. This brings the segment's cumulative net loss over the past three fiscal years to RM38.40 million.
The group incurred a net loss of RM25.43 million in FY18 on revenue of RM60.03 million, after booking in a large impairment of assets. The impairment, Adventa said, was a prudent approach that implies uncertainty of the ability to recover research and development (R&D) investments in the home dialysis business.
From 2012 to end-2018, Adventa had invested and capitalised RM29.7 million to develop its home dialysis business, its circular to shareholders showed.
Low said the group focuses more on R&D and performing clinical trials to ensure viability.
"We need to be sure and correct with our products, before [they] come onto the market. And this is not a small business, but one that can be scaled to a regional, or even international, size," he explained.
Meanwhile, while all growth plans are underway, Low believes that the group's core business, now comprising dialysis and distribution of medical supplies, is expected to reach critical volume and operational profitability in the third quarter of next year in some of its current markets.
Adventa shares closed two sen down at 40 sen last Friday, giving the counter a market capitalisation of RM61.11 million.