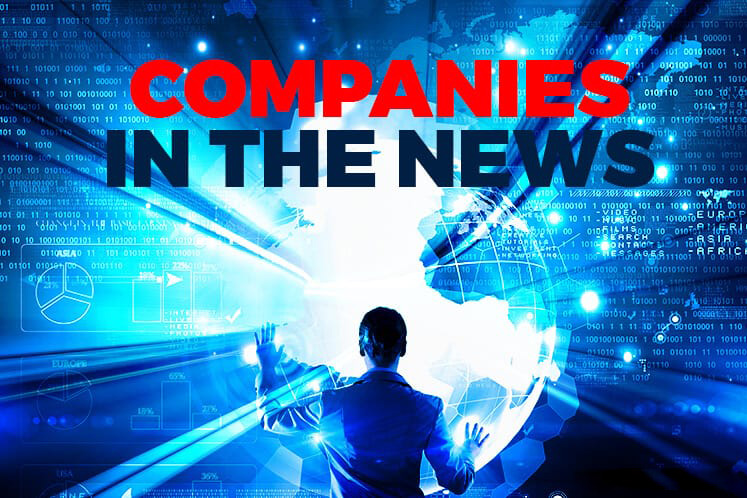 KUALA LUMPUR (Jan 16): Based on corporate announcements and news flow today, stocks in focus on Wednesday (Jan 17) may include the following: Advance Synergy Bhd, Ewein Bhd, Vertice Bhd, Caely Holdings Bhd, UMW Oil & Gas Corp Bhd, Leweko Resources Bhd, Telekom Malaysia Bhd, Tenaga Nasional Bhd, Malaysia Building Society Bhd, MMC Corp Bhd, Zelan Bhd, REV Asia Bhd, Eco World International Bhd, Carimin Petroleum Bhd, Dayang Enterprise Holdings Bhd, Deleum Bhd, Petra Energy Bhd and Sapura Energy Bhd.
Kuching-based Advance Synergy Bhd is acquiring two commercial properties — one located on Jalan Yap Ah Shak here and the other in Temasya Glenmarie, Shah Alam — for a combined RM40.95 million.
Its wholly-owned unit Advance Synergy Realty Sdn Bhd today signed a sale and purchase agreement with Petaling Garden Sdn Bhd for the proposed acquisition of a 70% stake in a detached commercial five-storey building block in Jalan Yap Ah Shak for RM18.9 million, as well as with Temasya Development Co Sdn Bhd for a 70% stake in a detached commercial four-storey building in Temasya Glenmarie for RM22.05 million.
Ewein Bhd has denied involvement in any form in the controversial RM6.3 billion Penang undersea tunnel project, stating that its subsidiary Ewein Land Sdn Bhd, had merely entered into a joint venture with Consortium Zenith Construction Sdn Bhd in 2013 to develop a 3.67-acre piece of land in Penang.
Ewein also refuted allegations that it had acquired the land from the Penang state government.
Meanwhile, Vertice Bhd, formerly known as Voir Holdings Bhd, denied its involvement in the project aside from its recent investment of 13.21% in Consortium Zenith.
Caely Holdings Bhd has proposed a bonus issue of 40 million warrants on the basis of one warrant for every two existing shares held to reward its shareholders.
Assuming an indicative exercise price of 50 sen per warrant, the exercise could raise up to RM20 million to be used for future working capital, including staff costs and other expenses.
UMW Oil & Gas Corp Bhd has secured a three-year umbrella contract from Petronas Carigali Sdn Bhd for the provision of hydraulic workover units (HWU).
The contract calls for the use of any of UMW Workover Sdn Bhd's five HWU to undertake workover services, which are rendered in performing maintenance and/or remedial treatments on an oil or gas well.
Leweko Resources Bhd said its subsidiary Dura Technology Sdn Bhd will lend its expertise in ultra-high performance cementitious composite technology to India-based Shinde Developers Pvt Ltd (SDPL).
This will subsequently allow SDPL to manufacture, sell, export and market products under the brand name "DURA" within India and other South Asian countries.
Telekom Malaysia Bhd and Tenaga Nasional Bhd have signed a Memorandum of Understanding to jointly develop an implementation plan to deliver the government's Nationwide Fiberisation Plan.
The two government-linked companies said the collaboration will capitalise on the strength of both parties, enabling the most efficient cost structure and accelerating the fibre broadband network reach.
Malaysia Building Society Bhd (MBSB) is planning to rollout up to RM700 million in financing for the development of eight more Federal Territories Affordable Housing (Rumawip) projects.
President and chief executive officer Datuk Seri Ahmad Zaini Othman said the total gross development value (GDV) of these projects would be RM2 billion.
 
MMC Corp Bhd has passed a special resolution to liquidate MMC Zelan Sdn Bhd, a joint venture company with Zelan Bhd, as part of its rationalisation efforts to wind up dormant subsidiaries.
MMC and Zelan hold 60% and 40% in MMC Zelan respectively, a company which was supposed to undertake any light rail transit project but has not commenced any operations since its incorporation in May 2010.
REV Asia Bhd said it did not receive any response to its proposed special bumiputera issue of 19.23 million shares, which was priced at 44 sen per special issue share.
"There were no acceptances by the placees that were identified by the Ministry of International Trade and Industry," it added.
EcoWorld International Bhd (EWI) has achieved cumulative sales of RM7.7 billion from property development projects in the UK and Australia as at Oct 31, 2017, comprising RM7.57 billion exchanged contracts and reserved units worth RM147 million.
The group said that it is on track to achieve its maiden handover of two blocks within its London City Island Phase 2 project and one block of the Embassy Gardens Phase 2 project in the current financial year ending Oct 31, 2018.
Units of Carimin Petroleum Bhd, Dayang Enterprise Holdings Bhd, Deleum Bhd, Petra Energy Bhd, and Sapura Energy Bhd had today been awarded contracts by Petronas Carigali Sdn Bhd to provide maintenance, construction and modification services at its offshore facilities in peninsular Malaysia, Sabah and Sarawak.
Petronas said the five companies will carry out engineering and maintenance services, which include topside major maintenance as well as facilities improvement projects for a five-year period from September 2017, with an option to extend an additional year.