This article first appeared in Personal Wealth, The Edge Malaysia Weekly, on August 12, 2019 - August 18, 2019.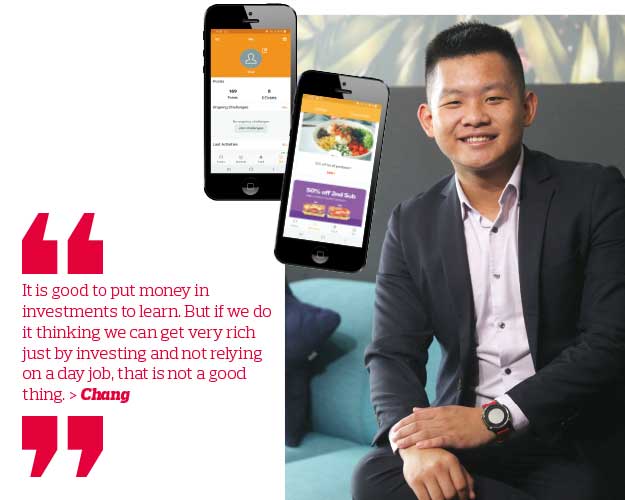 Chang Yi Hern, 22, does not believe in taking shortcuts to build his wealth. He prefers to slowly acquire knowledge before investing in any financial instrument rather than put his money in risky and unfamiliar assets to make a quick buck.
The start-up founder learnt this the hard way when he was doing his A-Levels in college. Eager to make his first investment, he went online and searched for "how to invest when you have very little money". Soon, an advertisement for a trading platform popped up on his screen.
Chang decide to utilise his savings and invest US$100 in currencies using a contract for difference (CFD), only to discover that he had lost his money in just a month. It seemed like a good idea as he thought he could make some fast cash. But in hindsight, he says it did not make sense for him to use an online platform due to the currency risk.
"I cannot remember what I invested in exactly. I lost everything in about a month because I was leveraging the investment at 20 times. I deposited the money in ringgit, but it was converted into US dollars in the CFD. I also lost money on the spread due to the currency conversion in each transaction," he recalls.
Chang, who is now founder and managing director of running rewards app JomRun, had always been curious about the financial markets. At 15, he wanted to learn about
equity investing from his father, who is an avid stock market investor, but the latter declined his request.
"He told me to focus on my studies first. But when he turned me down, I got even more interested in the stock market, so I learnt a little on my own. Recently, we had more conversations on the financial markets because I am more financially literate now than I was back then," says Chang.
The experience he had with CFDs has shaped his investing philosophy. That is why he believes it is crucial to do your own research before investing in an asset or financial instrument, or risk not getting any returns.
It also helps to have a genuine interest in the financial markets. When Chang was pursuing his engineering degree at the University of Oxford, he spent his four-month semester breaks voluntarily doing internships at non-engineering companies.
"My first internship was in project management at a property company. Then, I moved on to the finance industry because while I was interested in engineering, I was really interested in finance as well. I thought a career in investment banking could be more rewarding," says Chang.
These stints exposed him to the corporate culture and the inner workings of public-listed companies, which he says has made him a better equity investor. Chang points out that investing in stocks is not just about knowing how to look at the financial markets but also about having a deeper understanding of the products and services offered by companies.
"I once interned at JP Morgan, doing credit risk in investment banking, and I had a client who was involved in chemical compound manufacturing to produce chicken feed. So, if you want to invest in this company, you need to know some basic chemistry," he says.
"This is the gist of what it means to invest in something you understand, but many people do not do this. We do not know the core of the business when we invest in its shares."
Chang provides another example. Last year, he bought Facebook shares at the height of the company's data privacy scandal and the investment gave him a good return. "I bought the shares when the price went down because of the scandal. I knew that it would be a temporary situation because in the end, the company's value and business remained intact," he says.
"The market almost always overreacts when there is bad news. So, I tend to buy shares at such times."
Chang describes himself as a value investor with a relatively conservative risk profile. He avoids alternative investments such as cryptocurrencies. But when he does take risks, it is often in a calculated manner.
"If I understand something really well, I will invest quite a lot of money in it. But if I do not, then I will stay away. I am already taking risks by being a start-up founder," Chang laughs.
Managing wealth as a start-up founder
After excelling in his A-Levels, Chang received a full scholarship to pursue an integrated master's degree in engineering, which takes four years at the University of Oxford, three of which are for a bachelor's degree. He was given £10,000 a year for expenses.
During his second year, at end-2017, he was inspired by the popular augmented reality mobile game Pokémon Go to create JomRun. Both are mobile applications that incentivise their users to go out and be less sedentary.
While Chang understands the transient nature of app or gaming trends, he had conviction in JomRun's sustainability because of his passion for sports. As a regular runner and former windsurfing representative of the University of Oxford, he aspired to build a tech business that encouraged people to be more active and healthy.
To pursue this dream, however, Chang had to choose between completing his master's degree and developing an app because the university prohibits students from managing a business while pursuing their studies. "I had already received an undergraduate degree after my third year and I was not bound by the scholarship to complete the whole course, unlike students under other scholarships," he says.
"I did not use a single sen from my parents. Even though they would have preferred that I finished my master's degree, I was not pressured into doing that. I told them I no longer liked what I was studying. In the end, they were quite supportive of my decision to start a company."
Chang needed capital to get JomRun off the ground. So, he developed what he describes as a "hardcore saving habit". "I lived in a store room and spent less than 30% of my total scholarship every year. By the second year, I had about £14,000 in savings, as well as some income from my part-time job," he says.
"I used the money to invest in stocks. I am an aggressive investor when I understand what I am investing in. So, I put everything into stocks.
"At the time, I knew that I could live my life like the other students on scholarships. But seeing as I had saved up all that money, the worst thing that could happen was to lose all of it.
"But even then, I could still get a job and earn more. Thankfully, most of my investments did quite well. In fact, some of these gave me great returns and helped me fund my start-up journey."
After developing the proof-of-concept for JomRun, Chang had to close deals with potential collaborators. He found it challenging to make successful pitches because not only did the company owners not take him seriously due to his age but also the app was not live on any mobile app store yet.
"Before I moved back to Malaysia, I had to make cold calls starting at 3am everyday in the UK due to the time difference. But it was difficult to close a deal because the app had no traction yet. I had to do this for two months before I closed my first deal," he recalls.
Chang says if he had not decided to build JomRun, he would still have been an active stock investor. "But it is a bit difficult at the moment because it feels like I am investing in something bigger because it is my own company."
While Chang thinks that investing early on in life is all well and good, he emphasises the importance of managing one's personal finances, especially when it comes to growing one's savings. He has his parents — both accountants — to thank for instilling in him the importance of budgeting. When he was a primary school pupil, his parents would only give him pocket money if he tracked his spending at school.
"They told me to jot down each transaction. But at the time, I disagreed with them and was lazy so I did not do it properly. But growing up, I realised the importance of that habit. I started to cultivate it during my university years because I was receiving scholarship money, which meant I had to be more careful with my expenditures," says Chang.
He says being a start-up founder — especially one who is currently scaling up — has changed the way he looks at money and expenditure. Previously, he would choose a more cost-efficient way of doing things even if it meant taking more time. But now, he is willing to fork out more money in exchange for time to do more important things.
"I tend to link money with time — money is time and vice versa. When I was a student, I would take the bus to save money. But now, I take a taxi or Grab because attending meetings on time is more important than the RM15 I spent on the fare," says Chang
"Another thing is that I no longer actively research and look for stocks to buy like I did before I started JomRun. I focus on [building] the company instead, which means I deal with more risks now. So, I just monitor my existing investments and build up my savings."
While Chang believes in the power of compounding interest and the benefits of investing as early as possible, he says it is more important that young working professionals lead a financially sustainable lifestyle before committing to more investments. "It is good to put money in investments to learn. But if we do it thinking we can get very rich just by investing and not relying on a day job, that is not a good thing. Some people spend a lot of time reading all the books on investing, but never care to work hard in their career or studies," he says.
"What they do not realise is that stocks are essentially companies. So, if you never spend any time working at a company, how would you know how it operates? I think it is important to experience working in companies to become a better investor."
The JomRun journey
Chang Yi Hern, founder and managing director of JomRun, returned to Malaysia to launch the JomRun app at the end of 2017. He then joined an accelerator programme by Sunway Innovation Labs (iLabs) for two months before securing RM50,000 in pre-seed funding.
The app has proved to be a hit among Malaysian runners and it now has more than 140,000 users. At the time of writing, it was the No 2 sports app on the App Store and the No 1 free app on Google Play in Malaysia.
The app is connected to third-party wearables such as fitness trackers by FitBit, Garmin and Polar to collect GPS activities. Then, these are converted into points, which can be used to redeem offers or vouchers from the business' partner companies. The app can be downloaded for free.
"I started the company in the hope that users may embark on or maintain a healthier lifestyle. But after six months, we pivoted a little because we realised we could not earn money just by giving vouchers to our users. It was not sustainable," says Chang.
On top of that, JomRun has to compete with the loyalty programmes of other companies to secure deals. Much bigger companies, such as DiGi.Com Bhd and U Mobile Sdn Bhd, were buying the vouchers and offering these on their respective platforms while JomRun could only offer them visibility on its app.
Chang then decided to add a new feature to the app to attract potential partnerships. It started allowing running event organisers to promote their events and even sell tickets via the app.
"People responded to the app better after we added those features. At first, they were using it to register for events as they were not interested in the rewards. But our database has grown and more offers or rewards are available now. So, users can choose from a wide range of attractive deals," says Chang.
The company also organises its own running events, which is a profitable source of income for JomRun. "It helps to boost our business, so we will continue doing it," he says.
In the next 12 months, Chang aims to grow the company's user base to one million. But he acknowledges that he has his work cut out for him as Malaysia's fitness market may not be large enough.
Will the app track other fitness activities such as cycling and rowing? "At first, we wanted to add those features. But the direction now is to focus on running because it is a relatively affordable sport. All you need is a pair of running shoes," says Chang, adding that this means the company is able to capture a wider market.
He plans to launch an initial public offering for JomRun in the future, but it will not be a walk in the park because the running community is a niche market. "I am not doing this for quick money, but to promote a lifestyle I really believe in," says Chang.