This article first appeared in The Edge Malaysia Weekly, on March 15, 2021 - March 21, 2021.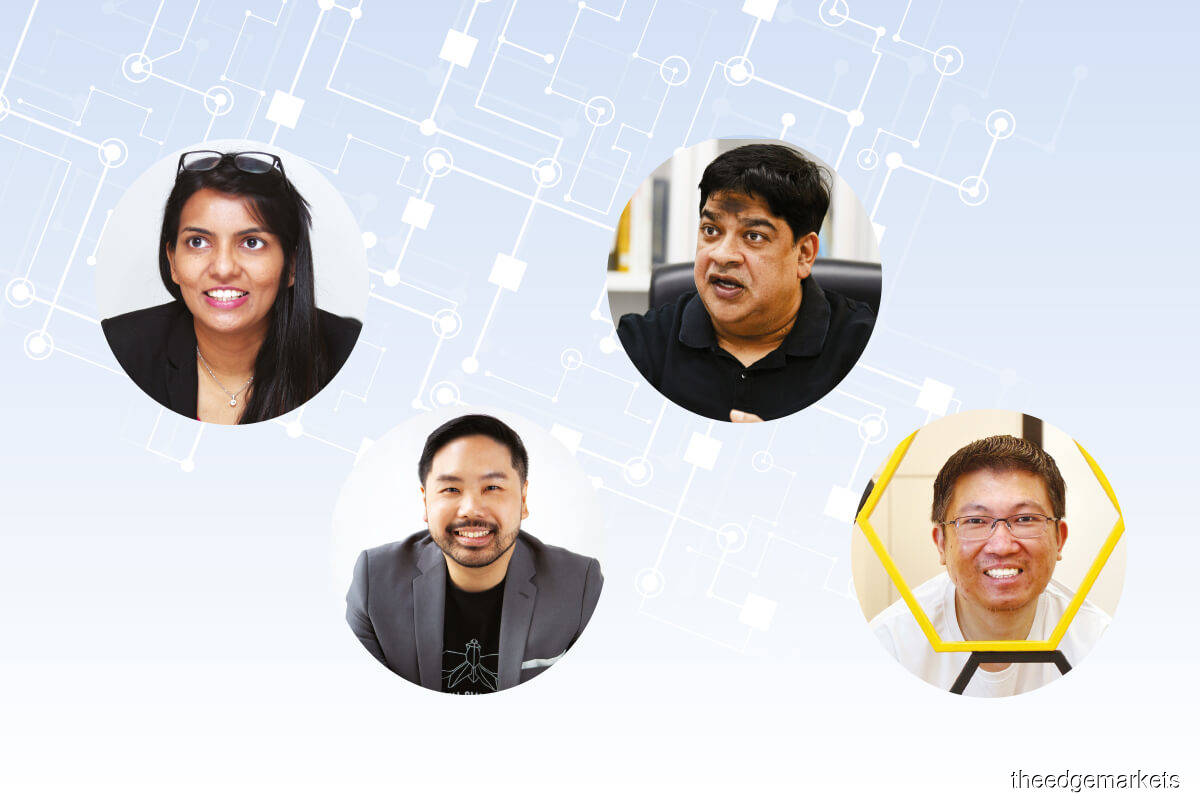 The recently launched MyDIGITAL initiative has as its fourth thrust the development of an agile and competent digital talent pool. According to the blueprint, Thrust 4 seeks to address long-standing challenges to the education ecosystem, starting at the primary level and all the way up to working adults looking for reskilling opportunities.
Cheryl Fernando, CEO of education NGO Global School Leaders (GSL), lauds the move by the government to address technology training for teachers. It is expressed in the "My Digital Teacher" initiative, which is meant to roll out professional development programmes for teachers to equip them with the know-how and digital tools to improve their teaching skills.
"I am really excited to see teacher training as part of the blueprint, because very often there is this expectation for teachers to be technologically proficient, with little to no discussion on how to achieve that proficiency," she says.
Raja Singham, founder of the BAC Education Group, calls the blueprint a much-needed enabler in moving the nation forward. "We have to pick the right champions to not just deliver on the blueprint's digital talent priorities but to keep the people's interests at heart.
"We should be careful to avoid time and budget overruns, and there should be a great deal of transparency in the delivery of these projects. Hopefully, the priorities of the blueprint won't be affected in the event of any changes in government or minister portfolios."
At this early juncture, some industry players have drawn parallels between the MyDIGITAL Blueprint and Malaysia's first earnest attempt at digital transformation from the early nineties — the Multimedia Super Corridor (MSC).
Vernon Chua of Innergia Labs commends the government on the digital talent aspirations of the blueprint. "The government's heart is in the right place, but as always, the devil is in the details," he says.
"I'm reminded of the MSC back in the early nineties. There were many high-level plans to create a Malaysian Silicon Valley, which didn't quite pan out. So, clearly, the success of the blueprint will depend entirely on the execution."
Meanwhile, Datuk Eric Ku, co-founder of the iTrain Group, fondly recounts the impact the MSC had on his life. "I recall as a student in the nineties, we memorised all the plans and initiatives under the MSC, in preparation for our karangan (essay) exams for Bahasa Malaysia.
"We committed the entire MSC to memory, and in that way, perhaps unconsciously, we internalised the priorities of the MSC as students. And even our parents ended up internalising them because they spent a lot of time at home teaching their kids and helping them with their homework."
Since his exposure to the MSC as part of his secondary education, Ku has gone on to carve out a more than 20-year career in technology and, subsequently, in ICT education.
"I think the MSC felt like a grander, longer-term vision for the country's technology aspirations, but somehow, I don't quite feel the same with the MyDIGITAL Blueprint," he adds.
Focus on schools a big win
According to Fernando, there was a lot of chatter in the teaching community when the blueprint was launched. Last year saw both students and teachers adapt to an exclusively online learning environment, and the momentum should not be wasted once the pandemic is brought under control and everyone returns to school.
"Teachers would like to have more clarity on the My Device programme, which guarantees students access to digital devices to facilitate their education. At a policy level, this is going to take a lot of work, not least of which will be ensuring reliable and equal internet access to all schools throughout the country.
Right now, she says, there is a no-devices policy throughout the school system, albeit with certain exceptions for students in Form 6.
"I hope the government allows students to bring their smartphones to school, because we have made such advances in teaching and learning over the last year. We should not go back to just using traditional textbooks in the classroom. We have a great opportunity to completely transform and modernise the education ecosystem for both teachers and students."
Like Fernando, Raja also called on the government to prioritise internet connectivity. "For our part, we hope the entire population receives optical fibre network coverage by 2025. This coverage must be affordable, so that it can be accessible to everyone seeking an education," he says.
"All schools in the country should also have reliable access to the internet, and to this end, the government needs to identify the most effective financing models — with the appropriate support from the private sector and civil society organisations (CSOs) — to support the implementation of this initiative.
"These are major stand-out issues to me, as we need to bridge the digital divide and deal with digital poverty as quickly as possible. We need to really push the digital agenda in education and democratise access to hardware, bandwidth and quality content."
Talent targets need monitoring
The scale of the ambitions set out in the blueprint is most immediately discernible in the various targets that have been set out.
Ku is concerned about the target in Thrust 4, which calls for the creation of some 20,000 cybersecurity knowledge workers by 2025. He is referring to the portion of Thrust 4 that seeks to develop and upskill the workforce's digital skills in areas such as cybersecurity, content creation and data analytics, among others.
He contends that the cybersecurity knowledge worker target is possibly redundant, simply because Malaysia has never had an established cybersecurity product development ecosystem. He adds that consistent demand for cybersecurity jobs exist in countries where there is a robust and long-standing cybersecurity software development industry.
"There needs to be a relevant purpose behind these targets. It's one thing to create 20,000 cybersecurity jobs, but right now, we don't have the sort of ecosystem that demands those jobs at scale."
Additionally, with the Malaysian government having expressed clear ambitions to move its infrastructure to the cloud, its cybersecurity needs will end up being taken care of by the cloud services provider.
Tech giants that operate cloud networks such as Google, Microsoft, Amazon Web Services (AWS) and Alibaba Cloud all have their own built-in and often robust cybersecurity protocols, which are then extended to their cloud users.
"I'm not suggesting that there will be no need at all for cybersecurity professionals, but since we have neither the cybersecurity development ecosystem nor a large enough cloud provider industry here in Malaysia, I'm not sure we'll have quite so many cybersecurity jobs available at all.
Meanwhile, Innergia Lab's Chua hopes the government will provide more clarity on the targeted 30,000 data professionals by 2025. His two concerns are that the target is not ambitious enough and there is no clarity on what exactly these data professionals are supposed to be.
"I suppose it all boils down to what the government defines a 'data professional' to be. A reading of the blueprint appears to indicate some combination of data scientist and data analyst. Both jobs are crucial of course, but one deals with more complexity than the other.
"A data scientist can arguably be compared with an actuarial scientist. This is a high-level discipline that demands a lot of number crunching, which is then fed into complex algorithms that you either create or manage. I think if we are to become a nation of technology producers, what we need are lots of data scientists."
iTrain's Ku echoes this point, and calls on the government to prioritise what he refers to as creator competencies.
"If we are to become a country of digital creators, rather than just users, we should be prioritising skills related to artificial intelligence, machine learning, app development and software engineering. These are the sorts of skills that allow a workforce to build digital products," he says.