This article first appeared in The Edge Financial Daily, on March 17, 2020.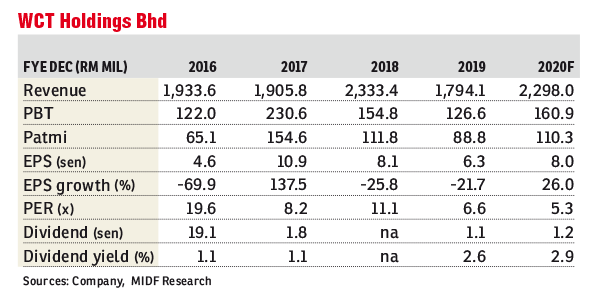 WCT Holdings Bhd
(March 16, 38.5 sen)
Maintain buy with a lower target price (TP) of 64 sen: Based on Bursa Malaysia's announcement dated March 13, 2020, WCT Holdings Bhd's Middle East regional office in Doha, Qatar had received a final award pertaining to an arbitration case from the Court of Arbitration of the International Chamber of Commerce (ICC), filed by Trans Gulf International Electro-Mechanical WLL (first claimant), Powermech Engineering WLL (second claimant) and Trans Gulf International Electro-Mechanical WLL — a Powermech Engineering WLL joint venture. 
To recap, in July 2017, the said three companies filed a request for arbitration with the Court of Arbitration of the ICC claiming QAR181.6 million (RM214.1 million) from WCT. WCT was the main contractor and the claimants were WCT's subcontractors in respect of certain mechanical, electrical and plumbing-related works for the interior ministry's headquarters project in Doha. 
The Arbitral Tribunal has dismissed the group's counterclaim and further ordered and awarded a sum of 132.5 million riyals, equivalent to RM152.6 million, in favour of the claimants, comprising the release of retention sums amounting to 39.4 million riyals (approximately RM46.3 million), the return of performance bond monies amounting to 24.7 million riyals (approximately RM29 million), a payment of 61.9 million riyals (approximately RM72.7 million) being sums claimed and due pursuant to the subcontract and a late payment interest of 6.5 million riyals (approximately RM7.6 million).
In addition, the Arbitral Tribunal further ordered WCT to pay the claimants 24 million riyals (approximately RM28.2 million) in respect of the claimants' legal, expert and other costs of and incidental to the arbitration proceedings, and US$468,830 (approximately RM2 million) in respect of the arbitration costs as fixed by the ICC.
After the Bursa announcement, we note an additional provision of approximately RM116 million has impacted WCT's unaudited financial results for the fourth quarter ended Dec 31, 2019 (4QFY19). 
For 4QFY19, the group's profit after tax and minority interest (Patmi) was -RM103.97 million or above -100% year-on-year (y-o-y) compared with a Patmi of RM12.5 million (above 100% y-o-y) in the financial results dated Feb 26, 2020. 
For FY19, WCT's Patmi was -RM27.6 million (above -100% y-o-y) versus a Patmi of RM88.8 million (- 16.9% y-o-y) announced last month. — MIDF Research, March 16