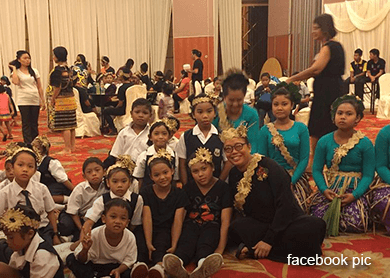 KUALA LUMPUR: A child rights advocate and her Facebook friends have saved the day for a non-governmental organisation which was nearing tomorrow's deadline to pay the balance of the purchase price of a piece of land for a dormitory for Orang Asli schoolchildren.
Orang Asli non-governmental organisation (NGO) Semoa Bhd co-founder Rajendran Velu said it was a miracle that Yayasan Chow Kit founder Dr Hartini Zainuddin managed to raise RM120,000 in barely 48 hours after she made a last-ditch appeal for funds in a Facebook post.
The NGO was short of RM177,000 for the purchase of the 6.5-acre (2.63ha) piece of land in Tras, Raub, costing RM975,000. They needed the particular lot as it was beside the current dormitory run for 64 Orang Asli children aged from five to 17. 
Tomorrow is the third and last deadline to pay up, or else the deal will be off.
Rajendran said Hartini had attended Semoa's fundraising dinner earlier this month, after which she agreed to help raise funds given that the money was to be used for children and education, both causes close to her heart.
Hartini then scouted among corporate firms for the money but got nothing. Last Thursday, she received a call from Semoa asking if she had made any headway.
"I panicked because I got nothing from corporate executives, so I asked them permission to put it up on my Facebook, and from there, the money just came rolling in from everyone!
"Many individuals pledged RM1,000 just like that, and for those who could not come up with that much, they got themselves into groups of four or five to make up the RM1,000," Hartini said yesterday.
In the current dormitory, Semoa takes care of 64 boys and girls, providing food, shelter and transport to nearby government schools.
Rajendran said that as the children are getting older, the boys have to be separated from the girls, and that created the main need for a second dormitory.
More and more Orang Asli parents, from as far as Sabah and Sarawak, have sent their children to this facility in the hope of giving them a proper education.
Hartini said she was overwhelmed by the grassroots support after she hit a brick wall with corporate executives.
"I'm so happy for the support from everyone. It rolled into a real movement within hours," she said.
Now, a group of her lawyer friends gathered with her on Saturday morning to draw up a plan for a proper funding committee to ensure that the NGO does not run into problems when building the dormitory.
At press time, Hartini was still short of RM57,000. (Contributions can be made to: Semoa Bhd. a/c: 514208512959, Maybank.) — The Malaysian Insider
This article first appeared in The Edge Financial Daily, on June 29, 2015.