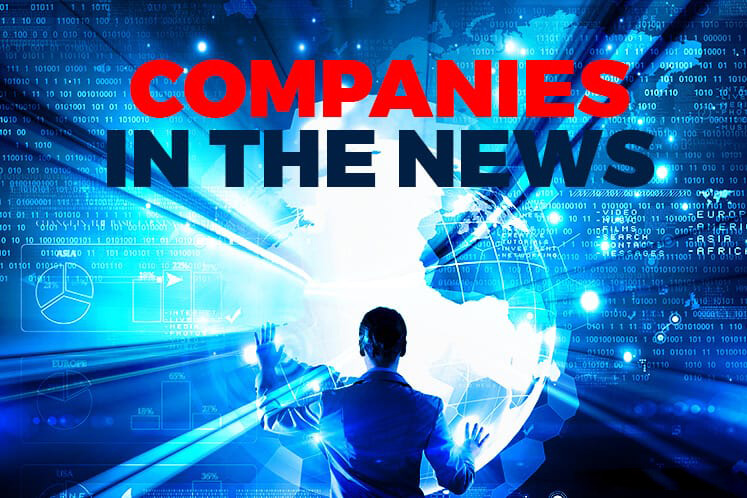 KUALA LUMPUR (Dec 28): Based on corporate announcements and news flow today, stocks in focus on Friday (Dec 29) may include: Acoustech, BCorp, Pos Malaysia, Karyon, Kimlun, Mah Sing, MyEG, Ranhill, Suria Capital, Tatt Giap, and Vivocom.
Acoustech Bhd plans to develop a five-storey luxury hotel and a block of affordable serviced apartment worth a combined gross development value (GDV) of RM80.5 million on two pieces of land in Melaka.
Acoustech said its wholly-owned subsidiary Teras Eco Resources Sdn Bhd (TERSB) has executed two Memoranda of Understanding (MoUs) for the proposed projects.
One is with Innocashz (M) Sdn Bhd to form a joint venture (JV) to jointly develop the hotel with an expected GDV of RM40 million on 1.2 acres of the Customs Immigration and Quarantine (CIQ) land, which is located by the riverbank of Sungai Melaka and within 15 minutes from Jonker Walk. Innocashz owns the CIQ land, which is presently charged to Public Bank Bhd.
Another MoU is with Goldsand JV Sdn Bhd to form a JV to build 152 units of affordable serviced apartment on 3.9 acres of leasehold land in Krubong, Melaka. Dubbed "Melaka Residences", it has an estimated GDV of RM40.5 million.
Berjaya Corp Bhd (BCorp), controlled by tycoon Tan Sri Vincent Tan, posted its second straight quarterly loss today, mainly due to provision for the impairment of a portion of the balance sales proceeds from the sale of the Great Mall of China project in China and the loss arising from the partial disposal of an associated company.
The group made a net loss of RM145.99 million in the second financial quarter ended Oct 31, 2017 (2QFY18) compared with a net profit of RM176.51 million a year ago. It posted a loss per share of 2.54 sen compared with earnings per share of 3.27 sen in 2QFY17.
Quarterly revenue fell 11.1% to RM2.19 billion in 2QFY18 from RM2.46 billion in 2QFY17 on lower contribution from the retail distribution and motor distribution businesses, as well as property investment and development business segment.
For the cumulative six months (6MFY18), it posted a net loss of RM189.38 million from a net profit of RM113.83 million a year ago. Revenue dropped 6.4% to RM4.38 billion from RM4.68 billion.
Pos Malaysia Bhd has awarded an RM8.05 million contract to PST Ventures Sdn Bhd, a private limited information technology company, for the latter to provide security and information and communications technology (ICT) services for the redevelopment and refurbishment of the former low-cost carrier terminal (LCCT) in Sepang.
Pos Malaysia said its wholly-owned subsidiary Pos Aviation Sdn Bhd has awarded the contract to PST Ventures, which has accepted the award.
Under the letter of award, the development services will be completed within six months from the commencement date and PST Ventures will provide warranty services of up to five years from the date of delivery of the equipment.
Polymeric products manufacturer Karyon Industries Bhd is acquiring a 3,842-sq m land in Plentong, Johor, along with buildings erected on it for the setting up of additional manufacturing line and storage capacity there.
The RM6.7 million acquisition will be financed through a combination of internal funds of about RM2.2 million and bank borrowings of RM4.5 million, said Karyon.
Kimlun Corp Bhd's property arm Kimlun Land Sdn Bhd is buying two pieces of land in Johor from Mah Sing Group Bhd for RM36.08 million to build commercial properties.
Kimlun said the proposed acquisitions provide it with an opportunity to increase the size of its land bank in strategic locations in order to enhance its future revenue and earnings.
"As the development potential has yet to be finalised at this preliminary stage, the total development revenue/cost, expected commencement and completion date or expected profits to be derived cannot be readily ascertained. The source of funds to finance the development is likely to come from internal funds and/or bank borrowings," it said.
MY E.G. Services Bhd (MyEG) has lost an appeal against a decision by the Malaysia Competition Commission (MyCC) imposed on Oct 6, 2015 that it had infringed the Competition Act.
MyEG said the Competition Appeal Tribunal (CAT) has dismissed the company's appeal against the decision by the MyCC.
"The tribunal has upheld MyCC's decision with a consequential amendment — a financial penalty amounting to RM2.27 million (from the original RM307,200) and an additional daily penalty amounting to RM7,500 computed from June 25, 2016 to Dec 28, 2017," said MyEG.
MyEG must also halt differing conditions in the processing of mandatory insurances for its foreign worker employment permit renewal services, as well as provide an efficient gateway for competitors for the sale of the insurances — allowing them to compete on level ground within 60 days from today.
However, the company intends to seek for a judicial review and also apply for a stay against the CAT's decision, said MyEG.
Ranhill Holdings Bhd is confident that its subsidiary SAJ Ranhill Sdn Bhd will continue to deliver strong performance in the years to come, said its president and chief executive Tan Sri Hamdan Mohamad.
SAJ currently accounts for 77% of Ranhill's total revenue and it has been the sole provider of water supply services to Johor.
On Dec 22, Ranhill announced that SAJ had renewed its licence as the exclusive water services operator for the state of Johor for a three-year period commencing Jan 1, 2018 till Dec 31, 2020.
Suria Capital Holdings Bhd said it will go ahead to acquire 11.7ha of land located within the Kota Kinabalu (KK) port in Sabah from the Sabah state government.
Suria said it has received an offer letter from Sabah's Lands and Surveys Department dated Dec 22 to alienate the KK land located within Tanjung Lipat to Suria.
"After deliberating on the offer letter, the board is of the view that the terms of the offer letter are acceptable to the company. The company will now proceed to comply with the terms of the offer letter and will make the necessary announcement in due course," it added.
The Sabah government is seeking a land premium amounting to RM48.48 million from Suria, with a lease period from Jan 1, 2018 to Dec 31, 2116.
"The terms of the offer letter include an annual rent of RM1,000 from Jan 1, 2018, increasing to RM520,300 from Jan 1, 2026 and RM692,500 from Jan 1, 2029," said Suria.
Penang property magnate Tan Sri Ooi Kee Liang has emerged as the third-largest shareholder in steelmaker Tatt Giap Group Bhd after acquiring a 7.62% stake from its founder and executive chairman Datuk Siah Kok Poay.
Ooi, who is the executive chairman of Ideal Property Development Sdn Bhd, had on Dec 26 purchased 13 million shares for a total of RM1.58 million, or 12 sen per share, from Giapxin Sdn Bhd. This brings his total shareholding in Tatt Giap to 21.4 million shares or a 12.54% stake.
The trade effectively reduced Kok Poay's total stake in the company to 13.19% held via Giapxin, which is controlled by his son Siah Lee Beng.
It also resulted in Arich Holdings Inc becoming the group's largest shareholder with a 15.28% stake, unchanged since April this year.
Vivocom International Holdings Bhd has appointed UOB Kay Hian Securities (M) Sdn Bhd as the new adviser and placement agent for its proposed private placement, which seeks to raise between RM35.58 million and RM47.87 million.
The role was previously undertaken by RHB Investment Bank Bhd, whom Vivocom board of directors has mutually agreed for its resignation today.