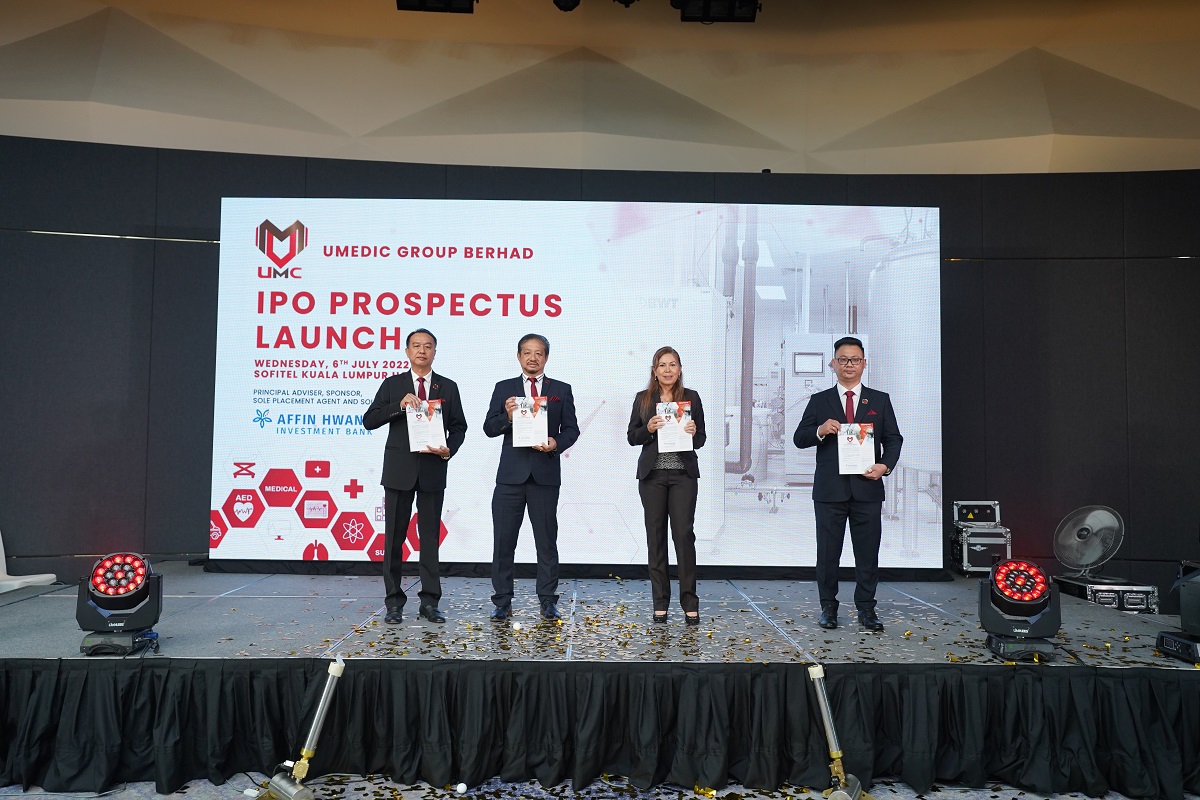 KUALA LUMPUR (July 6): Medical device manufacturer UMediC Group Bhd (UMC), which is en route to list on Bursa Malaysia's ACE Market on July 26, aims to raise RM31.11 million from its initial public offering (IPO). 
The IPO comprises 97.22 million new shares, of which 18.7 million will be made available to the Malaysian public, 13.09 million to eligible directors and employees, and 65.44 million to be made available via private placement to selected investors. 
Based on an issue price of 32 sen per share and an enlarged share capital of 373.91 million shares, UMC will have a market capitalisation of RM119.65 million upon listing.
Of the gross proceeds of RM31.11 million, RM9 million will be allocated for the repayment of borrowings and RM8.66 million for working capital to finance the purchase of additional distribution products, including ventilators, defibrillators and infant care machines. 
Another RM6.8 million will be allocated for the setting up of new marketing and distribution offices in Kuala Lumpur and Johor Baru, while the remaining RM3.5 million will be used for the construction of a new factory in Batu Kawan.
UMC and its subsidiaries are principally involved in marketing and distribution of various branded medical devices and consumables as well as the provision of aftersales services for all its products. The group is also involved in developing, manufacturing and marketing of medical consumables. 
Quoting a market research report by Protege Associates, UMC executive director and chief executive officer Lim Taw Seong said the medical device industry in Malaysia is projected to experience a compound annual growth rate of 12.1% from 2021 to 2026. 
"One may wonder where this growth is coming from as we reach the endemic stage [of Covid-19]. This outlook is supported by various favourable factors, among which are pent-up demand from locals who previously postponed medical care such as elective surgeries during the pandemic, an increase in medical tourism as our borders have since reopened, [as well as] improvement in public and private healthcare systems through the building of new hospitals and upgrading of existing facilities," said Lim at a press conference after the launch of the group's prospectus on Wednesday (July 6). 
"Now, there are a lot of new hospitals, either public or private, [that] have resumed back to normal [as the country has transitioned into Covid-19 endemicity], so we will see a lot of demand for medical devices. We are also seeing increasing awareness of using disposable medical products to reduce the risk of cross-contamination, especially after the pandemic," he added. 
According to UMC, 80% of the group's revenue came from the distribution of products such as patient monitors, ultrasound machines, ventilators, cardiotocography and electric-powered 3D chest compressors. The other 20% came from its manufactured products, namely the HydroX Prefilled Humidifier and AirdroX Spacer Anti-Static Valved Inhaler Chamber. 
The group reported growth in profit after tax (PAT) and revenue for the past three years. 
For the financial year ended July 31, 2019 (FY19), PAT stood at RM1.32 million before rising to RM2.42 million in FY20 and RM5.09 million in FY21. 
Revenue in FY19 stood at RM16.42 million, followed by RM23.68 million in FY20 and RM34.12 million in FY21.
Affin Hwang Investment Bank Bhd is the principal adviser, sponsor, sole placement agent and sole underwriter for the IPO exercise. 
UMC presently does not have any dividend policy.